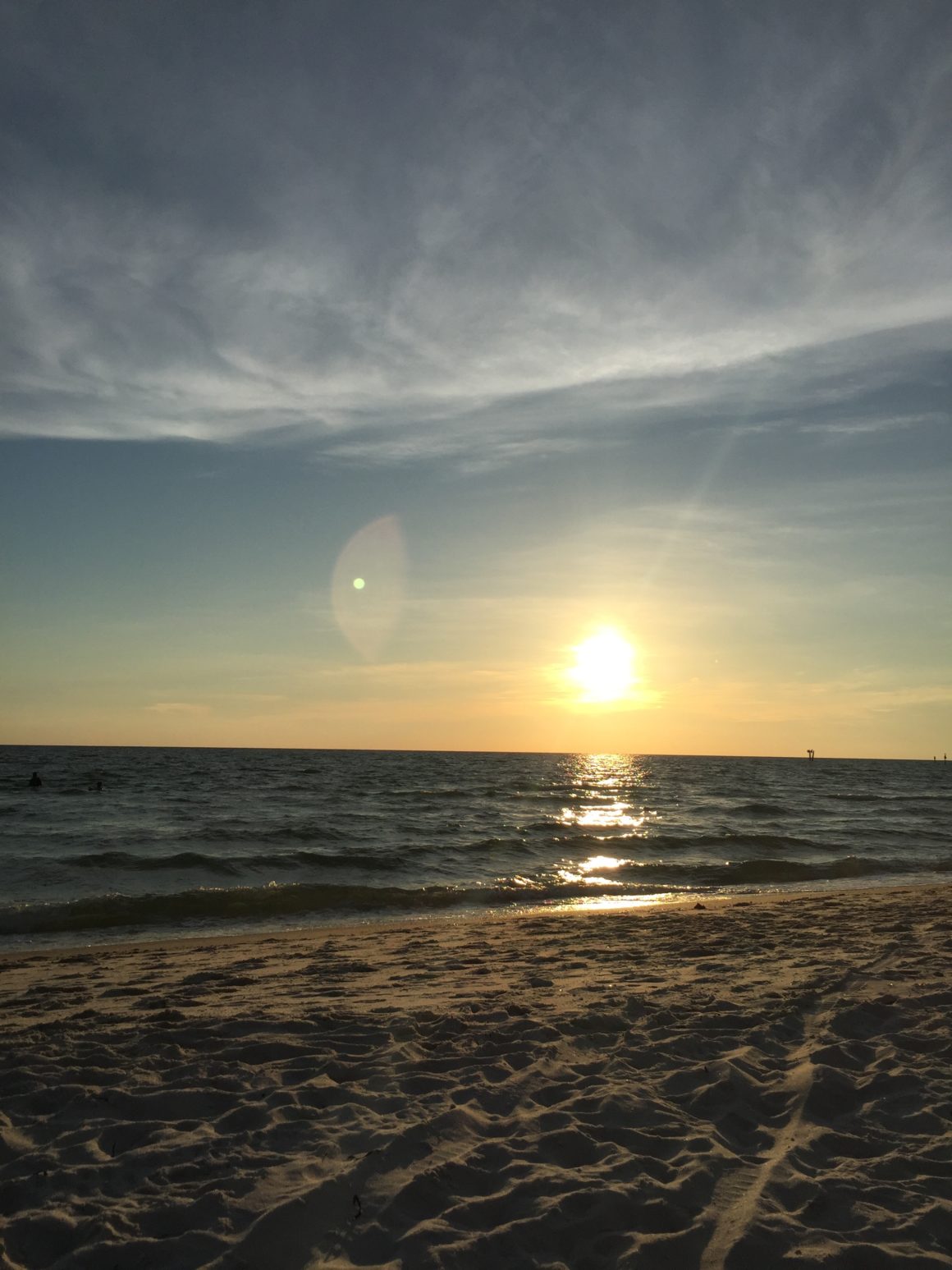 Living on the coast in Florida makes going to beach a big part of your life. People use the beach to hang out with friends, workout, kayak, paddle board, hold parties/get-togethers and so much more! We decided to compile a list of all our favorite beach gear and must haves for all our Florida friends and beach goers around the world!
Disclosures: The below links are affiliate links, in which we make a small commission if you make a purchase through the link. There is no extra cost added to you for the commission. All Opinions are our own and we only endorse/link to products or services that we truly believe in.
"As an Amazon Associate we earn from qualifying purchases."
Sun Protection
You cannot talk about the beach and not talk about how to protect you skin from the rays. Here are our favorite products to help block some of the rays on those long days!
-Sunscreen-
Sunscreen is an absolute necessity to protect your skin! Ocean Potion is our preferred brand that we use. This specific sunscreen not only smells amazing but does great things for you AND the environment. This sunscreen is reef-safe and provides UVA and UVB sun protection! This lotion also goes on nicely and absorbs well without leaving you to feel greasy! Every time we use it, it reminds me of Hawaii which is where we discovered this great brand!
-Sun Shirts-
You can find sun shirts from just about any company that makes or sells swimwear but we do have a few favorites. I do love my stylish lavender Lilly Pulitzer shirt! It has a little storage pocket on the sleeve as well if you need to carry something small with you. Outside of this, I am a big fan of the Columbia shirts. They have a variety of styles to suit everyone's preference and they are not overly expensive.
-Hats-
No matter what time of year, the sun is strong in Florida. It is always important to have a hat or visor with you! I use mine not only to protect my face from the sun but also my hairline as I seem to struggle with getting burned in that space. I also like a visor because it helps block sun so I do not have to squint all day.
-Sunglasses-
This is another item that is critical in Florida. There are very few days that aren't sunny here in Florida so we wear sunglasses basically every time we leave the house. If you like to shop more local, Abaco's is a phenomenal smaller sunglasses company that produces great shades! They have various different styles which I love! They also come polarized making it easier to see through the glare of the water. Check them out now!
Beach Equipment
Everyone needs to have their gear for the beach! Below we have listed some of our favorite items that we make sure always find a way down with us!
-Chairs-
You would think any chair would do but honestly, the type of chair does matter. My family and I love the Tommy Bahama line of beach gear. Their chairs fold up nicely for storage, they are lightweight, and come with padded backpack straps to make carrying a breeze! They also come with a nice little head pillow to make your chair more comfortable whether sitting up or lying down. We also like the pockets on the back of the chair to hold you shoes or shirt as well as cold drinks as one pocket is lined for this!
-Umbrellas-
In the Florida heat, umbrellas are a must. We typically use our umbrella from May through September. These are the hottest months and the times when you will NEED a reprieve from the sun. We again recommend the Tommy Bahama brand. They are great quality and also have matching chairs if that is something that is important to you.  
-Beach Bag-
Kyle got me a new bag for the beach for Christmas and I will never use anything else! Sea Bags is a USA based company, making their products in Maine. These bags come in all shapes, sizes, and styles and are made from recycled sailboat sails. This makes them very sturdy/durable and easy to clean! My bag also has an inside zipper pocket for those cell phones and keys. The best part of the bag, believe it or not, is the top zipper! Not all beach bags have a zipper but this one does and I love it! Things don't spill out as easily and it also makes me feel like people are not peering into my bag every second as they walk by! I highly recommend this bag and they have a ton of different designs to choose from!
For more information or to purchase your Sea Bag, check out their Amazon page here.
-Cooler-
If you are planning on bringing drinks or food, you are going to want a cooler. Our personal opinion on this is to go big and splurge. We love our Yeti coolers in our family. My brother has a Hopper Backflip Soft Cooler, my parents a Hopper Soft Cooler, and we have a Tundra Cooler. My brother prefers the backpack style so he can wear it while riding the bike. My parents like the bag because they didn't want a cooler that required two people and Kyle wanted a big daddy that would stay cold the longest. Although all our reasons for styles is different, there is no question that we love the quality of Yeti. Everything stays cold and I have never worried about food (although usually we only carry drinks).  Purchase yours here!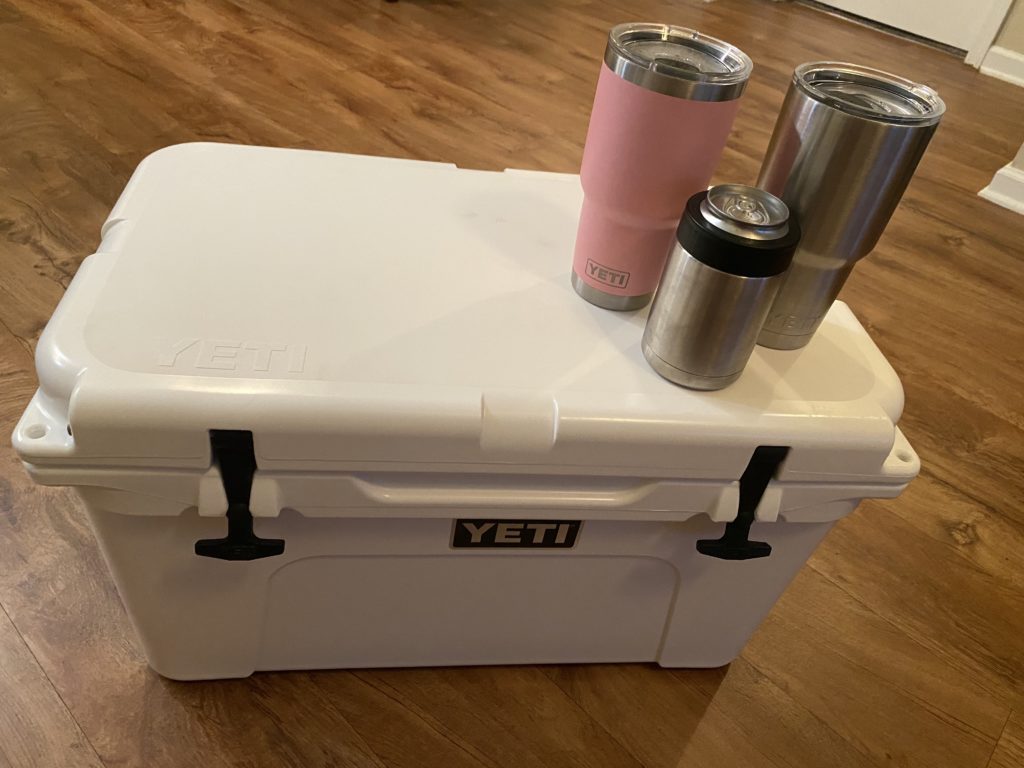 -Cups-
Once a Yeti family, always a Yeti family. We have tried all sorts of cups and mugs but our favorite is the Yeti Rambler 30 oz cup. It holds plenty of water and stays cold! Kyle and I have even left a Yeti for two days in the car with water in it and it was still cold when we came back! The only problem that I have is that the solid grey metal cups get a little hot to touch where other cups, like Trevis, may not.
Bonus points: all the different coolers/colors they have now!
-Tables-
We do not always bring a table, but when we know we will be eating on the beach, we try to. We love the "Table-in-a-bag"! It is compact and easy to carry and set up is a breeze! It is the perfect height for beach chairs or even sitting on the beach. You an also use this for a great picnic in the park. 
-Floaties-
Sometimes it is nice to have something with you in the water so you don't have to do all the work! We love having noodles with us as they are easy to bring to the beach and easy to wipe down after! We also like noodles over tubes as sitting in a tube can make it easier for you to drift down the beach and away from your chair. Our go to noodles are the World of Water noodles.
Games/Entertainment for the Beach
You have to bring some games when you go to the beach! I love to read a book or nap on the beach but it is always fun to get everyone going with a little game time. We typically bring a football with us at the minimum. This can keep the boys occupied for at least thirty minutes so we can enjoy some reading under the umbrella!
-Bocce Ball-
Our family has played this game for years and will continue to buy each other sets for as long as time continues. This is a perfect game that does not require any major set up. You just need a small strip of beach to play on. It is a relatively fast moving game so if you have a large crowd, teams can rotate in easily. Order your set here.
-Sand Toys-
No one is ever too old to build a sand castle! In Florida, we get pretty lucky with some real sandcastle artists and we always love to see what people come up with as we walk along the beach! This set of toys is perfect as it comes in a mesh bag, making clean up a breeze! All while giving you the perfect amount of items to make a sand mansion!  https://rstyle.me/+IbenEhsjwbC3hZ_rn8WiGw
Although we do not bring all these items with us every time we go to the beach, these are our "go-to" items! We love having them when the whole family is in town for a day at the beach! Reliable items really make the whole day more enjoyable!