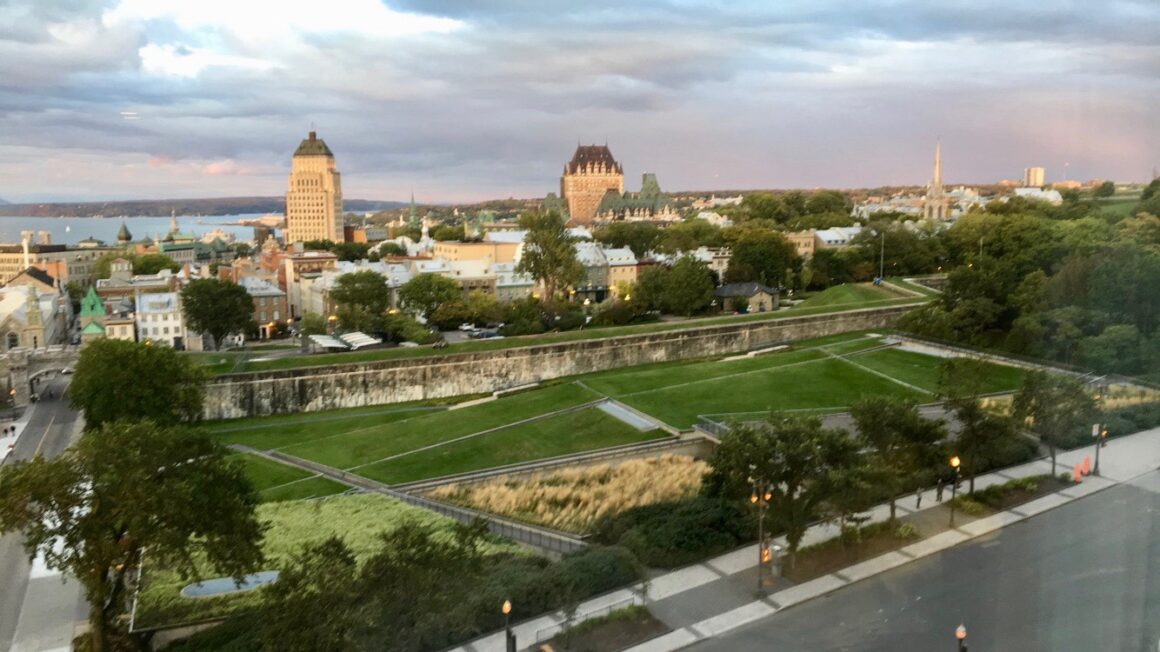 Quebec City, Canada – J'aime le Quebec
Quebec City, j'aime le Quebec. Not much else I can say to sum up how I feel about Quebec City. Abby and I were in absolute awe of this beautiful Canadian City. The architecture, culture, food, mood, PEOPLE make this city what it truly is, remarkable. There aren't enough good words to describe how enjoyable of an experience we had when we visited Quebec City. So I am going to try to share it with you through my jaded lens.
Disclosures: The below links are affiliate links, in which we make a small commission if you make a purchase through the link. There is no extra cost added to you for the commission. All Opinions are our own and we only endorse/link to products or services that we truly believe in.
"As an Amazon Associate we earn from qualifying purchases"
Pro Tip: if thinking about traveling to Quebec, do yourself a favor and learn some basic French. The people of Quebec really appreciate it when you try attempt to speak the local language. English is widely spoken there too, but French is the primary.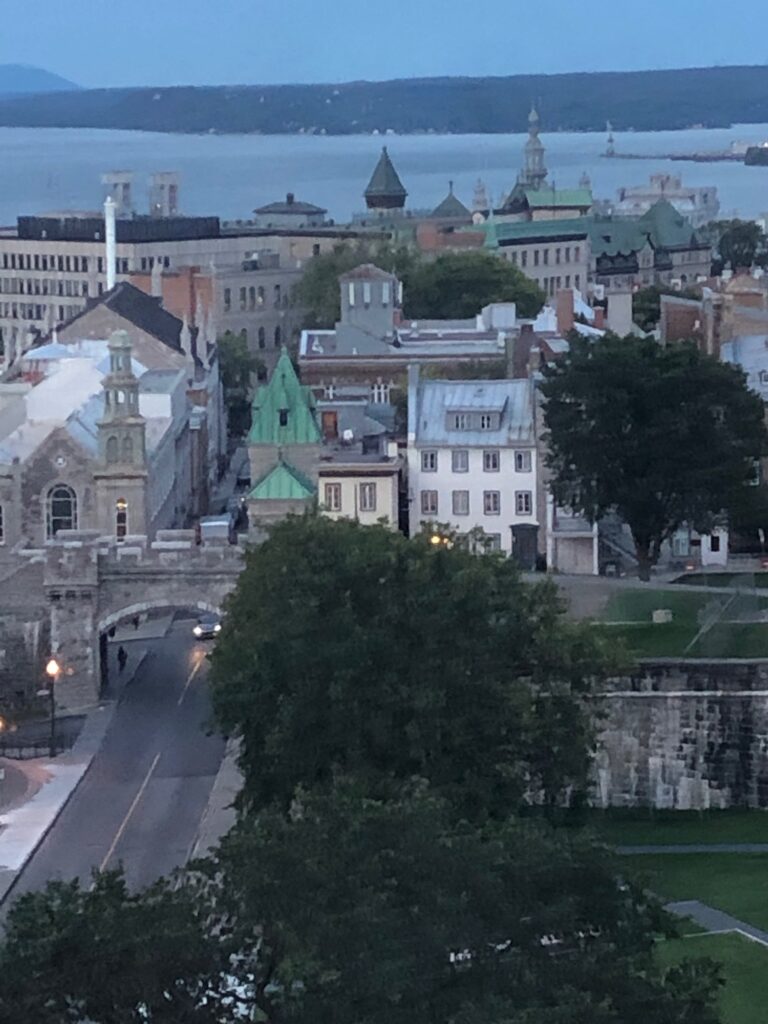 1. UNESCO World Heritage Site
I guess I'll start with the big draw to Quebec City and that is it's a treasured UNESCO World Heritage Site. Quebec was originally founded by a French explorer named Samuel de Champlain in the early 17th century. This is, to my knowledge, the only fortified city on the continent of North America, outside of Mexico. The streets are cobbled, the fortification walls intact, the architecture of the buildings transporting your mind. At one point I had thought we were not in Canada, but Europe. It wasn't until we entered a sugar shack that I was brought back to the reality that we were indeed in Canada.
Chateau Frontenac
The first thing you will notice in Quebec City is the Chateau Frontenac. This is by far the most iconic building in Quebec City. It is an absolutely stunning hotel and is rumored to be the most photographed hotel in the world. We unfortunately did not have the opportunity to be guests of the hotel but we did have amazing views of it from the Hilton in Upper Quebec. We also took the time to walk through part of the hotel. Non-Guests are allowed to walk into the lobby area to take in the sites/interior architecture. I highly recommend this.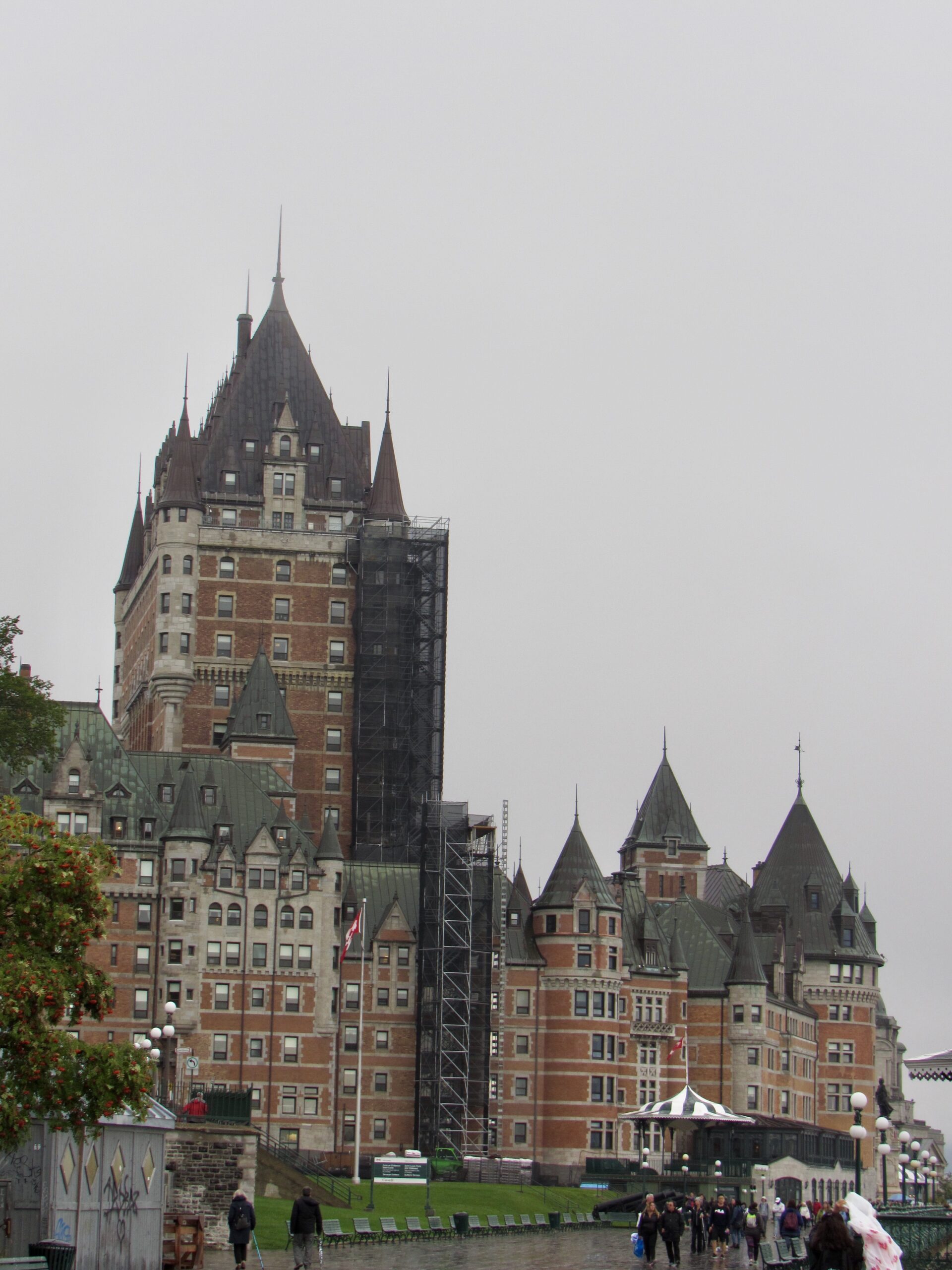 Citadel & City Fortification Walls
The second thing you are sure to notice in Quebec City is the fortification walls that run through the City. Quebec was a very strategic fortification for the English and French in the early colonial times due to its position high above the St. Lawrence river in the cliffs. Today the walls add to the beauty and charm of the city. If you follow them up to the Plains of Abraham it will lead you to the Citadel. The Citadel sits atop the cliff and overlooks the city and the St. Lawrence River. You can get some amazing views from this location.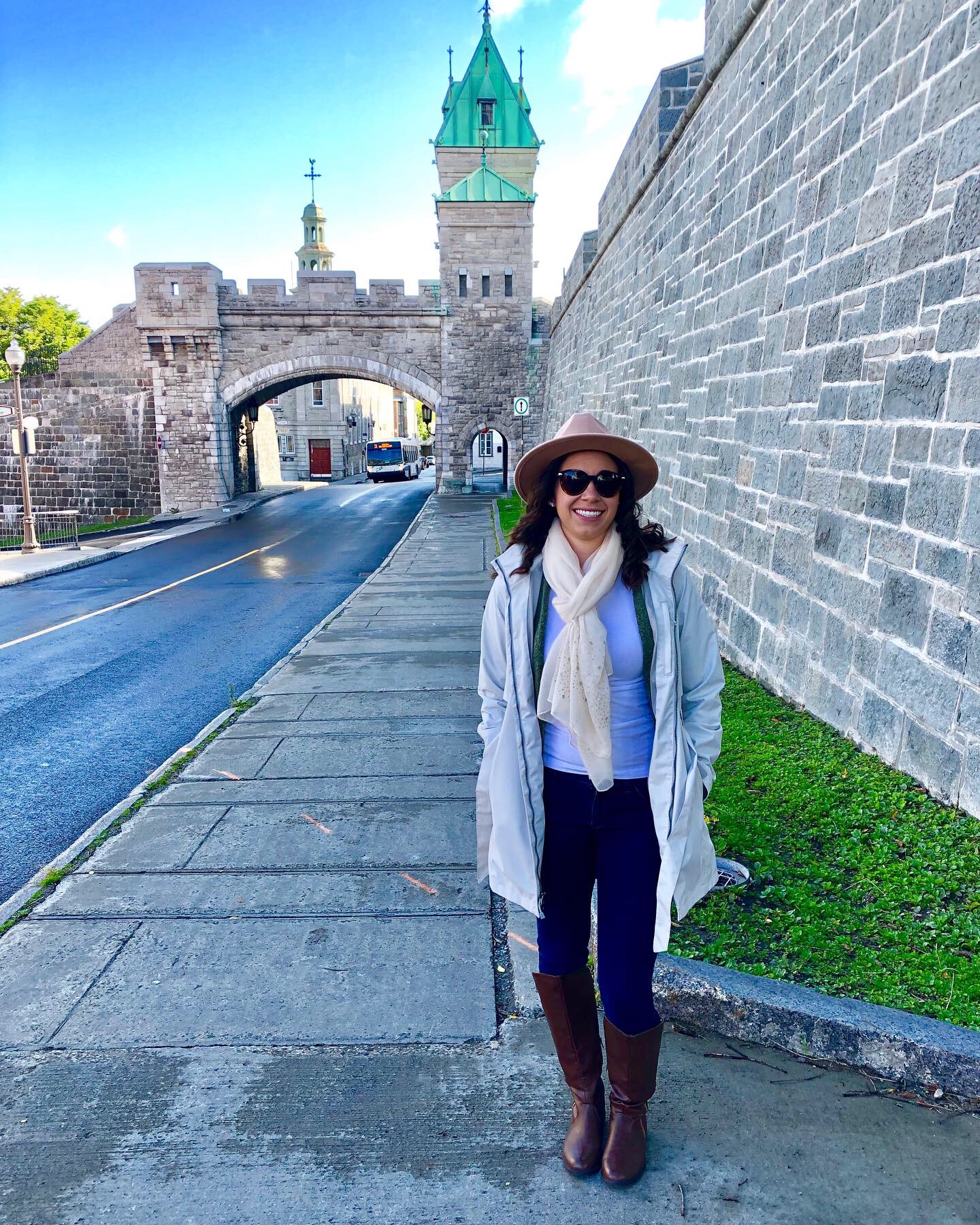 The Citadel itself is an active military installation that does allow visitors. We did not pay to go inside the Citadel, but we were able to walk along the walls and get some peeks inside. During the summer months the Royal 22nd Regiment holds military parades and changing of the guard ceremonies that can be viewed by the public. When we went in the fall these were not occurring.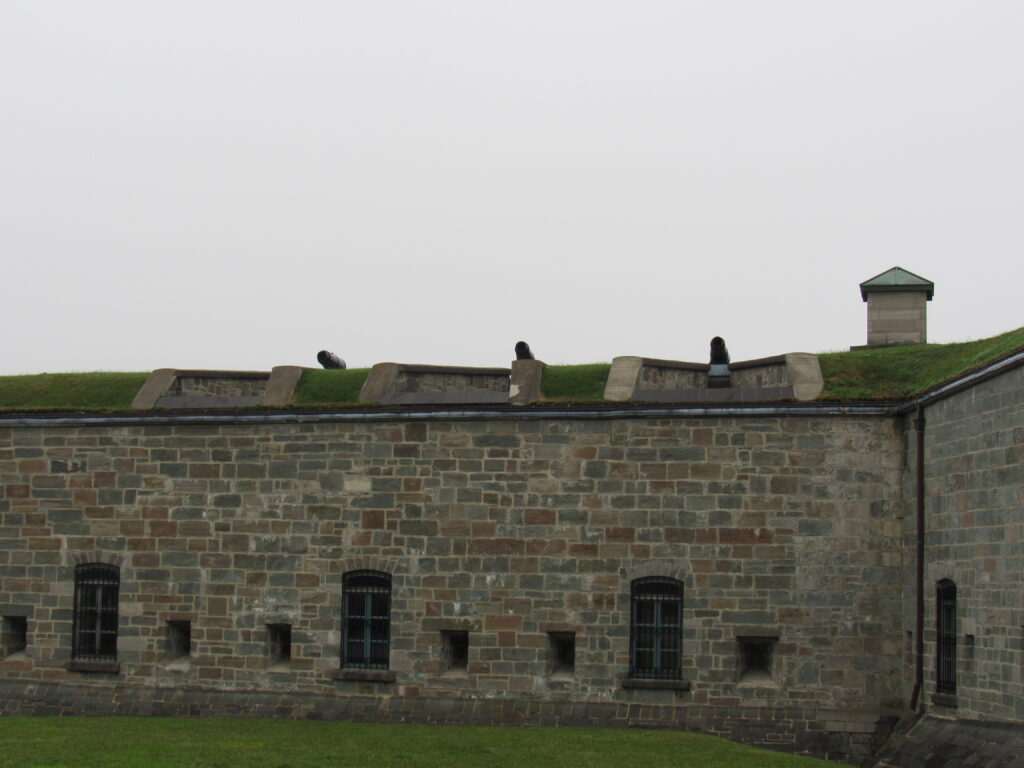 2. Upper & Lower Quebec
Quebec City Can be broken down into 2 sections. Upper and Lower Quebec. One of the great perks of this City is that it is small enough that you can walk most places. Abby and I only hopped in our car when we wanted to go explore the country side of the Quebec Province to go whale watching. (More on Tadoussac later).
Forewarning, Quebec is very hilly but everything is close by. I would recommend splitting Quebec City into 2 days to venture through Upper and Lower Quebec so you don't have to continue going up and down the hillside. There is a Funicular that you can ride up or down, but the wait can be somewhat long pending on time of the year.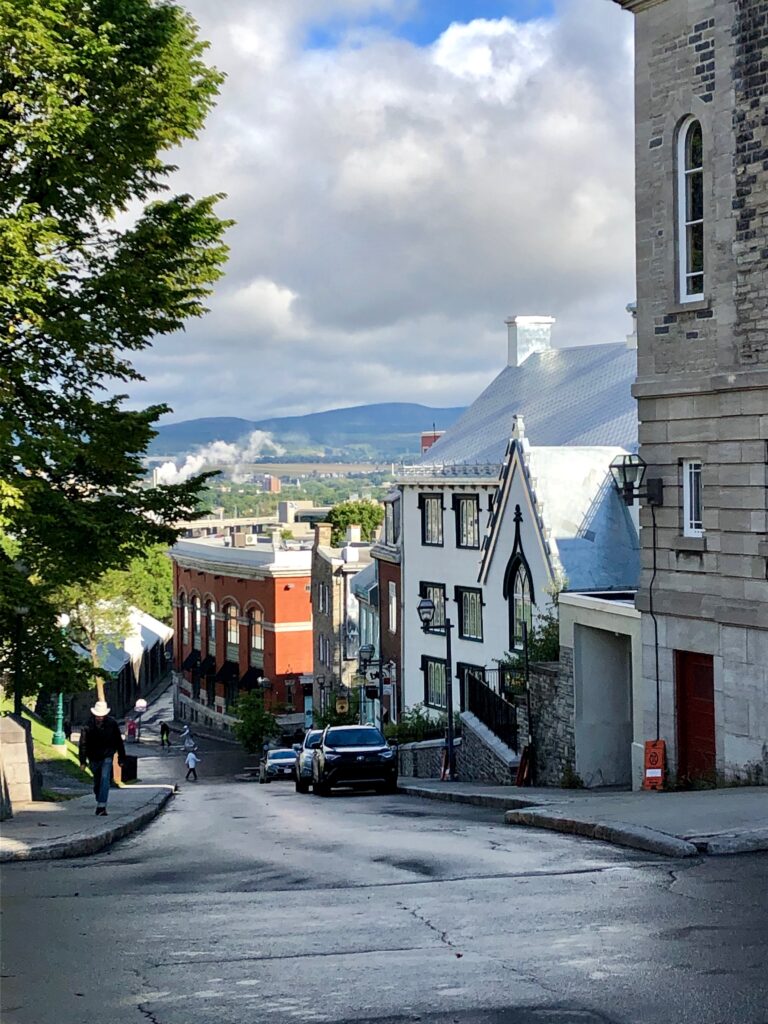 Upper Quebec
The first area of Quebec that we decided to explore was Upper Quebec. Upper Quebec is full of shops, restaurants, colorful buildings, government buildings and beautiful churches. Some of the most famous destinations reside in Upper Quebec such as the Basilique-Cathédrale Notre-Dame de Québec, the Citadel of Quebec, Chateau Frontenac hotel, and the Dufferin Terrace boardwalk. I highly recommend touring some of the churches of Upper Quebec, they are quite beautiful especially the Basilique-Cathédrale Notre-Dame de Québec.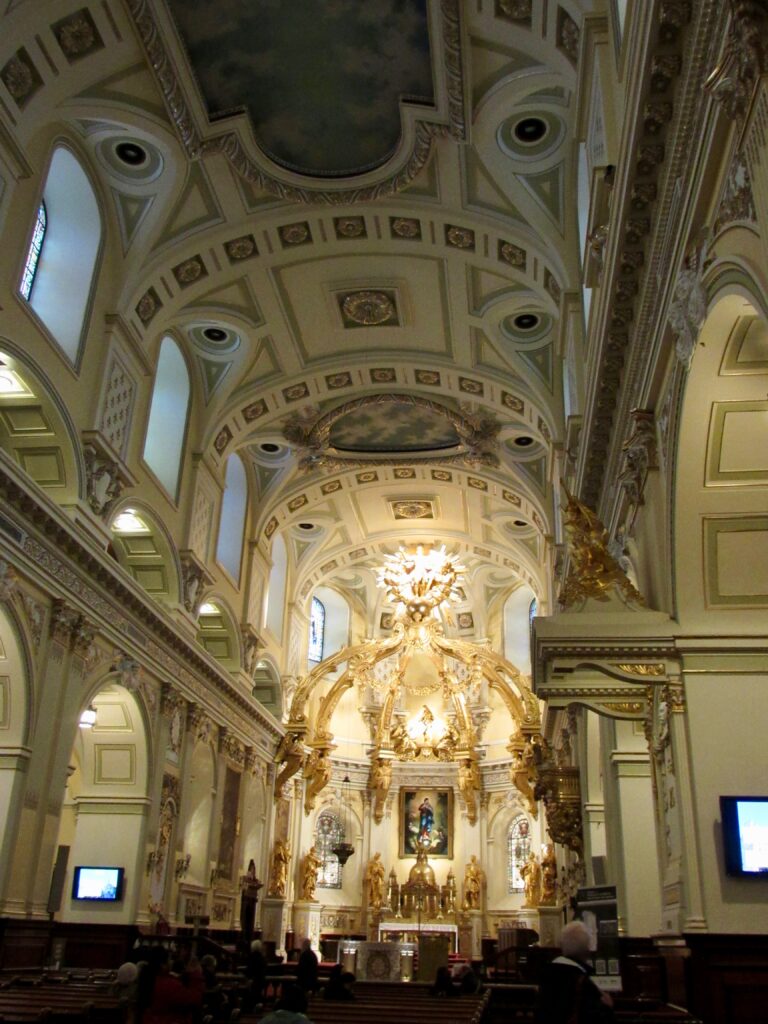 The Dufferin Terrace boardwalk is a must do as well. It is located alongside the Chateau Frontenac and is a terrific place for photos of the Chateau and also the St. Lawrence River/Lower Quebec. During the winter there is a Toboggan run the is located at the Duffein Terrace.
When its nice out the boardwalk is home to main street performers. If you are into hikes there is a really neat trail that starts at the Dufferin Terrace and goes up along the cliff all the way up to the Plains of Abraham/Citadel. The views from this trail overlooking the St. Lawrence are out of this world, and I highly recommend going on this trail if you are capable.
Lower Quebec
As much as I enjoyed Upper Quebec, Lower Quebec City held some of my favorite things to see/experience. As you travel down the funicular or the breakneck steps you are dropped into Rue Petit Champlain. This area is quite lively at all times of day. There are many great restaurants, specialty shops, and street art throughout the street. One notable shop that we stopped at was a shoe store called Boutique Martino/Amimoc. This shoe store has your normal style shoes, BUT they also specialize in mocassins. Abby and I each snagged a pair and I still have them to this day and use them as house slippers. They are just as comfortable as the day we got them.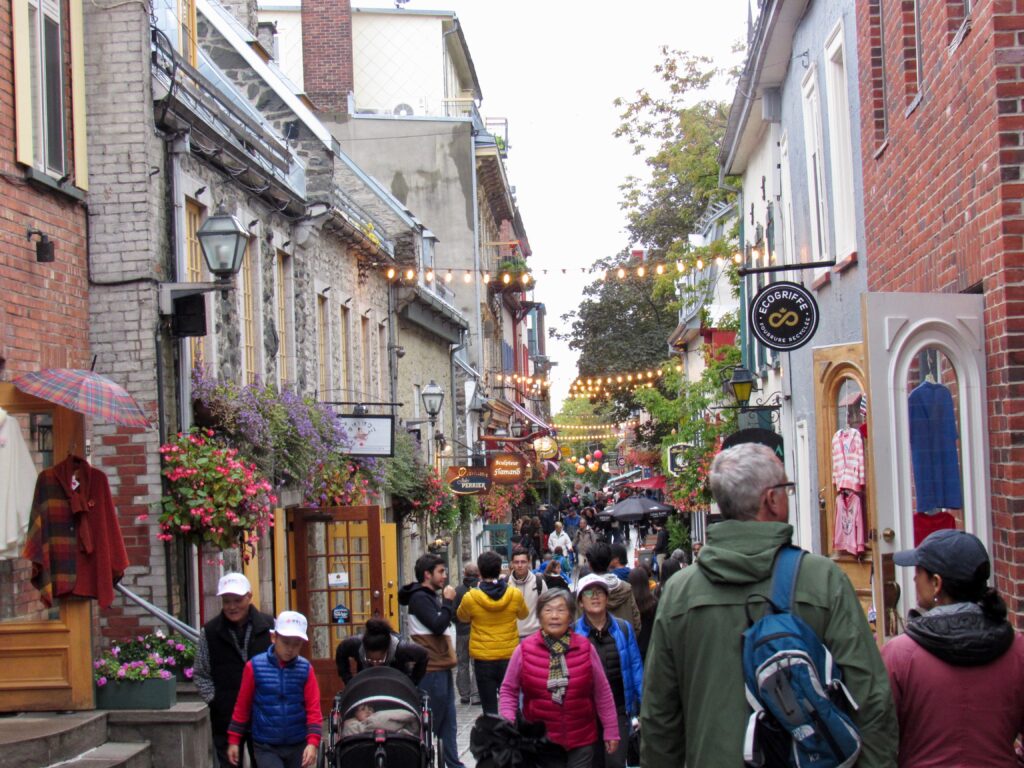 A second must stop area in Lower Quebec is the Place Royale. Outside of the Chateu Frontenac, this area may be the most famous spot in Quebec City. Why? Because this is the square that plays host to the Notre-Dame-des-Victoires Church. This Church is the old known stone Church in North America. Another reason that Place Royale is famous is due to this location being in a well known film, "Catch Me If You Can." It is here that Tom Hanks arrests Leonardo Dicaprio in the end of the movie.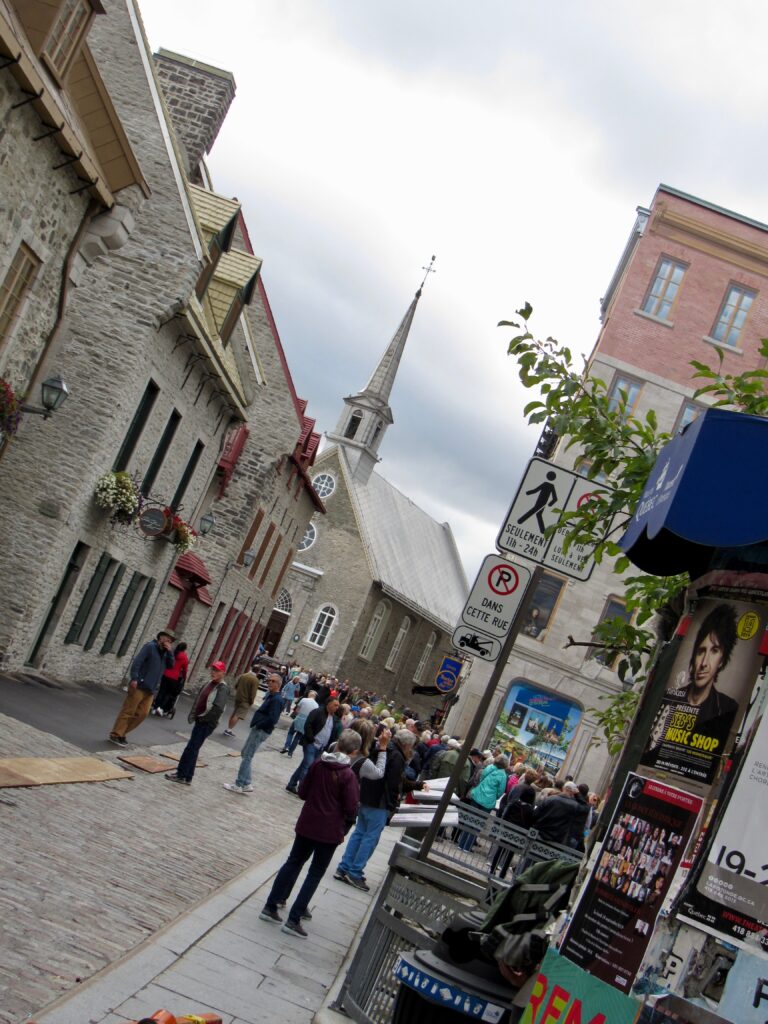 3. Foodie Destination
People in Quebec City love to eat and eat WELL!!! We frequented many restaurants and cafes during our time in Quebec City and there really is a place for any taste. Whenever we go to a new city the Food scene is one of favorite things to experience and in Quebec we decided to change up our normal routine and signed up for a Food Tour with Local Quebec City Food Tours. This was one of the coolest experiences (with regards to food) that we have participated in and we HIGHLY recommend doing this if you wind up in Quebec City.
The tour consisted of a 3-hour walking tour that was just over 1.5 kilometers long. We stopped at 5 different places and received a great history lesson from our guide while walking between stops. This is a great way to not only experience the restaurants, but also the history and culture of the city. Our guide was extremely knowledgeable (and accurate) with his history lessons he was giving us.
The locations that we stopped at were La Bûche, Chez Paillard, Chez Boulay Comptoir Boréal, BEClub Bistro and Maison Livernois. La Bûche was probably Abby's favorite stop. La Bûche is modelled after a Sugar Shack and here we had Quebecois pea soup, pate chinois, and of course the famous maple taffy. The maple taffy was a unique experience where they take hot maple syrup sugar and put it on a block of ice. We then took our popsicle sticks and pressed into the sugar to make a "Maple Lollipop" so to speak.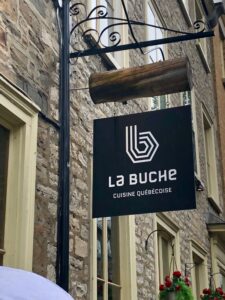 Maison Liversnois was also a very notable place that we stopped. This restaurant is famous for poutine! You can't come to Quebec City without trying/having poutine. Overall, the Food Tour was a great way to experience the city and we will do it again the next time we visit Quebec City.
Chez Muffy
When Abby and I are at home in Florida, we don't tend to go out for lunch or dinner to often, but if there is one meal that we will splurge on it is for a good Brunch. And in Quebec City we found a place that we wished we had closer to home. Chez Muffy! Chez Muffy may single handedly be one of the best brunch spots that we have ever been to. The atmosphere paired with the delicious food made this place a Must Do in Quebec. The restaurant is in an old maritime warehouse that overlooks the St. Lawrence River. The building itself is quite beautiful with original stone walls and open ceiling with the raw wooden beams visible. It is quite cozy and inviting. This restaurant is a farm to table restaurant and Brunch is buffet style with an amazing spread of items to choose from. If you decide to check out Chez Muffy it is located in lower Quebec near the river front.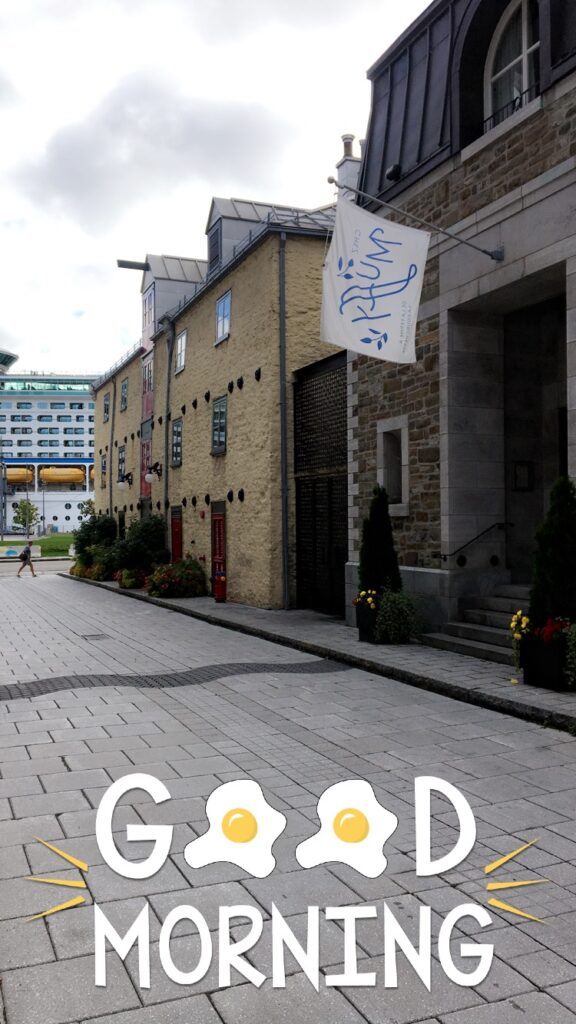 Crepes
I think Abby would consider divorce if I wrote a post about Quebec City and didn't mention Crepes! Since Quebec has a very heavy French influence, Crepes are a staple food. We had multiple Crepes on our trip and it seemed like you could order them any time of day. Two of the more notable crepes that we had were from a food truck and the Restaurant Le Petit Chateau. The Restaurant Le Petit Chateau is a stone built café right next to the Chateau Frontenac. We went for breakfast and Abby really enjoyed their savory crepes selection. They also have a plethora of sweet crepes. The food truck was set up near the Rue du Tresor, so we are not sure if they are there every day.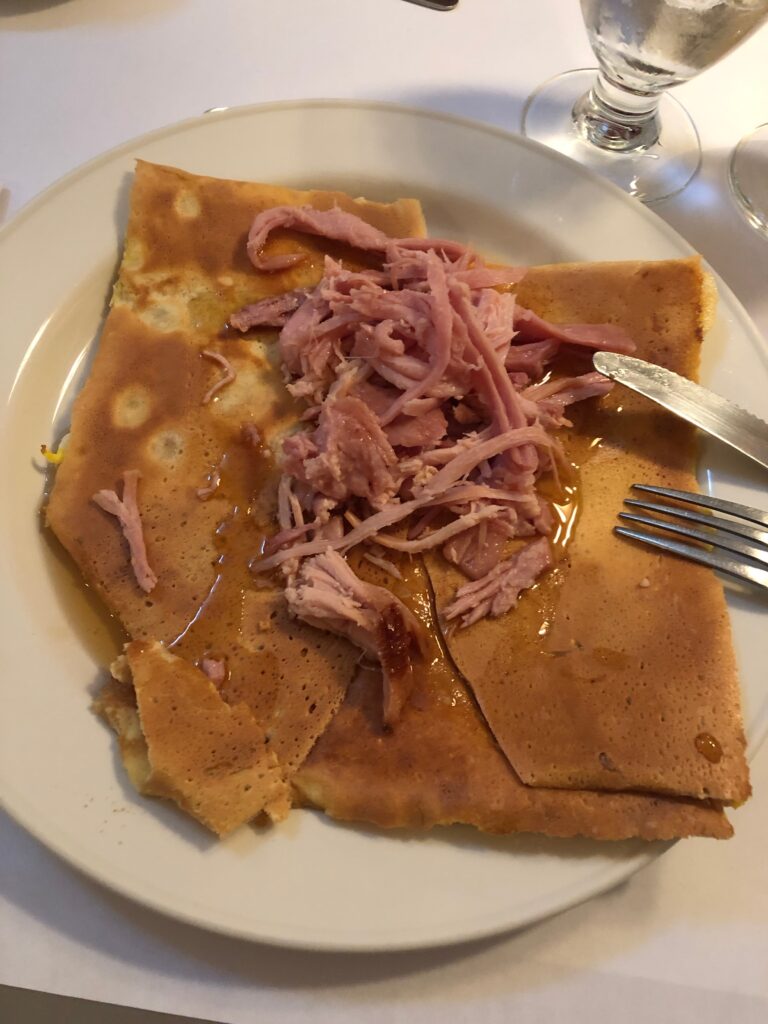 4. The Nature of Quebec
The City of Quebec is quite fascinating, but if you get the opportunity to venture out of the city I recommend taking advantage of it. The surrounding areas of Quebec are breathtaking. It is a Nature/Outdoors person's paradise. There are water falls, hiking trails, The Jacques-Cartier National Forest, Fjords, the list goes on and on of things to explore. We jumped at the opportunity, hopped in the car, and followed the St. Lawrence River (Northeast) to a small little fishing village. The drive was amazing. The highway follows the St. Lawrence River and the views that we got were hard to describe. It's one of those things where you just say, "Holy Sh** this is beautiful here."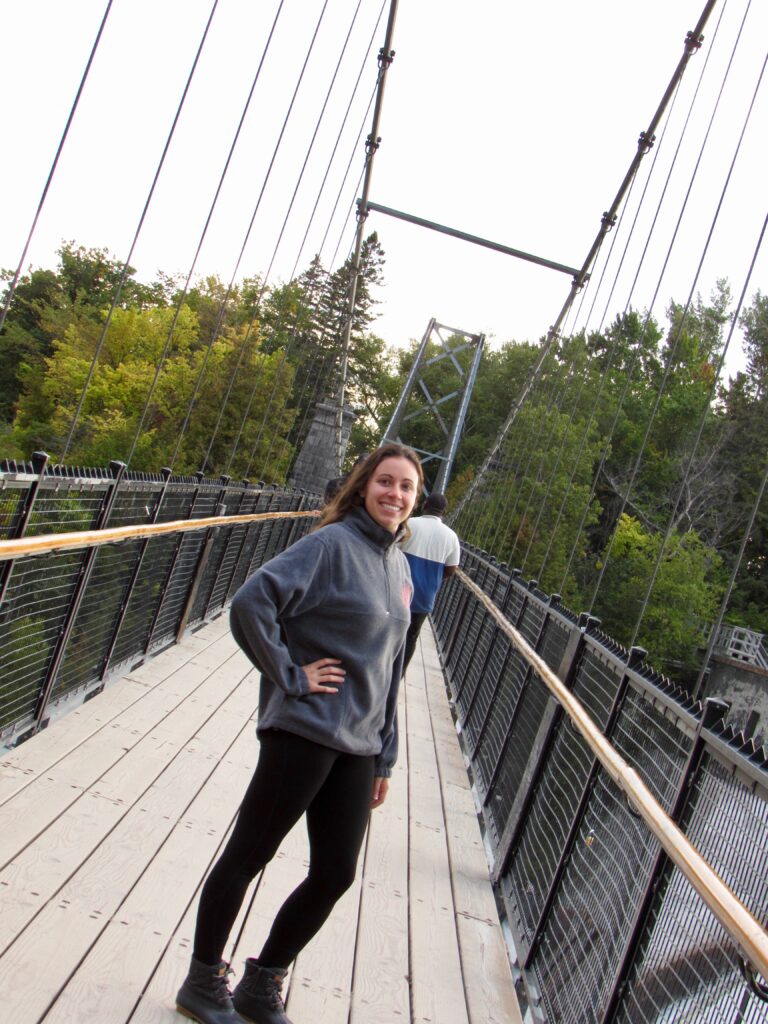 The small little fishing village that we traveled to is known as Tadoussac and this village is heavily French influenced. Not many people speak English here, but the few restaurants that do have French and English menus. The reason that we went to this little village was to do something that Abby has always wanted to do, Whale Watching! We did a Whale Watching tour in the St. Lawrence River and it was absolutely amazing. We saw so many Humpback whales, they were everywhere. It's the first time that I had seen one in person and this tour is something that I would pay money to go do again.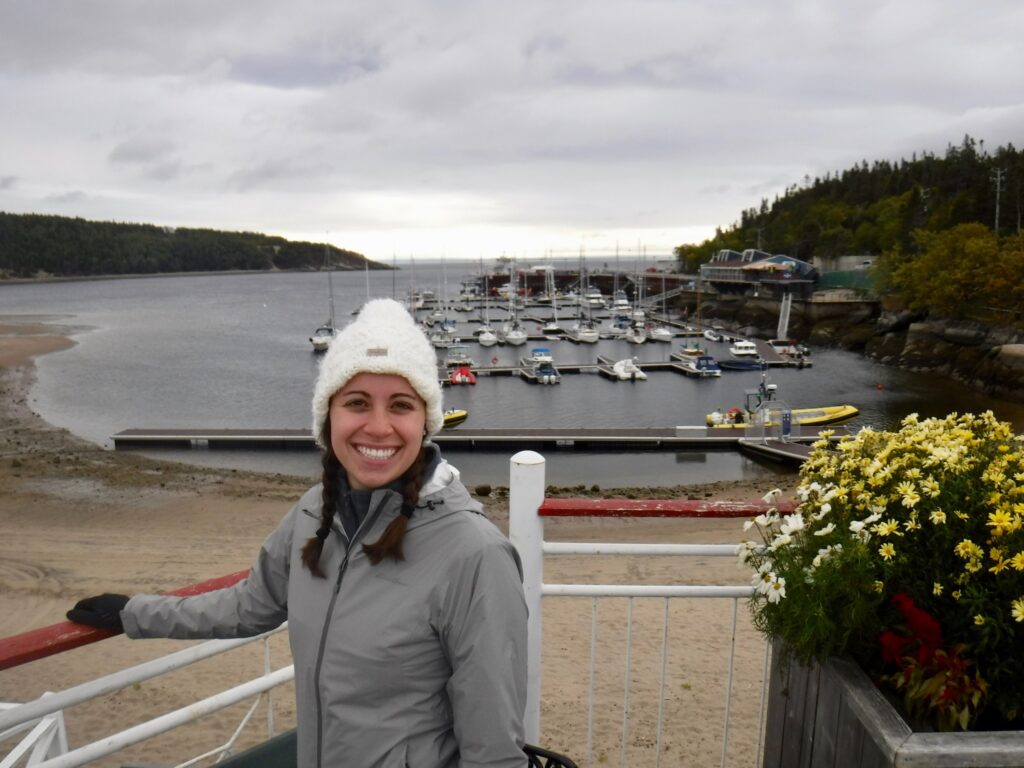 Tadoussac is in a very remote area of Canada so do not expect much outside of what the village offers. With that said the village does have some hotel lodging and cool little shops and restaurants. The drive from Quebec City to Tadoussac took us roughly 3-4 hours. We did this as a day trip, but we recommend staying overnight in Tadoussac the night before your tour. We had to get up quite early to get to our Whale Tour on time.
I would love to come back to this part of the world with my brothers and venture out into the wilderness of the Quebec Province on a camping trip. Just us and the untamed wilderness.
Conclusion
In conclusion, The province and the City of Quebec did not disappoint at all. Every person we met was very friendly, the food scene is unreal, and there are numerous ways to stay entertained. The city and natural surrounding areas blend seamlessly together creating a very romantic aura. Quebec is a place that I will cherish and hope to one day return to. Be sure to check out our OhHappyRayz Youtube & Instagram for more on Quebec City and our other travels!
See any outfits you like in this post? Be sure to check out our Liketoknowit page!