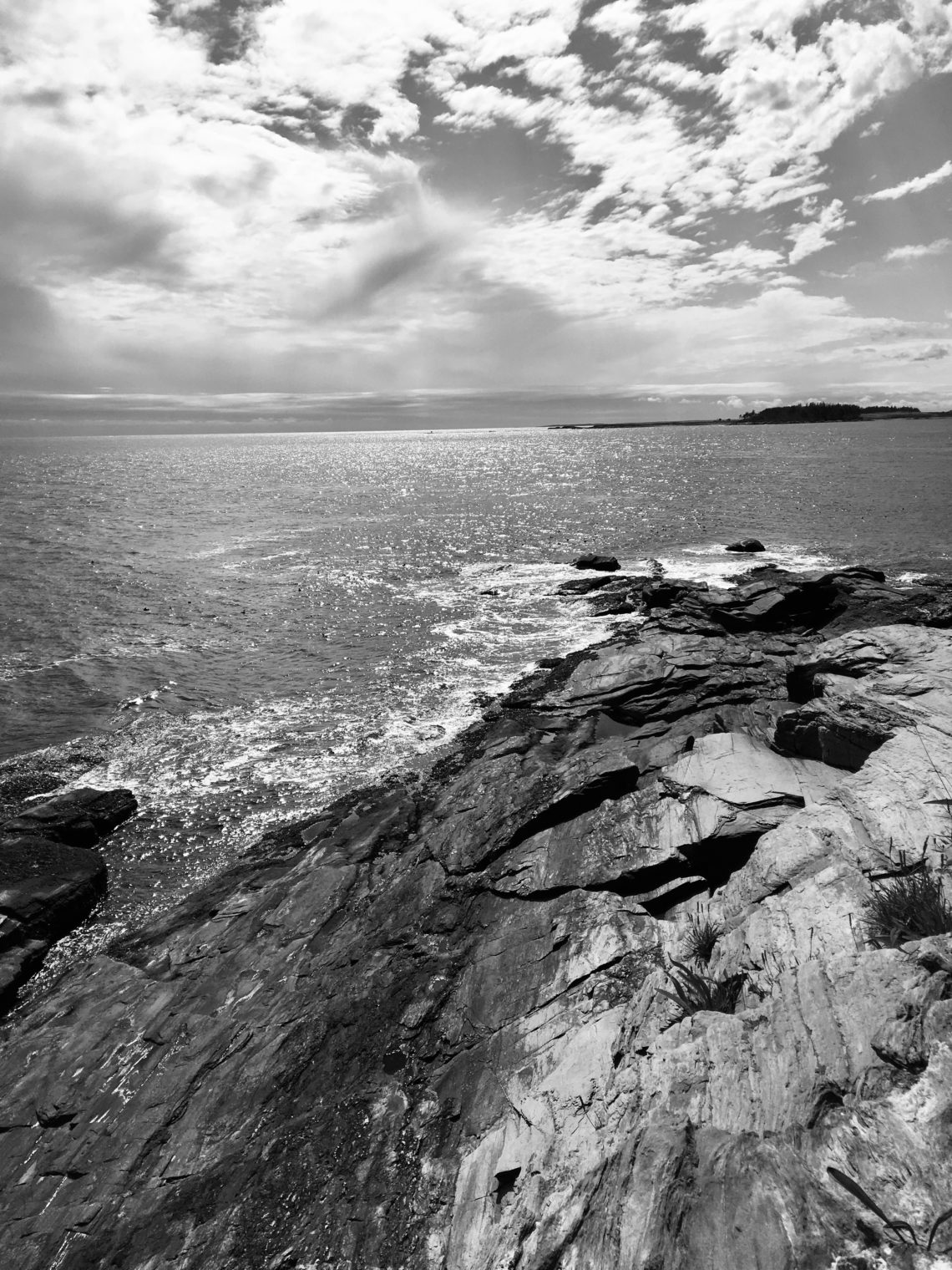 Exploring Portland & Freeport, Maine
Kyle and I have been to several new places this year and one of the most beautiful places we visited was Maine. We were only able to spend roughly a day and a half in the state and I cannot wait to return! We started our journey in Portland, Maine and I must say…….it was PERFECT! We arrived to the city around lunchtime and our first stop was at a little restaurant that was packed with flavor. The name of this Holy Grail is Duckfat.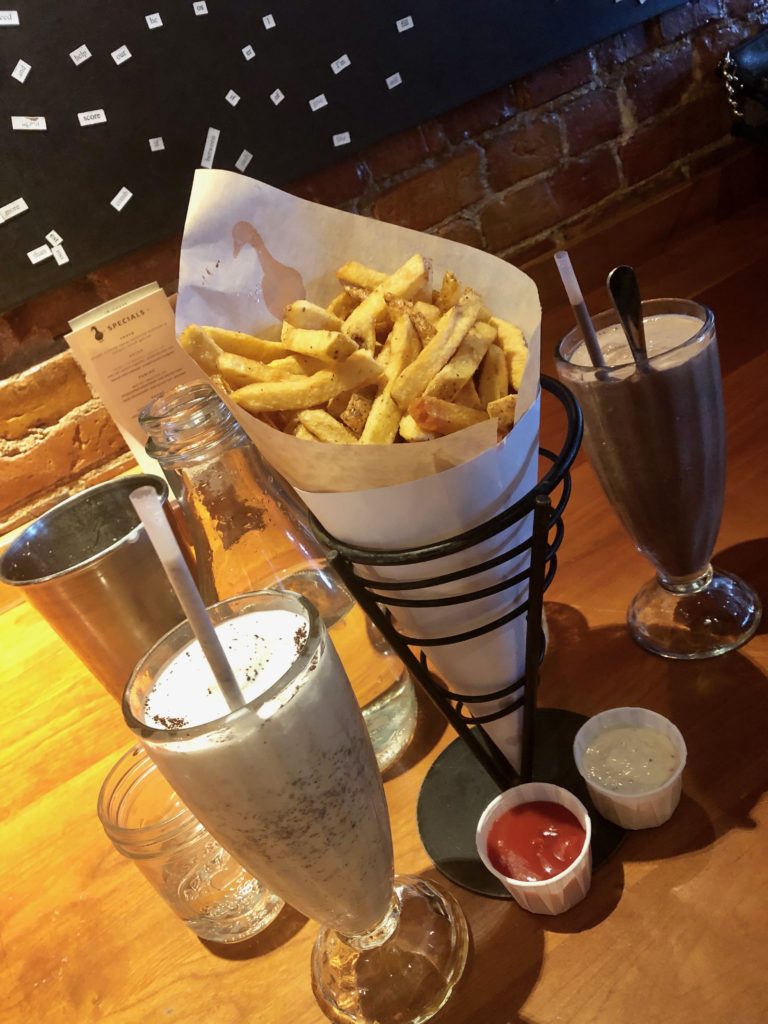 Our meal consisted of sandwiches, shakes, mini donuts, and of course their famous French Fries.When I say famous, I mean people literally go in and order a serving of fries as their meal. THEY ARE THAT GOOD! This restaurant is known for its use of duck fat for all of their frying needs.
It gives the French fries an amazing flavor to go along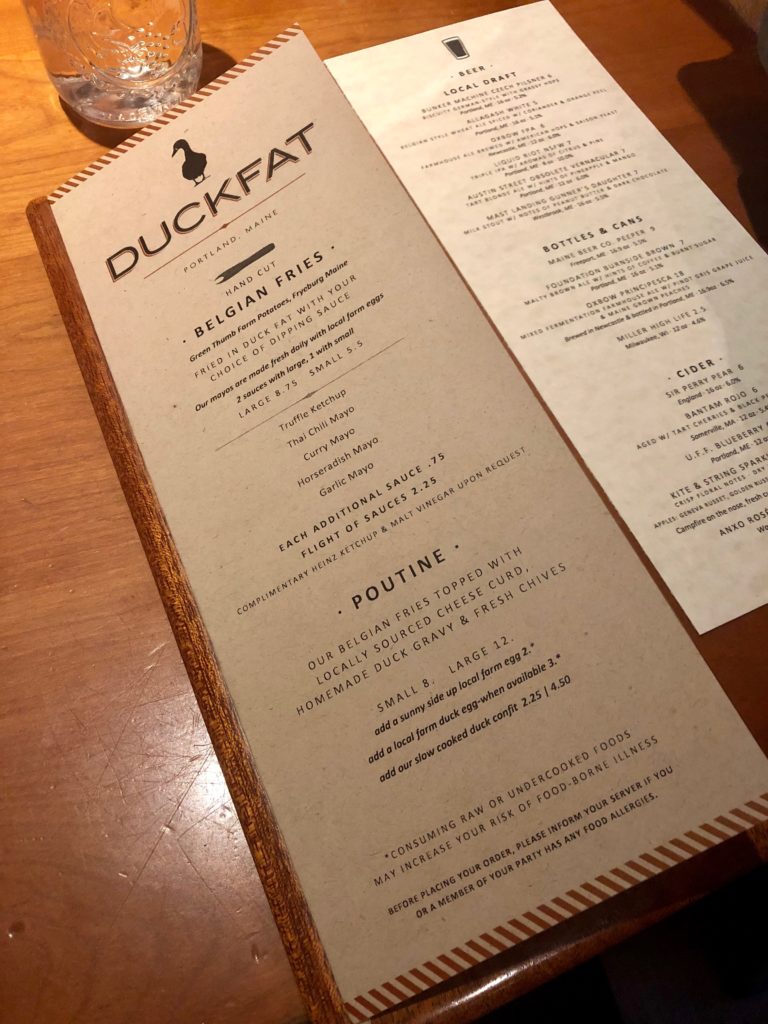 with their flight of sauces that includes truffle ketchup. This is ABSOLUTELY a "must-stop" and make sure to get there early. The restaurant fills up quickly, especially during the summer months. After a filling lunch, you will be ready to hit the road in search of the famous Maine Lighthouses.
While we were looking for our first lighthouse (Cape Elizabeth Light) we stumbled upon Two Lights State Park. Kyle accidently discovered this state park thinking it was the entrance to see the lighthouse called Two Lights, which it was not. It was quite possibly one of the best mistakes he has ever made because the Two Lights State Park is magnificent.
It is a cash only park that is slightly pricey compared to other state parks we have been to but trust me, you won't be disappointed! We were able to go on short simple hikes along the water and in the woods while also discovering these amazing slate rock formations right on the Atlantic Ocean. The views on their own are worth every penny but being able to climb the rocks and walk along the shore side was quite literally picture perfect. There are also benches and picnic tables for those that enjoy picnics and some quiet time by the water.
After our unplanned stop, we traveled to four different lighthouses in the immediate area. Each lighthouse allowed for a special view of the coastline and a glimpse of different parts of the area surrounding Portland, which was very special! I highly recommend starting at the lighthouse that is furthest away and work your way back towards town. For us this was Cape Elizabeth Lighthouse. When we made it to our last lighthouse, one of our neatest experiences of our trip occurred. We came up to this small light house named the "Bug Light" or the Breakwater Lighthouse. This specific lighthouse is ran by the Rotary club of Portland, and on certain days you can go up inside and learn about the history of Portland, as well as how the lighthouse works. Be sure to check the rotary club website for information on when the lighthouse will be open to go inside!
Now if you thought Duckfat would be the only restaurant to brag about you'd be mistaken. All of my "Foodies" will be quite impressed by the food scene in Portland, Maine. Kyle and I chose to eat dinner at Central Provisions after surveying countless delectable menus while walking the beautiful historical streets of Portland. Central Provisions is a prohibition style restaurant and bar serving great cocktails and small plates to share. As Kyle is the seafood eater between the two of us, he ordered oysters and lobster pasta that he ate so fast you wouldn't believe the plate ever had any food on it. We also ordered a bread and cheese plate, small pork belly, and carrots with a light mash. The carrots were our star dish that we still dream about! The caramelization was truly amazing and I do not think I could ever replicate them at home.
Just as Kyle eats seafood, I have the sweet tooth so I requested that our next stop be at Gross Confectionery for dessert. I have never been to a dessert restaurant and it will now be a requirement on all our future trips! The s'mores dessert that I had was perfectly light and fluffy with all the flavor! A big seller is their "Surfboard" which is a small surfboard with multiple desserts that you can either split with the table or eat by yourself. I will certainly be indulging in that on a return trip one day!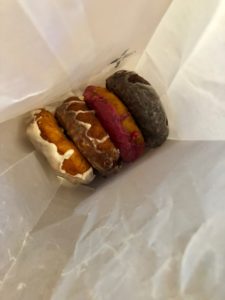 The Holy Donut was our very last stop in Portland before leaving, in the morning, for Freeport. These donuts are one for the record books! I have never had a potato donut and now I highly recommend them! Again, arrive early to get your donuts but be careful not to let your eyes get bigger than your stomach because they are extremely filling!
Believe it or not, Portland has even more to offer outside of food and searching for lighthouses. The city boasts several opportunities to get out on the water whether on a simple boat tour, fishing charter, or whale watching. The historical downtown also lends itself to great little boutiques to get lost in. It is truly the perfect town for the whole family, no matter what your favorite activities are!
Now for my friends that live for a good deal and a great shopping experience, you have to see Freeport, Maine! Freeport is built around the flagship stores of L.L. Bean. When I say stores, I mean stores! They have more than three buildings full of products that are open 24/7 for all your outdoor and indoor needs. The remainder of the downtown area is full of outlet/factory stores of countless companies including J.Crew, Banana Republic, LOFT, and Columbia. There is certainly something for everyone as well as great local restaurants. One of the bars even offers "free husband day care" so us ladies can shop in peace! Freeport is roughly 30 minutes north of Portland making it a simple day trip away and worth every second of great deals in one of the cutest shopping centers I have ever seen!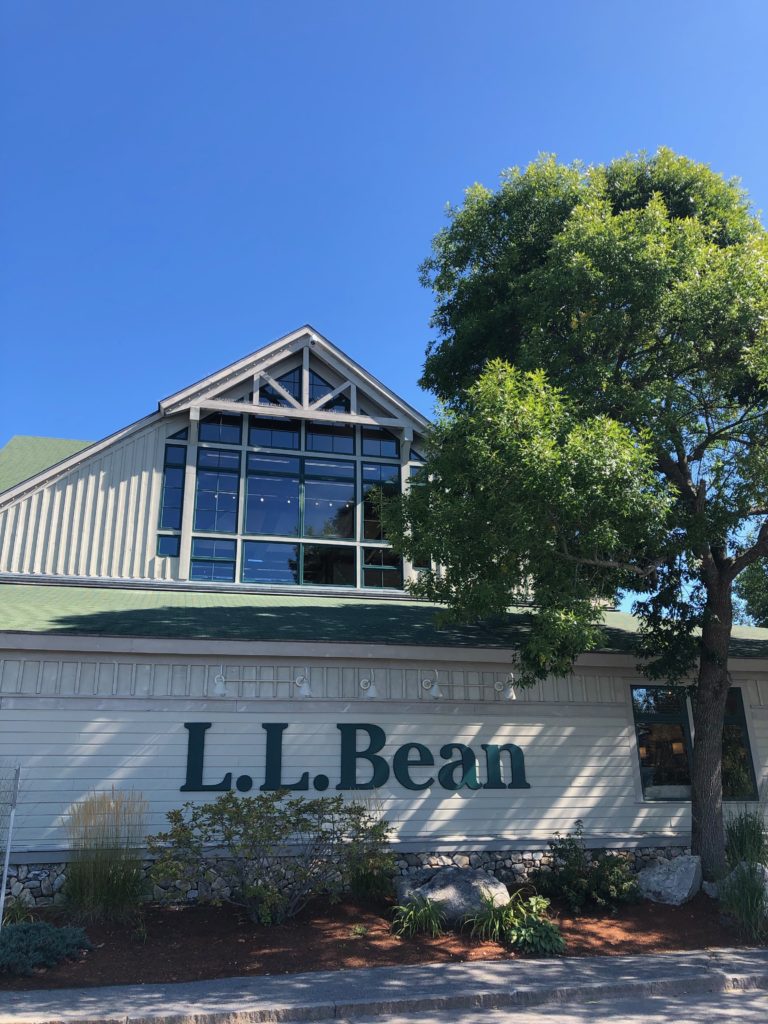 We certainly packed A LOT into just a day and a half but it was completely worth it. I am definitely ready to return to Maine for more food in Portland, shopping in Freeport, and adventure throughout the rest of the state, as there is so much more left to explore.