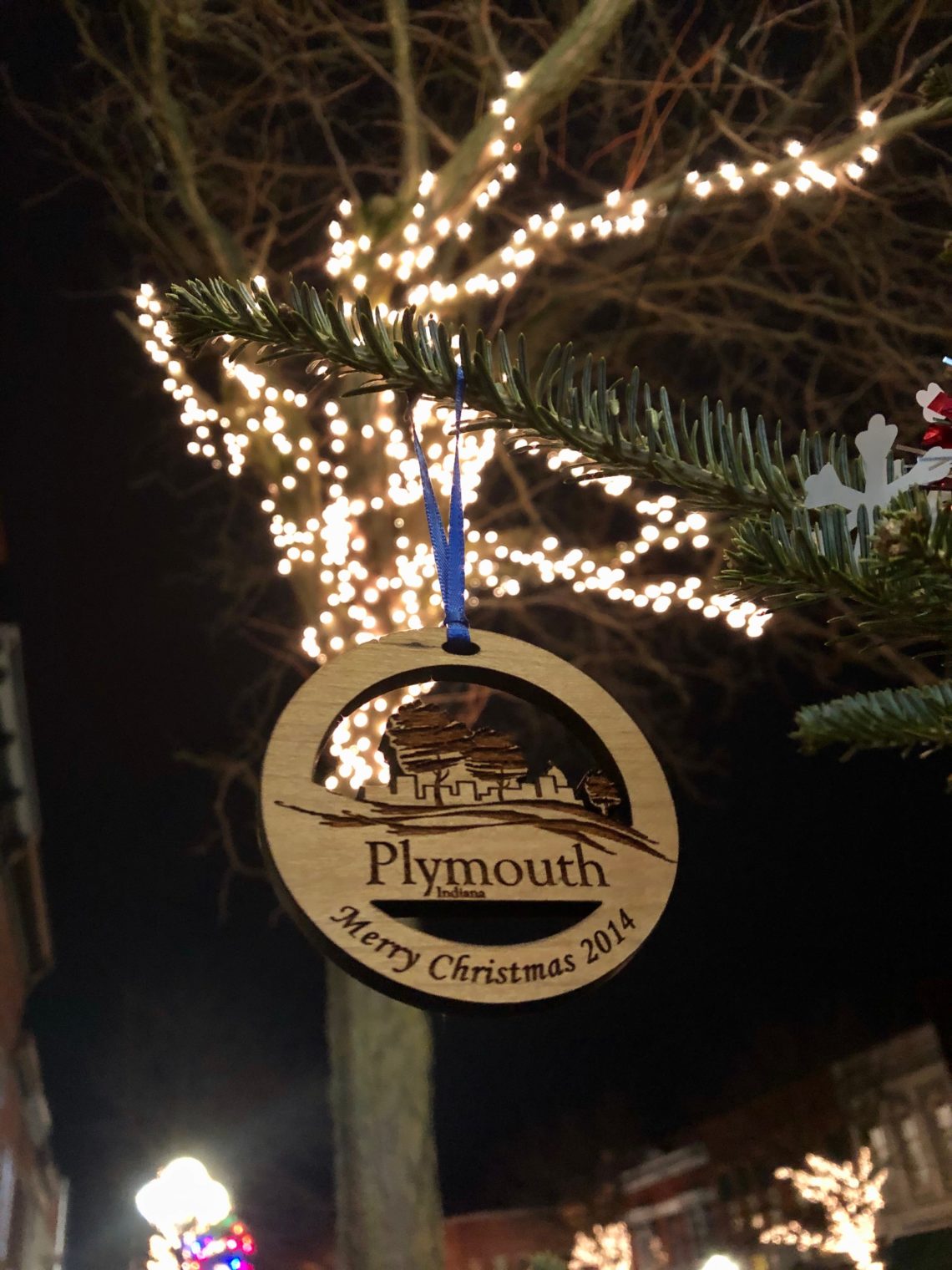 Charming Small Towns to visit in the USA: Plymouth, IN
Kyle and I had an amazing trip home for Thanksgiving this year! Last year we procrastinated on buying flights and we were only able to be in Indiana for less than 48 hours. This year we were home for over three days! It made for an amazing trip filled with special memories!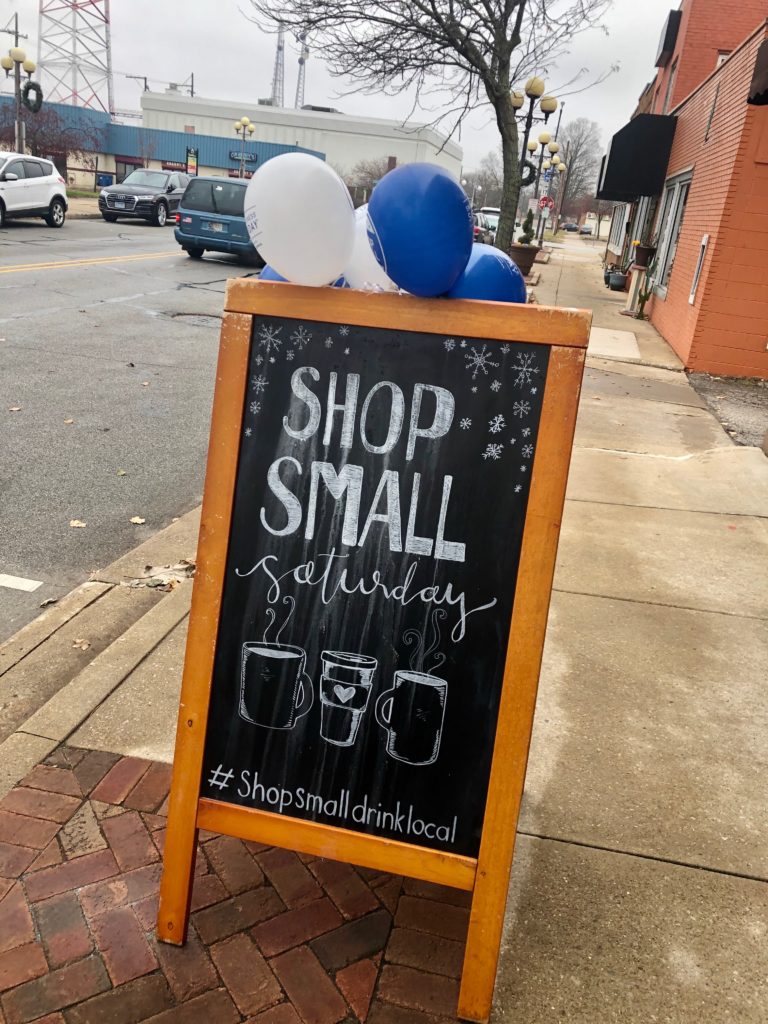 Our favorite part of being home with Kyle's family was exploring his home town of Plymouth, IN. Although roughly 99% of the world does not know this small town exists, they should. Not only is it fairly close to Chicago, with an average drive time of a little over an hour and a half, it is also about 2 hours from Indianapolis. The closest city to Plymouth is South Bend, IN, which sits only 30 minutes north of Plymouth. This allows the patrons of Marshall County to experience a "city feel" without having to travel far.
Plymouth has been able to maintain its small town charm and feel, throughout the years, with its downtown area that is full of local shops and shop owners who know most everyone by name. After all these years of Kyle and I being together, we have never spent a great deal of time in Downtown Plymouth, so we took Shop Small Saturday as our chance to really enjoy the area.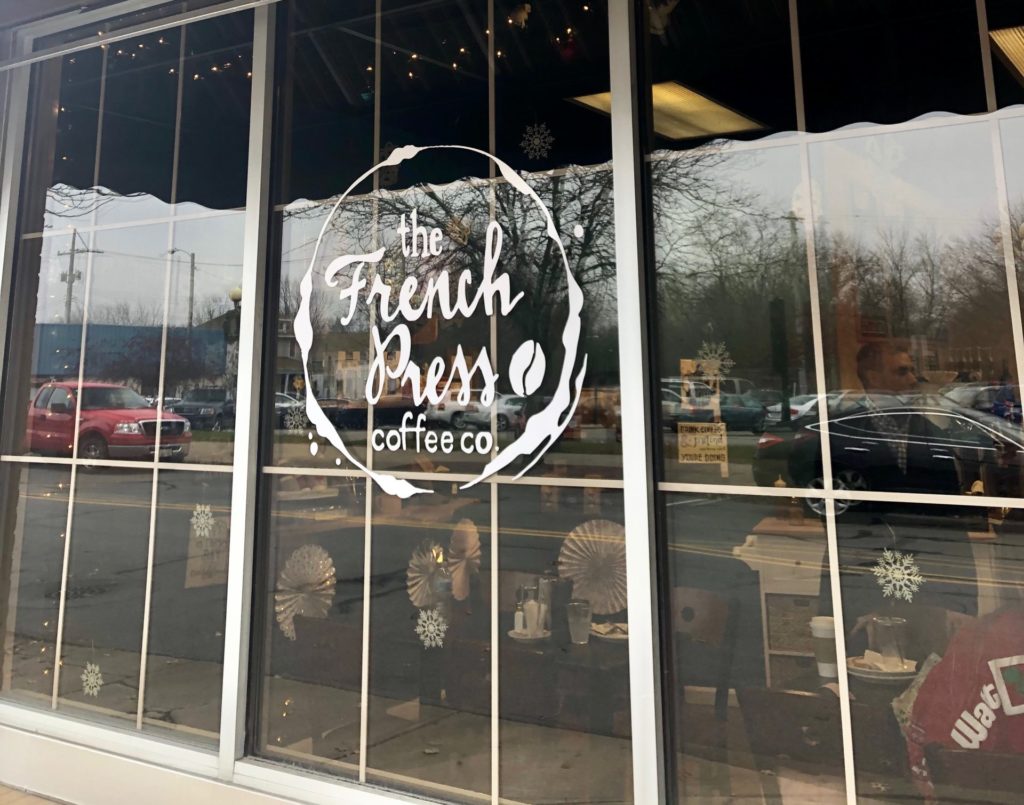 We started our morning at the The French Press Coffee Company. It is a locally owned coffee shop with a white chocolate mocha you would only hope to drink in the North Pole. It well surpassed commercial brands as it tasted like a real chunk of white chocolate had been added to the drink instead of just flavored syrup! We also enjoyed breakfast Paninis that were delicious but not too filling. After our breakfast, we decided to participate in the annual Downtown Plymouth Scavenger Hunt!
Each year, Downtown Plymouth store owners get together to put on a holiday themed scavenger hunt! This year contestants had to go around to 31 stores/restaurants to find the hidden holiday object that corresponded with the list of Christmas movies you were given. You were to then write the name of the store/restaurant next to the Christmas movie. Since this was a competition, they of course had prizes for the winners that consisted of "Downtown Dollars." These Downtown dollars could be used to purchase items in any of the Downtown area stores. Not only does this help to bring people into the shops on Black Friday and Shop Small Saturday, but it also allows for neighbors to visit with each other and catch up.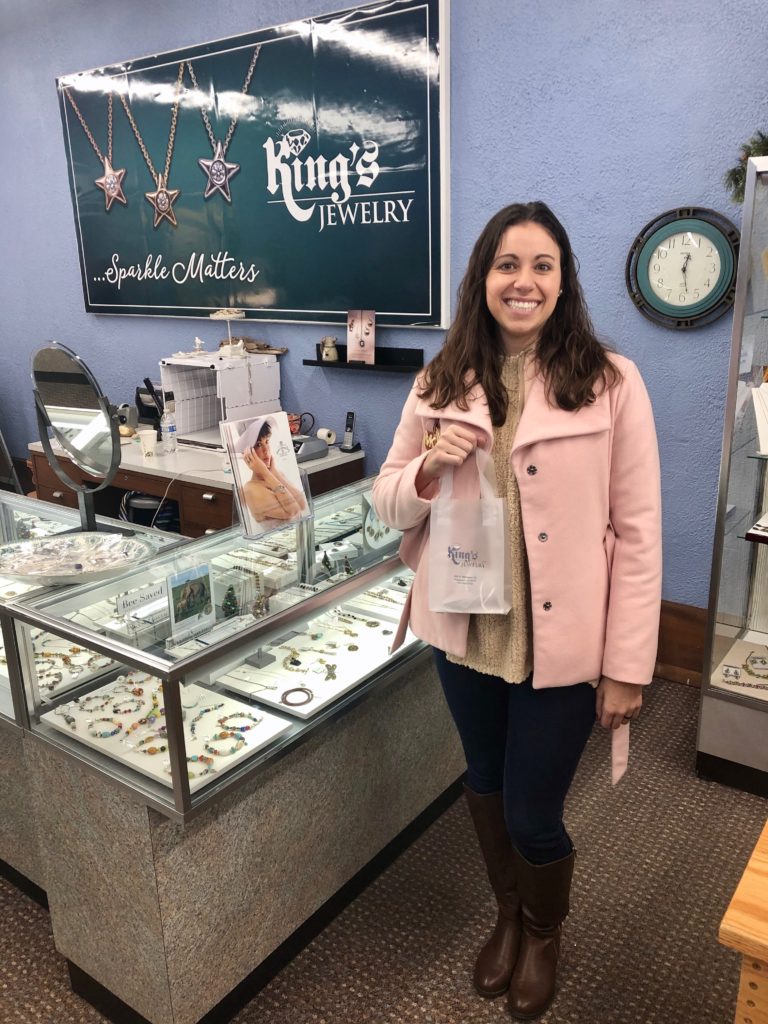 As Kyle hadn't seen several of these people for a few years, we spent quite a bit of time talking, laughing, and catching up. All of the store owners were lovely to spend time with and very helpful with hints to find the hidden Holiday items. There were, however, some stores that we really enjoyed! For instance, King's Jewelry has a great variety of items for all price points and I just love the earrings I was able to purchase!
We also loved stopping in to La'Dzert Cafe! They have unbelievable cupcakes and also offer lunch a few days a week. We have had their cupcakes for my bridal shower and even for Thanksgiving this year. We are NEVER disappointed!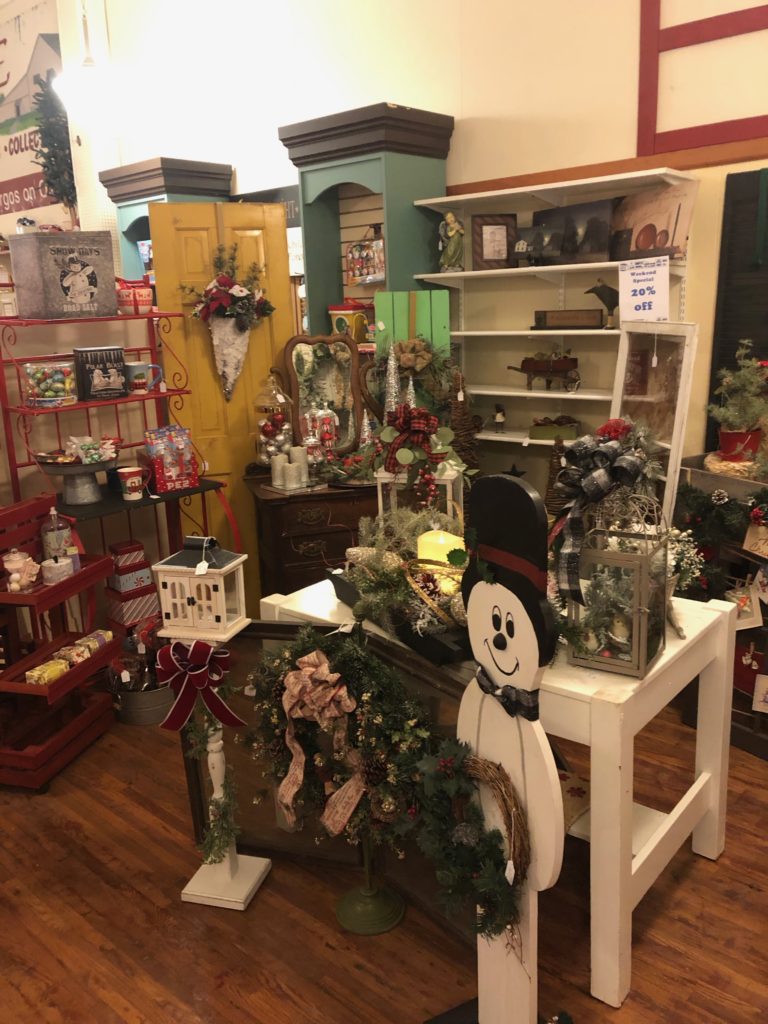 Finally, for all those that like to hunt for the perfect decor items for your house, Boonee's Primitives is the place to go! I told Kyle that once we buy our first home, we will have to drive a U-Haul back from Plymouth to Florida with our findings from Boonee's. They have everything from antique furniture to Christmas decor and everything in between! I was amazed at the selection and the prices! It is a MUST DO for all of my antique/rustic hunters out there!
Now Shop Small Saturday didn't end there! That evening Plymouth was all lit up for their annual Christmas parade and tree lighting! Several businesses were open with fun holiday treats and activities for kids before the parade. This made the event a great family outing. The parade was everything you would want it to be! Local businesses and families walked the streets with treats for the kids! There was a school bus covered in lights and the best part, of course, was Santa arriving on a bright red fire truck! Once Santa had passed, everyone walked behind his firetruck to the park for the Christmas tree lighting.
This year's tree lighting was done with a new tree, planted about 5-7 years ago. The park's audio system played several musical tracks and then the park sprung to life with dancing lights, making it an even more unique experience! It made for a truly special weekend in the country for this city-girl, and I cannot wait to be back in Plymouth for our next visit. During the holiday season the park lights are on and dancing from 6:00-10:00pm.
There is so much more to see and explore in Plymouth and Marshall County, and with the change of every season you get a different and unique experience. Plymouth has evolved greatly from Kyle's high school days. They created a beautiful park, complete with amphitheater, within the Downtown area that houses the Christmas tree during the winter months. During the summer months, the park is home to the weekly farmer's market that has fresh produce, veggies, meats, cheeses, and much more straight from local Marshall County farms. Plymouth has also become a home for the arts. On Friday nights, during the summer, they have concerts at the amphitheater that span a wide variety of music. Local restaurants/bars also play host to local live musical artists throughout the year. Kyle's favorite event in particular is the annual Blueberry Festival over Labor Day weekend.
As you can see, even though Plymouth is small, the town provides a charming appeal and a variety of events that make this a small town worth visiting.
For more information about Plymouth or Marshall County check out their website or Facebook page.