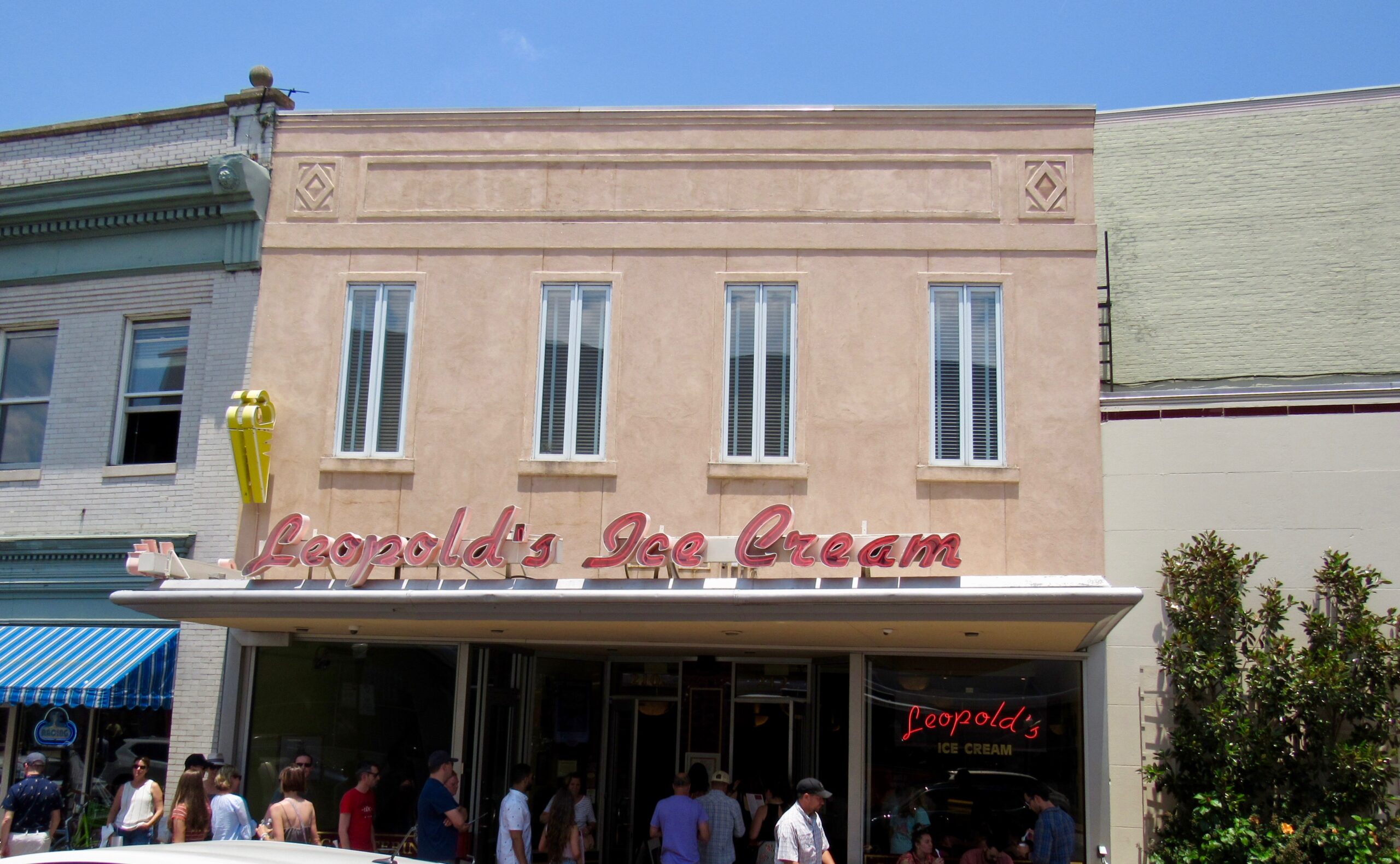 One of Kyle and I's favorite times to travel is during long weekends. Long weekends give you enough time to see and enjoy a new city without having to take time off from work to do so! We typically plan a trip for both of the long weekends in summer: Memorial Day and Labor Day.
In 2019 we decided to travel to a new city within driving distance as flights were just too expensive. After deciding how far we would be willing to drive (6-8 hours), we selected Savannah, GA.
I had previously been to Savannah, GA, on a day trip from Hilton Head with Kyle's sister and dad, but never for a whole weekend . Needless to say, I was ready to explore some more! Between the history of the city, the restaurants and shopping, we knew there would be plenty to do!
Logistics
Since Savannah is about a six and a half hour drive from us (when traffic is light), we decided to rent a car instead of taking one of our own. Kyle's car was just over a year old at the time and we were not looking to put many miles on it straight away. We also decided that my car was not the best choice either as it was already 7 years old.
Another factor that weighed into our decision was that we were able to build points with Enterprise. This is always a plus when you spend a lot of time traveling. And our final reason for renting; cars are cheap to rent in the summer in Florida.
Pro-tip: If you have the means to rent a car for a short road trip over taking your car, I recommend it. You can build points with the company you are renting from for future travels where a free rental/upgrade or discount may be more useful. And you don't put unnecessary miles on your personal car which can increase your maintenance costs.
Aside from renting a car, there were other road trip nuances that we needed to figure out. Once we determined our driving route, we figured out the best time to leave for Savannah. We did not want to leave in the middle of rush hour traffic on a Friday night, so we decided to leave for Savannah at 3AM on Saturday morning. This cut our traffic risk down significantly and also cut our expenses in hotel room stays. If we would have left on Friday night at five, we likely would have hit Tampa and/or Orlando traffic. We would've required a hotel stay at some on the journey as well.
Both of these options were very unappealing to us as we rather spend money in Savannah on food/experiences/shopping than on a hotel room. Instead, we came home from work, ate, packed, and slept until about 10:30 PM. We then picked up the car, came home and slept for about 3-4 more hours before beginning our drive. This worked out fairly for use as we saved money and still managed to get 6 hours of sleep prior to leaving.
The Drive
Per usual, Kyle took the first shift driving since he only needs five hours of sleep to function on a normal day…I require a minimum of seven hours. When the sun started to rise on the drive as we approached Jacksonville, we stopped for some snacks and a driver change before continuing the rest of the way.
The drive turned out to be very quiet and scenic. It was a nice way to see other parts of Florida and give us a great lead into Savannah! All of the trees overhanging the streets with Spanish moss made for picturesque views as we came off the highway and onto the smaller streets of Savannah. It is just as you would picture for a "southern small town".
Kyle and I made finding a parking spot a priority when arriving. Parking in Savannah is not an easy thing to do. There is not a lot of parking to start with and most of the parking is parallel along the street. Parking is also metered so I recommend parking at your hotel if possible. A vast majority of Savannah is walkable, making it easy without a car. This is also a great way to see more of Savannah from the "locals" presepctive.
Hitting the Streets of Savannah
The streets of Savannah are beautiful! Many streets are quiet and picturesque, with trees overhanging the pavement. They make for great photo-ops! Even on a busy weekend, many streets are empty, making photos under the trees and along the buildings easy. We also really enjoyed seeing when homes were built based on the placards on the homes. Kyle and I kept looking for the oldest house we could find! I think the oldest we saw was from the 1700s! The other fun part about wondering the streets is that you can spot all the homeowners that no longer have a mortgage to pay! Savannah has a long standing tradition that you paint your front door red when you pay off your mortgage! We thought this was a fun tradition and loved the "I Spy" game!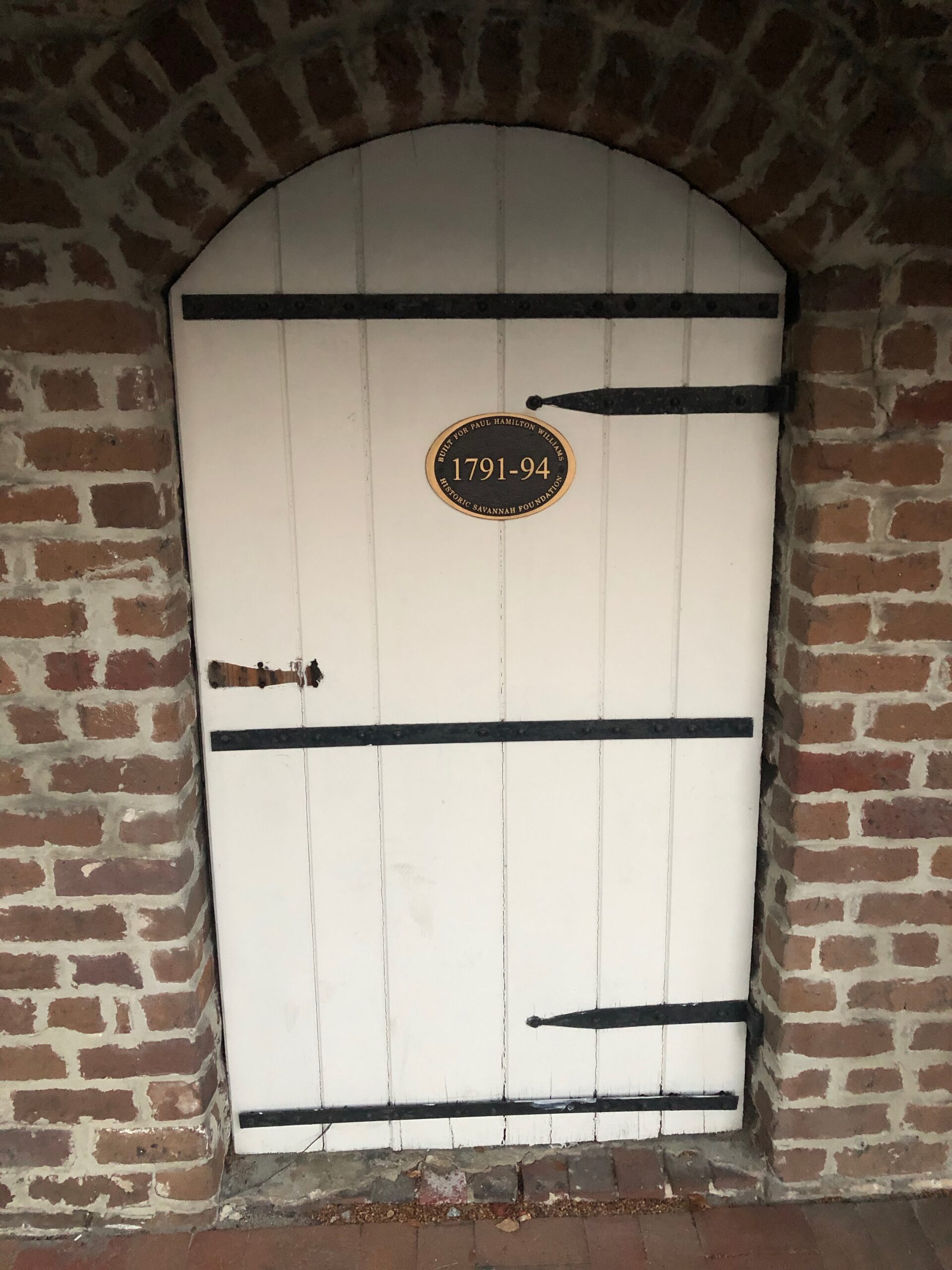 One of the best parts of Savannah are the restaurants! If you are planning a trip and want to eat at specific restaurants, make a reservation! Many restaurants are small and very busy. On busy weekends, like Memorial Day, you have to be prepared! Many restaurants were booked a month out with the exception of first and last seatings. Also be sure to look in the nooks and crannies of the city for restaurants! Many restaurants in cities like Savannah, are hidden in plain sight! You can completely miss them and those are often the best places to eat!
Pro-tip: Make reservations for restaurants as far in advance as possible!
First Foodie Spot
Our first eatery was The Emporium. The Emporium is located in the North Historic District. The breakfast was unbelievable and the atmosphere of the restaurant was so fun! They have an open style kitchen so you can see the chefs at work. The décor was also a great mix of modern/contemporary and southern flair. In this big open space, you will enjoy a casual dining experience while watching persons walk by on the street through the bay windows.
We actually sat along the windows in the restaurant; giving us a great view of a running race happening in town. Several military units ran the race dressed in their uniforms, as well as firefighters and other first responders. It was a great reminder of what Memorial Day weekend is all about! It was also lovely to see so many members of the community running together and supporting a wonderful cause.
The Emporium's food and drinks were delicious! While there, I also looked over their dinner menu. Based off the selection, I would recommend dinner as well! I am sure it tastes just as good as their brunch! Kyle and I love a southern style breakfast so brunch in "small town" South never disappoints.
Another neat feature of the Emporium is their small marketplace. You can buy snacks for on the go or items to take home with you. They also have a coffee bar and wine bar. We did not get anything from the market area but it seemed very popular. If you stay at the attached hotel, you have a definite winner under your suite!
The Squares of Savannah
After brunch, we wondered back through Savannah towards our car. Savannah originally had 24 parks/squares when it was originally built. There are still 22 remaining. Each one is different and worth wandering through. Many of the squares have statues or momentums explaining parts of Savannah's history.
These areas are also nice to sit and relax as Savannah is HOT in the summer time! It was in the low 90s the weekend we were there before heat index. Wondering through these parks gave great shade, cool air, and beautiful pictures. I highly recommend picking up a map so you can visit as many of them as you would like! Maps can be found throughout the "downtown" of Savannah where the hop-on-hop-off trolleys are located.
Hop On/Hop Off Bus
Outside of wondering the parks of Savannah, there are many streets and market areas to explore. The City Market area in the North Historic District is a lot of fun! They have shops and several places to stop for food and drinks. You can also pick up several tours here! We decided to do the Hop on/Hop off bus tour after looking at all the options. This is a great tour if you do not want to do a lot of walking but see all of Savannah!
This bus takes you to over 15 different stops. Most spots have several attractions for you to explore. I did not realize how many museums were in Savannah until we did this tour!
If you are worried about having to pay for attractions at each stop, don't be! There are several attractions, outside of the squares, that are Free or for a donation to explore. Be sure if you are going to do a lot of hop on/hop off that you get your ticket early! There is a lot to see and you do not want to run out of time! If you are a planner and do not think you will be able to see it all in one day, they do offer multi-day tickets! Kyle and I did not do any of the museums but we did stop to see a few of the major churches and other attractions along the way.
After our bus tour, Kyle and I decided to head back to our hotel for a little relaxation in the AC. We stayed at a Hilton property since we are Hilton Honors members. If you are looking to stay more local, you will need to book early! Many of the Bed and Breakfast hotels are small and fill quickly. I will say, many of the bigger hotels do work very hard to carry the "Savannah" feel throughout their hotel. You will not miss out on the "Southern Vibe" if you cannot stay in a B&B!
Foodie Spot 2!
Since I made our dinner reservations somewhat last minute, Kyle and I had earlier dining times than normal. The main problem with this was the heat. It was in the 90s over Memorial Day Weekend prior to the heat index. This meant walking down the road in a button-up shirt was pretty uncomfortable and hot for Kyle. But we did not let the heat stop our first night out at 17Hundred90.
Like many restaurants in Savannah, 17Hundred90 is nestled inside a bed and breakfast in the Historic District. This restaurant in particular is located in what I believe would have been a basement or cellar in those days. It makes the restaurant a little dark but totally cool! There are still old wrought iron doors in the archways! We loved looking around at the pictures they hung on the walls and looking at the old knots in the flooring and brick walls.
Pro-tip – Make a reservation for this and other restaurants ahead ofttimes
The food at 17Hundred90 was very good. I would not label the cuisine to anything specific but you can find excellent selections of chicken, fish, and red meat. They also had a delicious chocolate desert we enjoyed sharing very much. This is a great spot for a nice but still casual dinner with your traveling mates!
River Street
After dinner, we decided to head towards the River Front. River Street has a TON of things to do! There are a lot of different shops to explore to start! I found an incredible boutique where everything was under $25! I got a great handbag there and was asked by more than 5 people where I got it in the half mile we walked along the river! There are also a lot of gift shops and candy stores for all your souvenirs and tasty treats!
Outside of shopping, there are also several restaurants and bars to explore! I do caution against staying directly on River Street if you do not like noise and like to go to bed early. Although I have not done this, I do know the bars stay open late and there is often little sound proofing in old buildings. Our hotel was on the street above River Street and we were still provided with ear plugs in our room.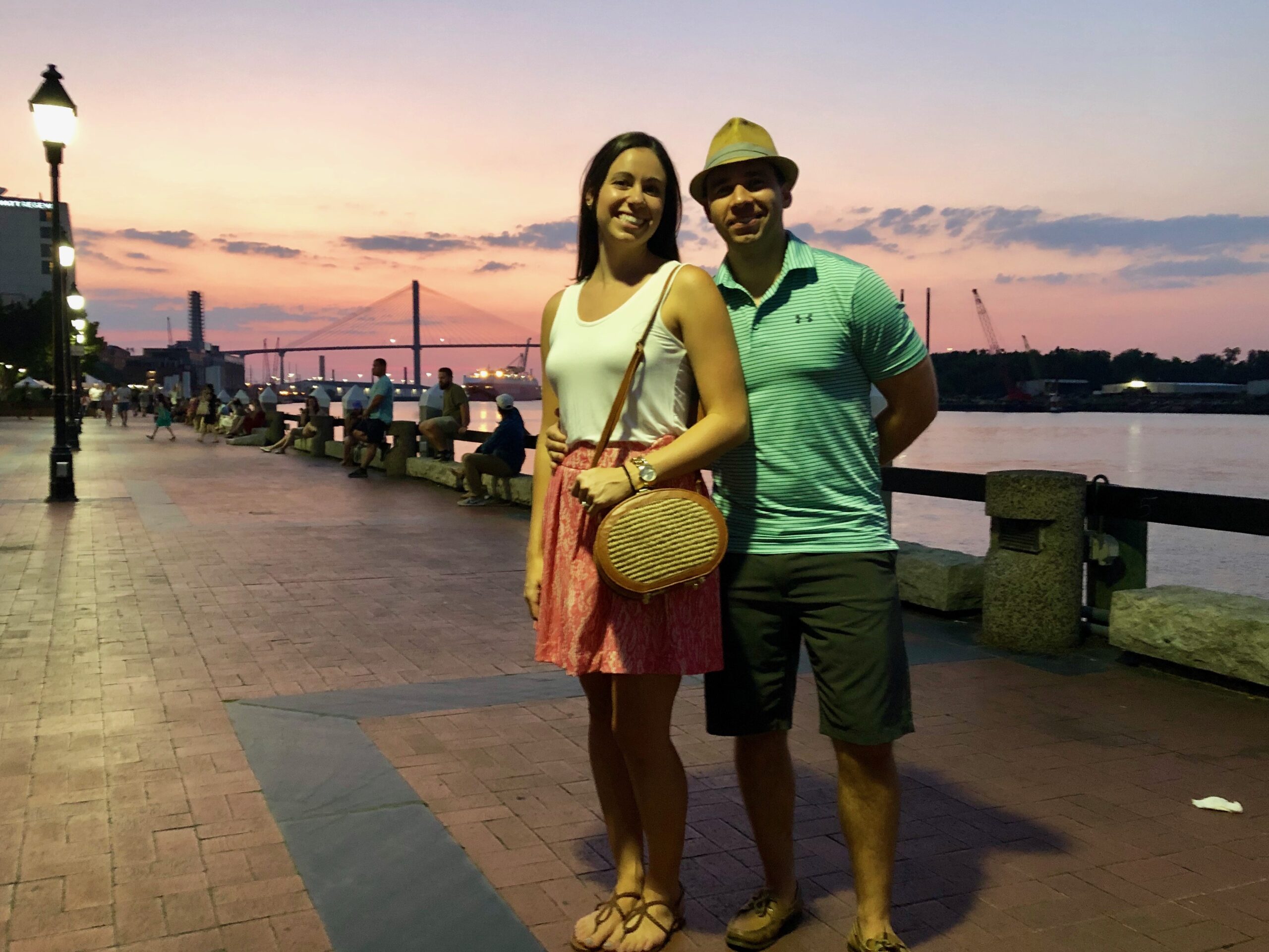 The other nice thing about River Street is obviously the river! There were beautiful sunsets while we were there that countless others were watching along the riverwalk! With our crazy early morning, we did not stay out at any of the bars and went to bed early but we have been told you cannot go wrong with any choice.
Pro-tip: Check out a rooftop bar along the river to watch the sunset!
Sunday Funday
After a full night of sleep, Kyle and I got up and went for a walk along the river before heading back to the hotel restaurant for brunch. Since we had not been to Savannah before, we did not know if we would want to have scheduled meals for the entire trip or if we would want to wing it. Often times we do a little bit of both as we like to explore and find restaurants during our trip.
In Savannah, however, my recommendation would be to schedule any meals that you know you want to eat at a certain location. It was hard to get into places to eat for breakfast/brunch or dinner without reservations. This may have been because it was Memorial Day but I suspect this is fairly common in Savannah. Since we were staying at the Hilton, they had their traditional restaurant in house to enjoy.
For those that are not big brunch eaters, Kyle and I did find a great coffee shop in Savannah near the main historic hub! Savannah's Coffee Roasters Cafe has all kinds of light food items, baked good, coffee, tea, AND milkshakes! If you are looking for a lighter fare in a quieter area of town, this is the place to go! This is also a great place to stop if you are working while on the road and do not want to be in your hotel room the whole time. We saw several people working while there, likely some from SCAD.
Broughton Street & City Market
After brunch, Kyle and I spent Sunday exploring more of the City Market and Broughton Street. Broughton Street is home to the famous Leopold's Ice Cream. Be warned, there is always a line! We did not try it on this trip because we did not want to stand in the heat but it is on our list for next time. We were also worried that the ice cream would melt too fast to enjoy in the heat! Outside of Leopold's, there are several great clothing boutiques to shop! Broughton Street also has main stream stores such as Banana Republic so there is shopping for all if boutiques are not your jam!
While walking through City Market, we did stop at two great "snack stops" and a bar to watch part of the Indianapolis 500 (Midwest problems). Byrd's cookies is a must go when you are in Savannah! They have tasting jars of all their cookies for you to try before you buy! Even if you do not plan to buy any cookies, I recommend stopping in to at least try one sample!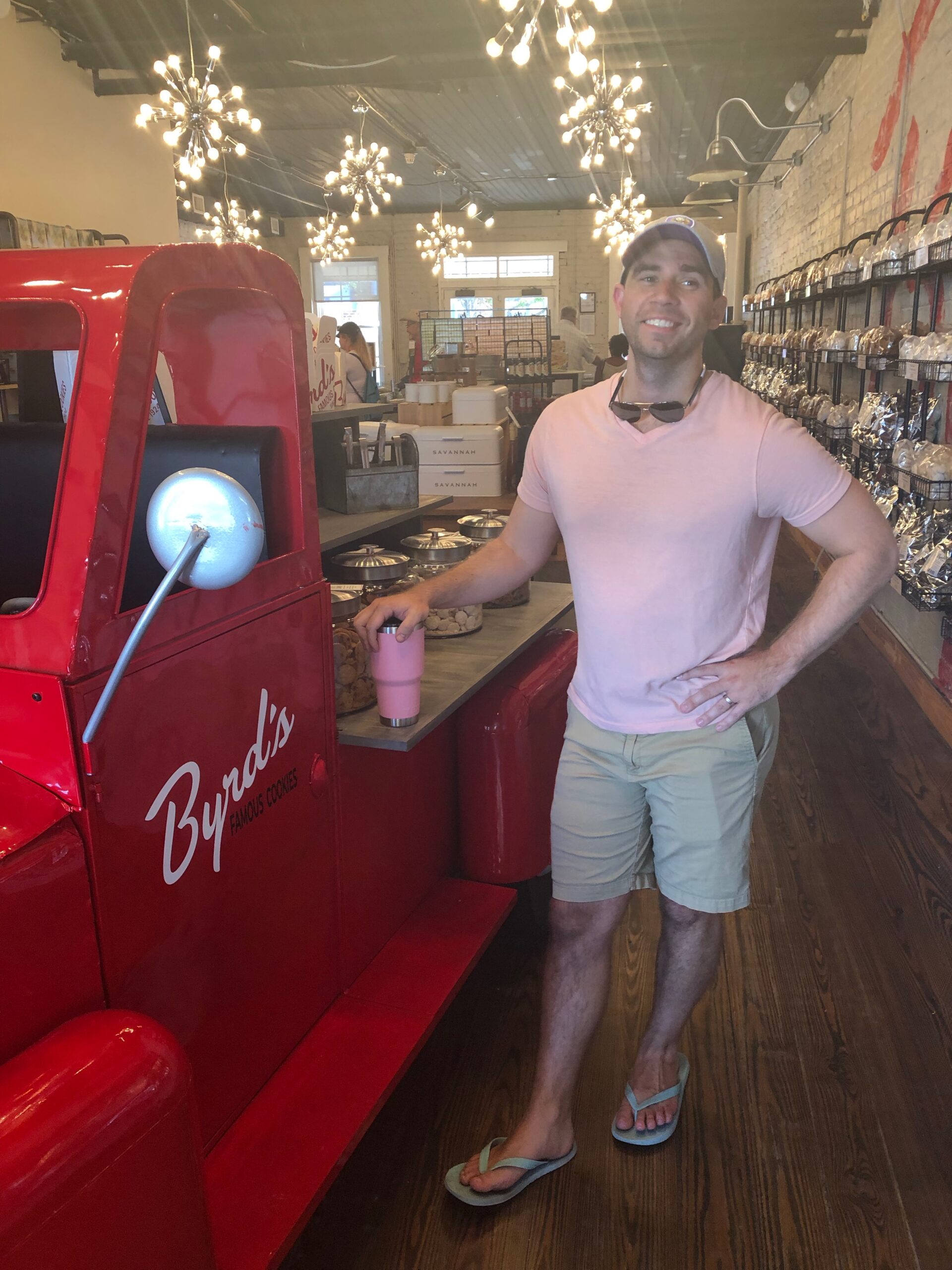 Kyle loved the red pick-up truck they had in their store. The other "snack stop" was at Mabel's cupcakes. Mabel's is perfect for someone like me who LOVES sweet treats! I was able to get a delicious red velvet cupcake! I would certainly check them out if you are over by the newer water feature of City Market. It is the perfect afternoon sweet treat.
The bar we stopped at to watch the Indy 500 is so much more than "just a bar". The Grove is a great restaurant located along the City Market alley if you will. Although we only stopped in for drinks, when we read through the menu for brunch and dinner, we decided we will be back to eat on our next trip to town! While we were sitting at the indoor/rooftop bar upstairs, we spent a lot of time talking with the bar tender. He told us all about Savannah and shared some great local stories and tips!
He also made me the coolest drink I have ever had out at a restaurant! The Grove makes a special mimosa in which they pour champagne over an all natural fruit popsicle! The flavor of the day was Blackberry and it was DELICIOUS!!!! The best part is that the popsicle kept the champagne nice and cold while adding the perfect amount of flavor without being too sweet! The other great thing about the The Grove is the outdoor balcony. We had a great view of Savannah and plenty of space even with the live entertainment they had. You could honestly spend hours at The Grove between the good food, drinks, and listening to the music.
Final Foodie Spot!
After spending an afternoon wondering the shops in town and watching the Indy 500 at The Grove, Kyle and I hit the hotel for a quick nap before dinner. The heat really took it out of us so be sure to drink plenty of water and keep cool while on your trip! After nap time, we went over to one of the most highly recommended restaurants by our family and friends.
The Lady and Sons is one of Paula Dean's restaurants in Savannah. If you are in Savannah often enough, you may even see her wondering about her restaurants! My cousin was lucky enough to meet her when they were out on Tybee Island one day! The Lady and Sons restaurant is one of the few places I would get lunch or dinner from everyday of my life. There is the option of either buffet meals or plated meals from the menu. Kyle decided to get the Catfish plate while I went for the buffet. The buffet got a true chef's kiss from me!
The buffet is outfitted with different items daily so you may never experience the exact same set up every time. Many of the favorites make regular, if not daily, appearances but nothing is ever guaranteed. I highly, highly, highly recommend going to lunch or an early dinner if you have your hopes set on a certain popular item as they could run out. I also highly recommend coming with a very empty stomach!
There are so many great options and you just have to try it all! The Mac and Cheese was fantastic. The veggies were devine. I honestly, cannot say enough about the food! And the buffet also comes with a small dessert so be sure to leave room for it! Kyle loved the Catfish and could not believe the great portion of fish he got for the price.
After dinner we almost had to roll ourselves out of the restaurant! Thankfully it had started to cool down enough for us to enjoy another walk along the river to burn off some calories and settle our stomachs!
Last Stop
Due to the heat and our long drive home, Kyle and I decided to leave late Monday morning for home. But, we made sure not to leave Savannah without a stop at another highly recommended restaurant, Huey's. Huey's boasts a New Orleans style menu with a beautiful atmosphere and view of the river. We enjoyed heavenly, Pillowy Beignets as well as French Toast and Eggs Benedict. Huey's often has a long wait so be sure to come early for your table! Sitting in Huey's for breakfast was the perfect farewell meal, giving me the ultimate Southern Hospitality feel.
After one last walk along the river, Kyle and I packed up and headed for home. We almost turned around about ten times to spend another few days in town. Our trip to Savannah was wonderful and we loved the city! I highly recommend taking the time to wander the beautiful parks and tree lined streets. It is so peaceful and fun to see all the historic date plates on the homes. There are also enough restaurants in Savannah to keep you there for at least a week (or three)! I cannot wait to go back and experience more of what Savannah and Tybee Island have to offer in the cooler months as I hear there is even more shopping to enjoy and Tybee Island is a special trip to be had all on it's own.