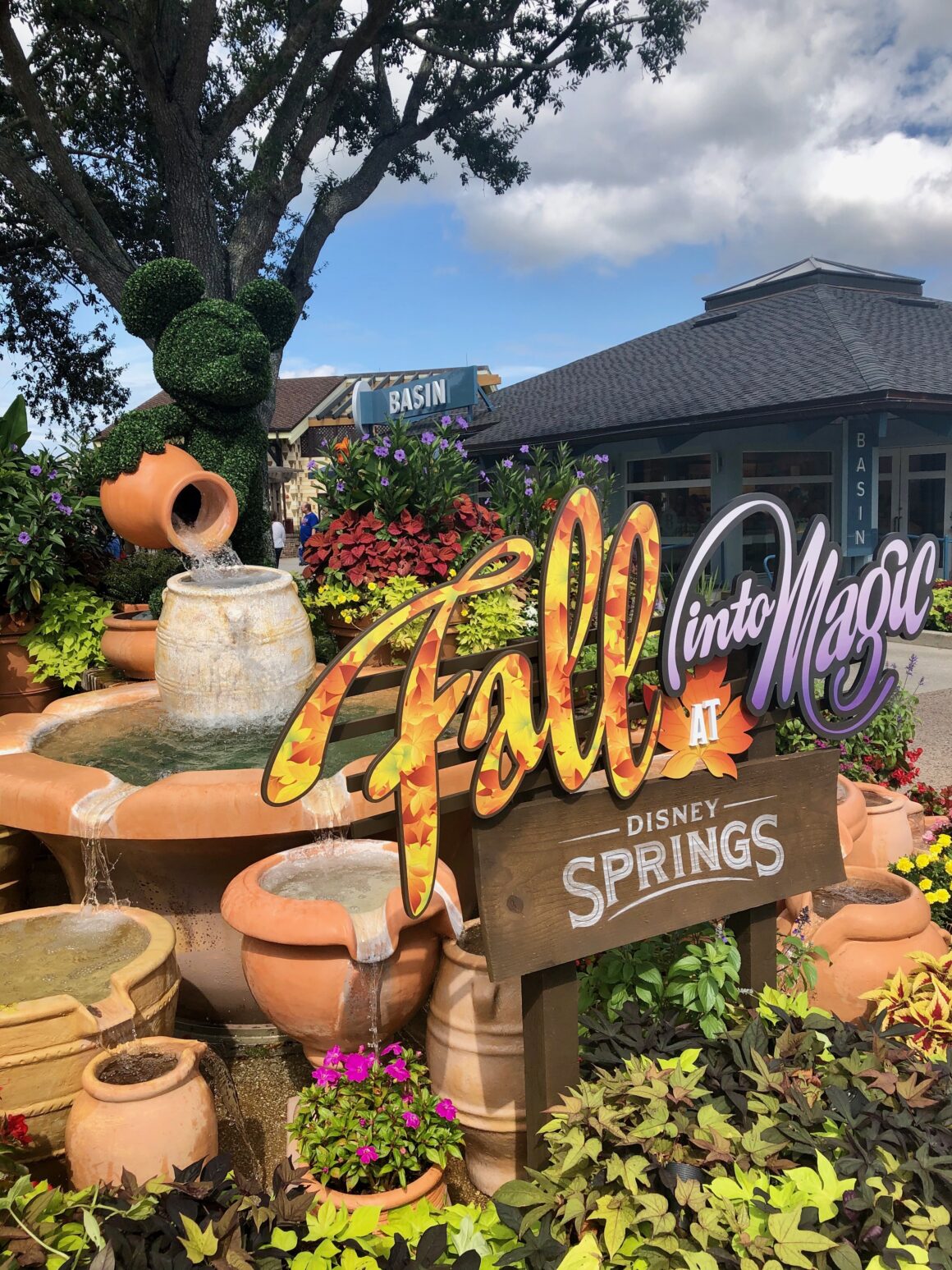 Disney Dining – Disney Springs
Disney Springs is a MUST DO when you go to Walt Disney World. There is so much to do and see at Disney Springs! One of the biggest? EATING! We love spending time at Disney Springs and think it is one of the best parts of the Walt Disney World Resort. I have been trying to write on Disney Springs for a long time and I decided the best way to do it was to separate out dining. Why you may ask? Well if you haven't looked at the options, the list for Disney Springs is HUGE! Below We have split up the dining locations we have visited by the following categories: Sit-down dining, Lounges/Bars, and Counter Service in order to make it easier for you to find the type of dining for your style!
Amorette's Patisserie:
If you love a more fanciful dessert, this is the place to be! You can get the cutest petite cakes and pastries at Amorette's! I typically go for the Mickey Mousse. On my try list is the Crème Brûlée and the signature cakes! My hope is to get one for someone's birthday one day when we are staying at Disney! They also have sandwiches and crepes that we have not tried but look amazing! Also be sure to keep an eye peeled for their drink menu as they do have a seasonal wine slushy and signature beverage that sometimes changes color!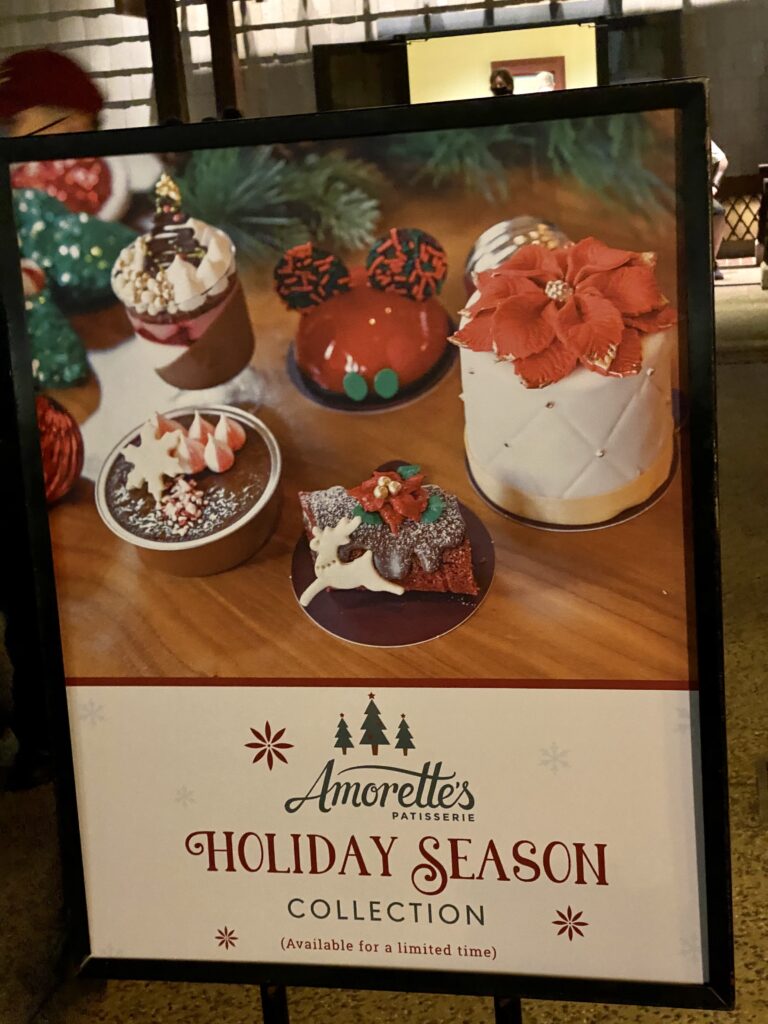 BONUS ON AMORETTE'S: Pre-Covid they had a baking class where you could make your own character cake! It is $100 for two people to participate in the experience. You get to take your cake home and I believe there are drinks included in the fun! This is one my bucket list and came highly recommended by friends of ours!
AristoCrepes:
I love this stop along the bridge! The one difficulty I have is the times they are open though! I always am wanting a crepe and Kyle has to remind me that we are at the wrong time more often than not! I am a sucker for the Strawberries and Cream as well as the S'more Crepe! They are the perfect addition to any day! I could easily eat a crepe everyday and not be upset! You have to check out AristoCrepes!
Blaze:
I can literally taste the pizza as I write this article! WE LOVE BLAZE! I am so happy we got one in our home town but it is a Disney staple for us! It is perfect because Kyle can get his Hawaiian pizza and I can make my own meat lovers (pineapple on pizza? No.). I love how fast they are as well! Makes it super great for a last stop on our way out of Disney on a late Sunday afternoon! They also have a great variety of fountain drinks which we enjoy after drinking a lot of water, PowerAde, and Diet Coke at the parks typically.
D-Luxe Burgers:
I honestly wish I ate here more! I love D-Luxe! Their options are great and I love that I can create my own as well! Their French fries are delicious and don't even get me started on their milkshakes! I also love that they have a "limited time" offering menu! I think it keeps everything fresh and exciting for a quick-service restaurant. My favorite item is probably the Barbecue burger, shocking to anyone reading this write-up I think not. Kyle does love the El Diablo Burger! You definitely need to come hungry to D-Luxe but you will certainly leave happy!
The Daily Poutine:
The Daily Poutine is another great, solid choice for a meal on the go at Disney Springs. I have had poutine here more than once and I love it! The Canadian and the Italian Poutine are my go to dishes. I am also excited to try the Korean Barbecue next time!
Disney Food Trucks:
The food trucks are a class favorite in my opinion. They are always busy with people and have a great variety of options. They have a macaroni and cheese truck so y'all know I am always down for that! I have done the Barbecue Beef and the Six-Cheese, both are fantastic! Next on my list are the fritters! I have not eaten at the Hot Dog truck but that is also on my list. I do struggle though because as a former Chicago woman, I am picky about where I get my hotdogs!
Earl of Sandwich:
Earl of Sandwich is a Disney Springs favorite! They have breakfast, lunch, and dinner! Their breakfast sandwiches are great but my favorite is their Holiday Turkey sandwich! It always reminds me of the holidays and just puts a smile on my face when I eat it. The deserts are a perfect little cap off to any meal. The great part about Earl of Sandwich? If you are staying near Disney Springs, it is a great run in for lunch or dinner in the room or by the pool!
Erin McKenna's Bakery NYC:
Although featured on the MUST-DOs for Disney, Erin McKenna's is not my favorite place. I love that they are vegan and allergy sensitive but I have not loved anything I have gotten there in the 3-4 times I have been. I prefer Disney treats, Sprinkles and the other restaurants better.
Ghirardelli:
There is always a line except at opening and when it is below freezing (rare in Orlando but it does happen). Kyle and I have only gotten ice cream a few times because it is always so busy but it is delicious! Ghirardelli's is definitely worth the wait for the "old school" sundaes! They are also big enough to share!
Haagen Dazs:
Another great quick stop for ice cream, Haagen Dazs is super solid. We do not stop there often unless I want ice cream instead of a Wetzel's pretzel right next-door. I do not think you can ever be disappointed here either.
Joffrey's:
I love Joffrey's! Although I do love Starbucks too, I love the specialty drinks and who doesn't love a giant donut! Their treats are always big, shareable, and delicious! Don't see exactly what you want on the menu? They often can make it for you!
Morimoto Asia Street Food:
Kyle and I love Morimoto! We have been to the restaurant and Street Food quick-service more than once. We love grabbing their pork egg rolls! They also have Boba tea for those looking for it outside of EPCOT!
The Polite Pig:
A great BBQ spot in Disney Springs! We love their Southern Pig and Low and Slow Brisket sandwiches. The Waffle fries, sweet potato tots, baked beans, and mac and cheese are delicious as well! I want to try their Red Velvet Cake next time we go! They also have a massive drink selection (alcohol and non-alcohol), making The Polite Pig a great hangout spot!
The Smokehouse at House of Blues:
It has been a long time since I have been to The Smokehouse at House of Blues but I loved their food! I also have heard from close friends to keep coming back for more as the food is still delicious! My go-to is always pulled pork and the sandwich was amazing! The sides they have are also delicious. The really nice thing is that you still get to sit out on their patio, pending space, and enjoy the venue even though you are not eating inside the restaurant. We have not done their sit-down yet but will report back when we do! The brunch is a great little secret of theirs!
Sprinkles:
I am a HUGE Sprinkles fan but I always struggle because I am a sucker for Disney bakeries! I am definitely a firm believer that bakeries NEED to make a comeback in America! Either way, the fact that I can get my favorite treat from an ATM is 10/10 event for me! However, I do love going into sprinkles and watch them make the cupcakes. It is truly mesmerizing! I have not been disappointed in any of their signature flavors yet!
Starbucks:
For all my coffee addicts, there are two Starbucks locations at Disney Springs! To tell you the truth, I do not know if these locations have speciality Disney treats but I do know the ones in the parks sometimes do! Be sure to keep an eye out for those guys as they are often delicious and make a great IG photo!
Vivoli il Gelato:
This is by far the best gelato I have ever had on property! The cake batter and salted caramel are my favorites! I also love that gelato is so light and fresh! It is the perfect night cap after the great meal you just came from at Springs, or as you finish up your shopping for the day to cool you off! There is often times a line at night but it is worth the wait! It is also located right by one of the stages for live entertainment so you can check out some music while enjoying your gelato. That is a big plus to me! Be sure to check out Vivoli il Gelato!
Wetzel's Pretzels:
Wetzel's is one of Kyle's go-to's when looking for a snack. He loves a soft pretzel and any cheese dip he can get! I believe they have a jalapeño cheese dip, his favorite, since Disney no longer has the jalapeño stuffed pretzel. I love the icing as it gives you salty and sweet in one bite! Their lemonade is also excellent to quench your thirst!
The BOATHOUSE:
The Boathouse is one special restaurant. There is discussion that it may be the best on property with the best burger. I don't like to get into this debates (they can last forever) but I do know that this place is dang good! I have been twice and both times were excellent. You will have to work hard not to fill up on their honey bread when you sit down so be sure to get an app if you are hungry! Kyle loves the oysters!
You can get a "sampler" style plate so you can try various types of oysters from various locations. One of his favorites is the Lucky Duck. Outside of the oysters, you cannot go wrong with the burger and fries. I LOVED it! The fries are delicious but you can substitute for the mac and cheese and I highly recommend this! Their mac is KILLER!
Ready for dessert? We got the Baked Rocky Road Alaska and let me tell you, it feeds way more than four! We loved it but it is HUGE! You can share with the whole table but you do need to order it ahead. If this is something you want to get, call two days before so they can mark you down!
Chef Art Smith's Homecomin':
Chef Art is one of our go-to's for a great brunch! Come hungry because you will need the room both for brunch and dinner! Also, DO NOT plan on having another big meal planned in the evening or the next morning because you will still be full! Start your brunch with the house-made doughnuts. We have had them done up every style they come and we love them each time! Pair the doughnuts with anyone of the cocktails and you will be ready for a great day! Strawberry Lemonade, Mimosa, White Peach Sangria; they are all amazing! Chef Art Smith's is also one of Kyle's favorite places for a Bloody Mary.
For your Entrée? French toast, the Grand-Daddy Plate, Short Rib Hash; you cannot go wrong. Now what about dinner? Kyle loves their deviled eggs! We have also had The HFK Barbecue Bun and Chopped Pork Barbecue Plate. Now we haven't done the fired chicken yet but I have listened to a Disney podcast about which Disney meal people would have delivered to their home during the Covid Pandemic, and the number one was this fried chicken.
It is on the MUST list for our next trip. What sides you may ask? Mac and Cheese, Sweet Potatoes, Slaw, Drop Biscuits. DO IT ALL! If you haven't noticed, everything here is amazing! There is a reason the wait is two hours without a reservation!
The Edison:
I think The Edison may be Kyle's favorite restaurant on property. Not only is the food great but the interior of the restaurant is probably the coolest! They also have live music all the time and late night entertainment for those that are older than 21. For an app, you have to try the Clothesline Candied Bacon. Four different flavors of greatness makes it hard to want to share! The great thing about their restaurant is that they are one of few with American cuisine favorites. Kyle gets the prime rib every time. Me? I love their mac and cheese both plain and with meat. It may not currently be offered due to Covid, but keep your eye out! We have not had desert here yet, but I have no doubt it is all delicious.
Maria and Enzo's:
Maria and Enzo's is another great restaurant at Disney Springs with a great interior themed décor. They have great Italian for the whole family and lots of fun bright colors indoors. For an Antipasti we had the meatballs. They were delicious! All of their Secondi options are also excellent! Again, it is a great restaurant for kids especially if you want them to try something a little more sophisticated with the same appearance of the foods they know and love!
Morimoto Asia:
Morimoto Asia was one of the first restaurants we tried when Disney opened the Town Center section of Disney Springs! We have been back several times since and love it each time! I love the dumplings! They are one of my favorites and I love that they serve them in the stem basket! For entrees, I have done the orange chicken and the fried rice. Both are great options and very filling but not to the point where you feel you need to be rolled out of the restaurant! If you cannot get a reservation but are want Asian cuisine for dinner, be sure to check out their street food or the Yesake Kiosk!
Paddlefish:
Paddlefish is certainly on the pricey side so Kyle and I have not been in for dinner, but we have enjoyed a great lunch at the bar! Kyle got a great Bloody Mary with a full crab leg in it! He loved the spicy kick as well! He paired his Bloody with the lobster roll while I settled in with "The Burger". Kyle thought the lobster roll was great and I really enjoyed the burger! Pimento cheese is not served at enough places in my opinion but that may be because we are not in Georgia, Alabama, or Mississippi where it appears to be a staple based on our travels.
Paradiso 37:
Paradiso has great drinks! When we were in college (also the first time Kyle and I met) we were able to get the giant margaritas. It was a great college experience if you will and fun to drink with a group of friends! Outside of their drinks, I would honestly say that there menu is not my favorite. That does not mean it is not good, but I think they have some stiffer competition on the block now. We have been for lunch and dinner and I would highly recommend going for lunch. The tacos and quesadillas are quite tasty!
Planet Hollywood:
I love Planet Hollywood! It may be because I am a child at heart but I mean COME ON! They have milkshakes with all the fixins', macaroni and cheese, burgers, AND chicken tenders that come in a chicken shaped basket! How cool is that! I also love the memorabilia and the music! The only problem? I feel like it is always crazy loud. If you are looking for a quiet setting, this is not the place.
Ragland Road:
Although we have not eaten at this restaurant yet, we have heard great things from several DVC and AP members we know pretty well. One of the families goes to Raglan Road at least once a year for dinner. I have also heard their brunch is not too shabby! The reason we love it? The outdoor patio and live music. Again, we went on that meet and greet trip and we loved the Irish dancers they had inside and the bands outside! It is a great place to hang out late into the night on a parents night out or for date night!
Wine Bar George:
Another great spot at Disney Springs with a small but killer patio if you can be seated outside! Wine Bar George has an incredible wine list, duh, but the food is very good as well! All items are small plates. It was perfect to share about five plates between Kyle and I for a meal but if you have a large group, y'all will need to go BIG! You also do not have to order all your plates at once. Our waiter said they want you to sit, relax, and enjoy so do not feel rushed. Kyle's concern? They do not take Tables of Wonderland or AP unless you go for lunch.
Coca-Cola Rooftop:
The Coca-Cola store is a ton of fun! We always love looking at everything they have in the store, on all the different floors! Pre-Covid there was also a Polar Bear that you could meet! Outside of the shopping, there is a great rooftop bar. You get a great view of Disney Springs and Saratoga Springs from here! Outside of the great view, this is the only place you can taste Coca-Cola flavors from around the world, currently.
You can order the entire flight from around the world as well as other Coca-Cola products. Kyle and I both got kid-friendly floats last time but they do have alcoholic options available! I would say this makes the perfect stopping point if you are spending the day shopping at Disney Springs and you need a little pick me up!
Dockside Margaritas:
Dockside Margaritas is a great "chill and relax" area. We love sitting here with friends as you can look out over the water or enjoy some people watching while sipping on your cocktail of choice. You can even hear the music playing from one of the nearby stage areas making you feel part of the party without being in it.
Jock Lindsey's Hangar Bar:
Jock Lindsey's is my favorite bar on property, not that we go to many! I love the view on a normal night BUT their holiday up-do is IMPECCABLE! It is like the holidays threw up on the bar and I love every second of it! They do have a few small plates, outside of drinks, but during the holidays they have a cookie platter! I want to try the cookie platter so bad! Unfortunately with Covid we couldn't do it this season but I have my fingers crossed for 2021!
Whether you choose to spend a whole day at Disney Springs or just an evening, you will not be disappointed! With so many options for food, you cannot go wrong! Plus, Kyle and I haven't even eaten at all the restaurants! Stay tuned for our updates as we travel to try new restaurants on our upcoming visits! I am pretty sure I need to spend a whole week at Disney Springs eating after writing this article!