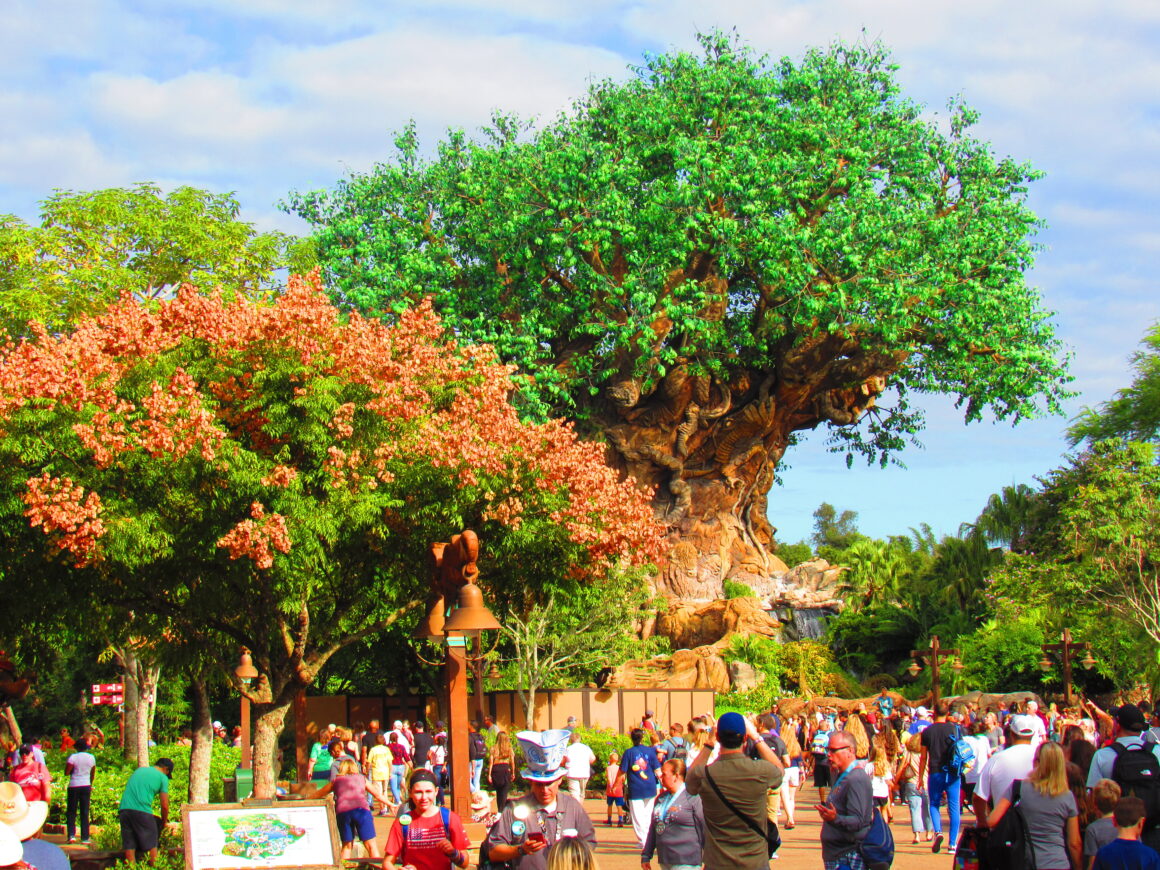 Disney Dining – Animal Kingdom
One of the things I like most about Disney's Animal Kingdom is the Food Scene! They have options inspired by cuisines from all over the world, guaranteed to satisfy every palette! Animal Kingdom also has several bars and lounges to swing by and pick up an adult beverage! Animal Kingdom may actually have the second most bars to choose from at all four parks! Outside of all the options, I love the themeing of the food locations. I love the little cars selling street food and the knooks and crannies they are tucked into as well.
Over the past few years, many changes have been made to the quick service spots around the park. As Kyle and I visit them all, we will be sure to update this article for everyone! Keep in mind though, Disney loves rotating food items in this park so they may not stay the same for long! Although the items may change, I can promise you they have always been delicious!
Anandapur Ice Cream Truck:
Who doesn't love an ice cream truck?!?! Serving soft serve ice cream and ice cream floats may be a limited menu to some, but I think it is perfect for this spot in Animal Kingdom! I love the thought of an ice cream truck to fill your belly with a sweet but chilly treat on those hot Florida days!
Creature Comforts:
All my Starbucks addicts rejoice! Here you can find all your favorite Starbucks drinks and treats! Creature Comforts is one of the locations in the park that will have specialty items or limited edition items as well (i.e. lion king anniversary cupcakes, park birthday treats holidays, etc.). Be sure to be on the look out on the various Disney food blogs for updates. Sometimes they will also put out a sign telling you about the limited edition treat. One of our favorites to read is The Disney Food Blog.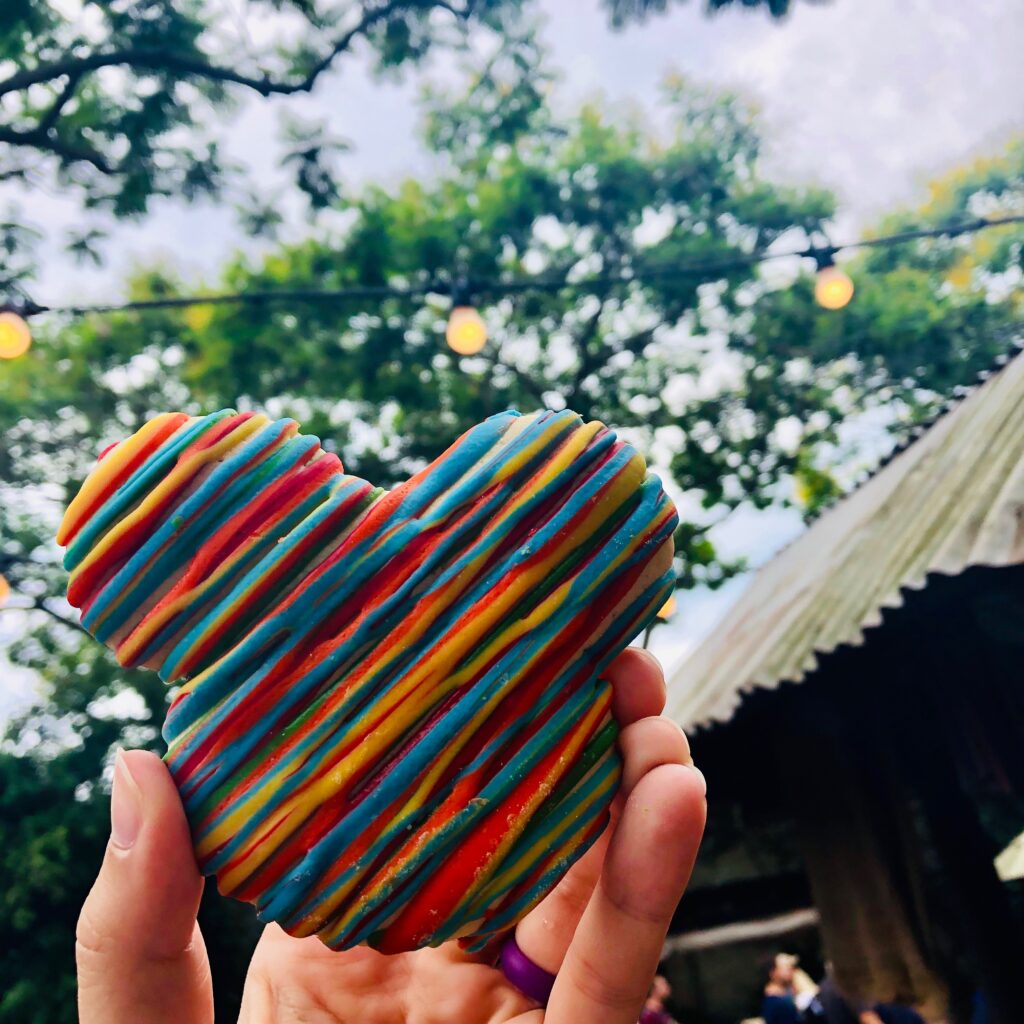 Drinkwallah:
All my ICEE folks and frozen drink friends, you can get your caffeine and drink fix here! I love a good Coke slushy so this is always a stop for me! They also have Fanta, lemonade, and blue raspberry flavors to choose from as well. Blue Raspberry is my favorite following the traditional Coke ICEE. If you are looking for glazed pecans or almonds, you can also find them here!
Pro-tip: You do not have to seek out the glazed pecans or almonds. Your nose will do it for you!
Eight Spoon Cafe:
One of my favorite quick service stops in the entire park! Eight Spoon has macaroni and cheese lovers jumping for joy! You can get plain macaroni & cheese or get it stacked with pulled pork! These portions are smaller than the one you can get at Flame Tree Barbecue too! If you are looking for a filling but smaller lunch option, this is a great spot! I have not tried the Jelly Doughnut sandwich but I am definitely intrigued!
Flame Tree Barbecue:
This is probably Kyle's favorite in-park quick service restaurant throughout all four parks! They carry barbecue chicken, ribs, pulled pork, macaroni and cheese and more! We typically go for the pulled pork sandwich and the macaroni and cheese, but the smokehouse chicken salad sounds incredible! Kyle loves the baked beans and coleslaw sides while I am partial to the onion rings! In addition to the great food options, they carry countless drinks options, including alcohol. Be sure to check here for limited time offerings as well, usually a cupcake full of deliciousness!
Pro-tip: Mix extra barbecue sauce, both sweet and spicy, to the baked beans to give it an extra kick.
Harambe Fruit Market:
The Harambe fruit market is so, so, so much more than a fruit market! We have gotten mickey pretzels, fruit, churros, and corn on the cob here! All the items have been outstanding and when they start up the grill with that corn….mmmmmmm! Again, another great place to stop for a quick drink before heading on your wild African safari!
Tusker House Restaurant:
One of my first memories of Disney World is eating with the safari characters in Animal Kingdom! Tusker House is a massive space with food for all ages and everyone's favorite characters! Prior to Covid-19, Tusker house was an all you can eat buffet with African inspired dining as well as American classics! They had the coolest carafe to get your syrup from right in the middle of the buffet area. We have only been for breakfast, as it is my favorite meal of the day, but I have heard rave reviews about lunch and dinner too! Current dining protocol is for family style service in an all you can eat fashion but rumors have it that characters and buffets are on their way back!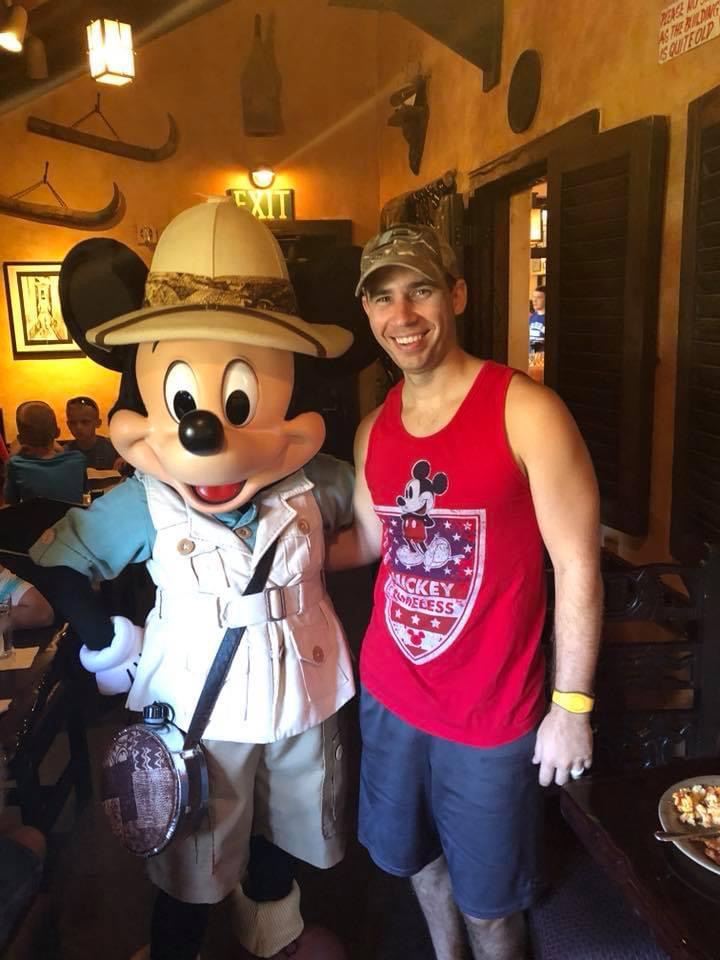 Yak and Yeti Restaurant:
Did you know that not all restaurants on Disney property are Disney owned restaurants?!? Yak and Yeti is one of those restaurants but have no fear, there is no lack of Disney magic or service! We had an incredible lunch at Yak and Yeti! The décor of the restaurant is incredible and I could've spent hours just wondering around and looking at all the beautiful trinkets and designs. I think Kyle and I actually spent a good amount of our meal, looking at all the different ways the light would hit various pieces of colored glass in the restaurant. We highly suggest the pot stickers, honey chicken, teriyaki chicken, and fried rice! For littler adventurers they do have Asian inspired and American options on the menu!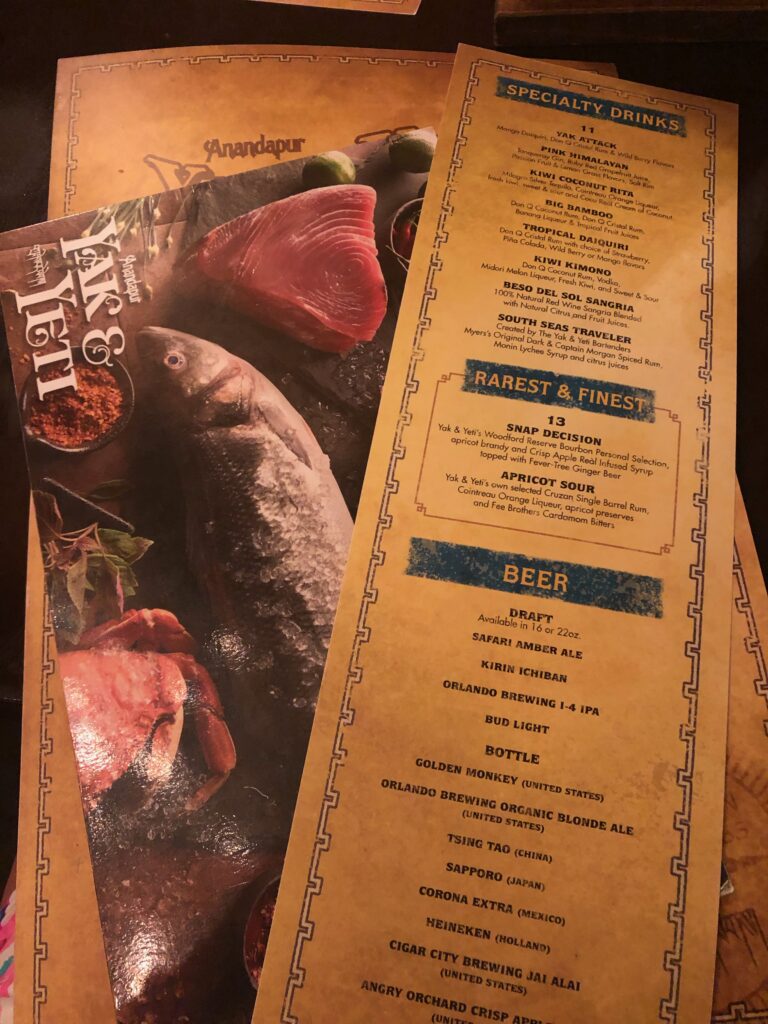 Yak and Yeti Local Food Cafes:
The quick service version of Yak and Yeti is a household favorite of ours as well! Our friends stop here anytime they can on their trips to Disney World! Our recommendations include the honey chicken meal, teriyaki chicken salad, chicken fried rice, and egg rolls. We have never had breakfast here but will certainly be trying it after taking a peek at this menu!
Before typing up this blog post, I thought Kyle and I had eaten at a lot of restaurants at Animal Kingdom! Well I was certainly proven wrong! There is so much to discover and explore that is not even listed here! It just goes to show how many places they tuck restaurants and various food services into at this park! As we try out new stops of meals, we will be sure to update this post for you all! Until then, be sure to check out all our other Disney and travel blog posts! Also be sure to follow along on Instagram to see all our trips as they happen in real time! I also share some great style and Florida living too!