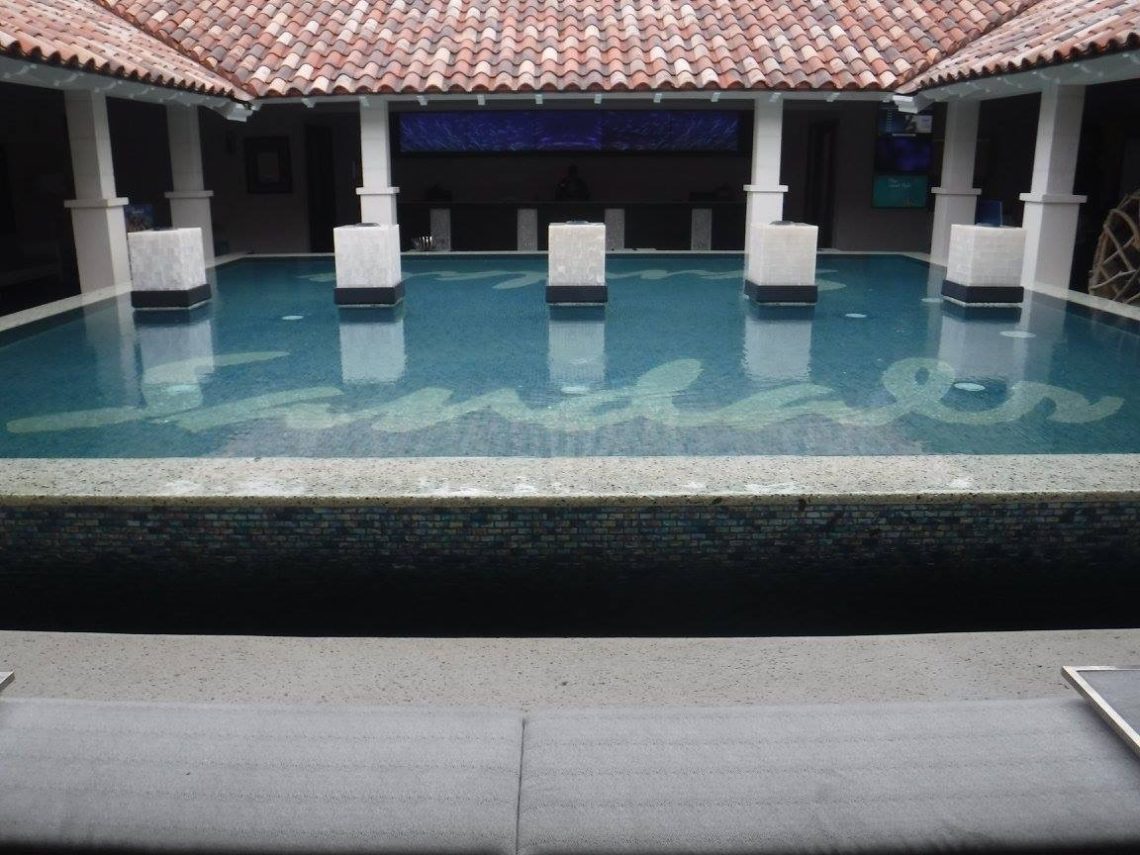 Exploring Barbados & The Sandals Experience
Kyle and I spent a lot of time debating what type of honeymoon we wanted to go on after our wedding. We struggled choosing between traveling through Europe, relaxing on a beach, or a little combination of both. Since I was finishing PA school six weeks prior to our honeymoon, we decided that relaxing on a beach with a little bit of adventure would be the perfect fit.
After we made that decision, Kyle got to be in charge of planning the rest of the trip. He researched multiple islands and many different all inclusive type resorts, such as Sandals. After much deliberation he made a decision.
Kyle decided we were heading to Sandals Barbados!
To say our week in Barbados was a five star trip would actually be an insult to Sandals, as well as Barbados. I would say that our trip was 10 stars on a five star scale. We were simply blown away, not only by the resort, but also by the Bajan People.
We were blown away by all of the amenities that Sandals Barbados offered. Since we decided to stay in one of the simpler rooms available, we were surprised by the luxury that was still afforded to us. The Sandals online photographs are fantastic, but seeing it in person is really the only true way to take in the beauty of the resort.
Here are some of our photos that we took of our resort room!
The Room Decision
Kyle and I (mainly Kyle) spent several months researching and discussing what type of room we should stay in. Sandals Barbados offers a wide variety of room choices based on the type of vacation you want to have. The hardest choice we faced was deciding if we wanted a room with butler service. Since this was our honeymoon after all, we strongly thought about splurging and getting a room with butler service.
After reading several reviews and travel blogs, we decided that we would not use the butler service to its fullest extent. Many blogs stated that if you are not accustom to having staff members take care of your daily needs, on a regular basis, then it is difficult to adjust to utilizing the service. Most of the reviews said they did not use their butlers much until roughly day 4. And by that time they were on the back half of their vacation only to leave shortly there after.
With so many people expressing this concern, we agreed and chose to opt out of a butler suite.
Now that the butler service decision was over, we had one last room decision to make. We had to decide between paying for club level or a standard room. This choice was a lot easier for us to make. While the club level benefits are nice, we chose to book a standard room for two reasons.
1. We did not want to pay to be on the club level for benefits that we, personally, wouldn't get enough benefit out of.
(I.e. Club level includes wine and beer in the fridge. Since the resort alcohol is all-inclusive at the bars/restaurants we did not see the value of needing it in our room).
2. We wanted to put more of our money towards experiences/tours on and off property.
The Resort Amenities & Included Activities
Outside of the resort rooms, the other amenities at Sandals Barbados did not disappoint. Kyle and I made it a goal to try and experience all the different parts of the resort including the workout facilities, water-sports, spa, restaurants, entertainment and more.
Workout Facilities
During our trip, we spent a few mornings working out at the gym. The equipment was certainly as nice as the equipment at our apartment facility at home, and they had more equipment options than we were accustom to. They also have towels and flavored water available in the gym which was a nice touch. Especially since most people do not bring their own water bottle on the trip.
Pro tip: Bring a tumbler, such as a Yeti, and you can use it for workouts and also mixed drinks at the pool bar.
We also decided to try a workout class while we were there. After looking at several options to include yoga, water aerobics, etc., we decided on water aerobics. As a competitive swimmer of over 15 years, I thought it would be easy. Well I was very quickly proven wrong. We had a great time working out with several other people to the Bajan style music. It certainly was more than we bargained for but it made us feel better about all the food and drinks we were enjoying! It also helped that the group leader was phenomenal! We recommend trying at least one of the group classes offered during your stay.
Water-Sports
Sandals also offers a wide variety of "included" water-sports equipment that resort guests can utilize. These water-sports options can very based on Sandals resort location. For example: water skiing, wake boarding, Glass Bottom Boats, windsurfing, and a couple other activities are only available at certain Sandals resort locations in the Caribbean. I believe all locations offer sailing, paddle boarding, kayaking, and snorkeling. Most Sandals resorts also have Scuba & Snuba, but this is an additional cost. To see a list of water-sports available click here.
Paddle Boarding
We decided to take advantage of the paddle boards and Hobie Cat sailboats in Barbados. After a delicious breakfast, we set out paddle boarding around the bay for roughly an hour. We were able to look through the clear blue Barbadian waters all the way to sea floor. It was pretty surreal to be standing on a paddle board with sea turtles swimming below you. We also had great views of the coral reefs and multiple types of fish.
Sailing
One of our afternoons was spent sailing on a Hobie Cat with one of Sandals sailing staff members. Sailing is certainly something I highly recommend doing at Sandals. Sandals will let you sail by yourself if you have experience, but I would recommend sailing with a staff member. By sailing with a staff member, you get to enjoy the water much more. You are also able to search out various sea creatures while sailing. We took the time to ask our 'captain' about life in Barbados. It really made for a unique experience that you cannot get at other all inclusive resorts. Plus, both activities (paddle boarding & sailing) are good ways to break up lying on the beach or by the pool.
Entertainment
Sandals does a great job of always having entertainment of all types available for everyone. While on our trip, we interacted with the entertainment staff throughout the daytime and nighttime activities. They are/were constantly spending time with guests as well as putting on activities through out the day. They really work hard to ensure that you have a special vacation filled with countless memories.
During our 8 day stay, we played water volleyball and bingo in the main pool. I also had my "wifey" tank top personally dyed by one of the staff members in the shape of a heart. Many times during the day, they also would bob around in the main pool ensuring that everyone was having a good time and seeing to it that everyone's drinks stayed full.
Carnivale Night
For those that like to sleep in or relax by the beach all day, there are several nighttime activities that occur each night of the week! At Sandals, as with many all inclusive resorts, they have a calendar of activities for either the week or month. Every Monday night, they would host a beach party laden with local foods and deserts. During this event, you were able to sit at tables with other people from the resort and be able to spend time with some of the staff members before they started the show.
During this night in particular, all of the staff members participate in their "Carnivale". This "Carnivale" is very similar to the actual Carnivale festival that occurs each fall on the island. They had multiple different performances and of course took volunteers from the crowd to participate. This event allows guests to really enjoy and gain insight on what the culture and cuisine of Barbados is really like. The staff members get to help in the selections of the food and take great pride in their dishes they select. Many staff members would ask if you've tried this or that dish and I must say I was pleasantly surprised by all of them. My favorite dish was the Macaroni Pie.
Other Night Time Events
Outside of Carnivale, they also had a staff talent show, "white party", and cabaret night that we attended. The talent show was similar to the beach party without as many costumes and the cabaret night was also a nice change of pace from high energy shows to something a little slower paced. The "white party" was a unique, fun event because of the music, lights, and of course chocolate treats everywhere! If you decide to partake in the "white party" make sure to pack a white colored outfit for females or a white shirt for males. We had a lot of fun at these events and enjoyed having a little something to do every night that we did not have to put effort into figuring out ourselves.
Pro Tip: If you decide to partake in the "white party" make sure to pack a white colored outfit for females or a white shirt for males. White polo or linen shirts work very well for this event.
If shows are not something you are interested in or you like to eat dinner at the last seating, Sandals has other events that happen throughout the night as well! One of the highlights in Barbados was certainly the piano bar. Each night, the main lobby bar would have an hour of song requests performed by one of the staff members after the main show had concluded. It was a nice way to finish off the evening in a typically smaller group before heading back to the room for night.
For the true night owls, they also have a DJ that performed at the Merry Monkey English Pub each night. There was also a good mix of music between reggae, top 40, pop, hip-hop, rock,and country. You often could catch some of the staff members in their "street clothes" enjoying the night as well. It was always fun to see them get excited as one of their favorite songs would come on. Many of the staff members were also willing to teach dances to various 'island songs' making for a fun cultural experience.
The Food
The final, all inclusive, amenity we took part in on our trip was of course the food and drinks. At Sandals Barbados, prior to the addition of the Royal Barbados resort, there were 11 restaurants available to dine at. Kyle and I made sure to eat at almost all of them. We enjoyed French cuisine from the French bakery/cafe name Cafe de Paris, as well as from their Bayside restaurant. Bayside is now called Spices. We also had Italian, seafood, Asian, sushi, steaks, bar food, pizza, and American fare. Nothing was short of spectacular.
Each morning, you can expect three restaurants to be open. The main restaurant by the pool, is open for every meal and has a buffet during breakfast and lunch. Each day, you can plan for a delicious selection with specialty themes, particularly at lunch. If you are not in the mood for the buffet, you can also get bar food/American fare from the pub or pizza by the pool. Both options were perfect for us and hit the spot as well! In the evening, you can anticipate a multitude of restaurants to be open and specialize in many different cuisines. Check out all of the Sandals Barbados restaurants here.
The majority of restaurants do not require a reservation, but you can often make a reservation for anywhere you would like. For those that do require a reservation, Butch's Chophouse and Kimonos, I would say you cannot miss Kimonos. Kyle and I still will turn to each other on the couch and talk about how much we would like the fried rice for dinner. We actually worked quite hard to eat at all the restaurants while there. We ate and drank so much that we struggled to eat anything the last day and a half.
Pro Tip: Make sure to check with the restaurant, front desk, or Sandals website for clothing attire. Some restaurants do have a dress code.
The Drinks
As for drinks, the resort bars have a list of specialty cocktails they make either frozen or on the rocks. Many of us made it our goal to try one of each and many were successful; me not so much. They also have a full bar for any other type of drink you may want along with beer, wine and champagne. Some bartenders even have their own cocktails they will make that are not listed!
The bartenders and staff certainly make a huge difference at the resort! We made friends with the swim-up bar bartender, Rodney,while on our trip. Rodney did a great job of having fun while working and treated many of us like family. He even made us our own special chocolate drink as our last drink of our trip. We also made friends with one of the pool wait staff ,Cayenne, who told us to come back during the big fall festival and she would take us around to all the events. They both truly made the experience of Barbados and Sandals very memorable.
Non-Included Excursions
As for the non-included items that Sandals offers, our recommendation is to definitely indulge in these. As apart of our booking with Sandals, we were gifted a sunset snorkeling cruise for two that was organized through Island Routes, Sandals' excursion company.
Working with Island Routes was extremely simple. Their website can be used easily via the Sandals website and if you do not decide on any tours until you arrive, it is quite easy to jump on as they are Sandals exclusive tours. There is also very little worry about safety or concern for timeliness that we all hear about, especially with regards to people taking non sponsored excursions while on cruises. We were able to walk up to the tour desk at Barbados and pick the days for both our tours.
Pro Tip: Watch the different sales that Sandals has throughout the year. They tend to add many extras such as the sunset cruise, or spa credits when you book your stay. Then you don't have to spend additional money on these things. However, the sunset snorkel cruise is definitely worth the extra money.
Sunset Snorkeling Cruise
Our sunset snorkeling excursion was phenomenal! Sandals had a shuttle that took all of us to Bridgetown, the capital of Barbados. There we boarded the Cool Runnings catamaran. The catamaran, itself, was beautiful and had plenty of space for everyone to relax without being on top of one another. They also had a fantastic staff that worked extremely hard to make sure everyone had an enjoyable time. One of the staff members even drew Kyle and I a picture of two fish in love that we still have to this day.
In addition to their own staff, Sandals sent one of their photographers to capture all the moments on board. While leaving port, we were served delicious drinks and watched Kyle and one other resort guest hoist the sail! It was quite comical watching them do this while attempting not to look exhausted by the end!
At our first stop, the crew put us in an area where we were able to snorkel with turtles and at the second, we explored an old ship wreck. We were able to watch as the guides fed the turtles and watched countless fish swim by us. One of the guides also taught everyone how to dive to get the perfect underwater picture. Snorkeling at both locations helped us work up quite the appetite and we were treated to a sunset Barbados-style dinner on board. We were then treated to a beautiful starboard sunset as we sailed back to port while dancing to the crew's favorite jams.
Walking Tour of Bridgetown
For our second tour, we decided to go for a little bit more of a cultural and historical feel. Our walking tour of Bridgetown ended up being a private tour with one of the history professors from the University. The professor is often solicited, by the radio and newspapers, for his historical and political opinions. It was quite the experience being led around the city with a "local celebrity." During our tour random people would stop and say hello to our guide, or just simply yell "Professor."
We stopped at countless historical sites and learned a lot about Barbados, both past and present. We also were able to stop and shop in Bridgetown's local shopping district downtown. This of course allowed us to buy some Barbados tourist items and also see some of their local shops, including Rihanna's mother's shop. We finished our tour at a local beach bar and grill where locals were relaxing and eating on the beach with cool drinks in their hands.
Non-Included On-Property Offerings
Sandals has several other on-property offerings that I recommend saving money for that certainly made our trip to Barbados memorable. Other on-property offerings we indulged in included a photography session, Red Lane Spa, in-room catering offerings, a candlelight dinner on the beach, and shopping on property.
Photography Session
Since this was our honeymoon, we chose to take part in a new offering from Sandals, their photography sessions. Throughout the property, Sandals has photographers walking around taking pictures of couples during the day and at night. The photographers are also roaming during special events such as the beach party night and the White Party. You can also schedule your own half hour photo session with the photographers. The photographers work very hard to make you feel extremely comfortable. They also go out of their way to come up with creative photos specifically for each couple.
Throughout the trip, we stopped in the Photoshop to look at all the pictures the pictures we had taken. They have different types of packages and/or individual photo sizes that are available for purchase. We decided to buy an album, created by them, which allowed us to get digital copies of all our photos. I still get a big smile on my face when I look through the album they created for us.
Red Lane Spa
We also decided to have an 'adventure' at the Sandals' Red Lane Spa. Unfortunately, the spa is not an included expense. But you can receive Spa credits based on the promotions going on at the time you book your stay. They have several different offerings including manicures, pedicures, facials, and massages. Kyle decided I couldn't have all the fun to myself, and booked a 90-minute couples' massage. As with everything Sandals, the massage was nothing but luxurious and completely worth every penny.
At this location, they have separate buildings for every individual session. Once you have changed into a fluffy robe, you get to walk through a tranquil garden to your own quiet space full of relaxation and tranquility. With each session, you get to pick your own scented tea candle to help relax you during your whole session. The session was pure magic!
The two women work in perfect harmony to make for the most seamless couples massage we had ever had. They also have nice little surprises for each couple when doing the massage that you will have to just see for yourself. The Red Line Spa is something I will NEVER skip on any of our trips to a Sandals.
In-Room Catering Offerings
During our trip, Kyle had a chocolate covered fruit tray delivered to our room on the night of the White Party to help balance out all the other chocolate covered treats offered at the party! It was a very nice and sweet surprise to come back to that evening and also very delicious!
It is important to note that not all rooms cover this type of offering so if room service is something you are big on, look for rooms that may cover some of this in the cost. There are also some opportunities in which room service may become part of the offerings package when booking.
Candlelight Dinner on the Beach
Kyle also decided, last minute, to do a candlelight dinner on the beach. Unfortunately, ours did not go as well as Kyle had hoped. The sound of the waves on the beach started to make me dizzy in the dark (I have horrid motion sickness) and we had to end the night early and bring the entrees and dessert to our room.
The set up though was beautiful and the food was delicious. Kyle loved his steak so much that we made a reservation at the steak house that caters the meals for the candlelight dinner. It made for a very special, romantic moment on our trip even though it did not go as planned. If you are like me there are alternate locations you can request such as the garden in Barbados.
Shopping
And last but certainly not least…SHOPPING! Sandals does an excellent job of bringing in local artisans to the property. They do so in a market style set up and in their gift shop. During our trip, they had two different "pop up markets" as well as their permanent shop locations along the beach. These beach locations are permanent fixtures on the beach that are reserved for various artisans that are there throughout the week. These markets and shops allow for you to interact with locals, spend time talking /learning from them, and of course shop their products!
It was great fun looking at all the various items! Kyle and I were able to get a few items for some family members that helped make our trip happen. We also purchased some jewelry/accessories for me, and prints for our home. It was a really nice added touch on Sandals behalf to bring in local artists. This makes it so you really do not have to leave the resort if you choose not to and can still experience local Barbados.
Overview of Barbados & Sandals
Obviously, we speak very highly, not only about Sandals, but about Barbados as well. The country is extremely safe and friendly. The police officers typically do not carry guns because violent crimes are so low in the country. The culture is one of pure joy and happiness. Each person we interacted with, while in Barbados, truly showed a love for life and for their country that could easily be seen.
We are hoping to one day return to this special island and see even more of what it has to offer. As their fall festival is an apparent must do and there is a superb Friday night fish fry. The locals host the fish fry near the resorts in the St. Lawrence Gap and we unfortunately missed it during our trip.
If Barbados is not on your bucket list, it certainly should be, as should Sandals resorts! This company gave us the perfect trip, with everything we were looking for in an adventurous but relaxing week in the Caribbean. AND we were treated to luxury and amenities reserved for a royalty.
(Disclosure: The below link is an affiliate link with Sandals & Beaches Resorts, in which we make a small commission if you make a purchase through the link. There is no extra cost added to you for the commission. All Opinions are our own and we only endorse/link to products or services that we truly believe in and use ourselves.)
To see current promotions and to book your Sandals trip check out their website!
For more photos and adventures follow us on Instagram and Pinterest!