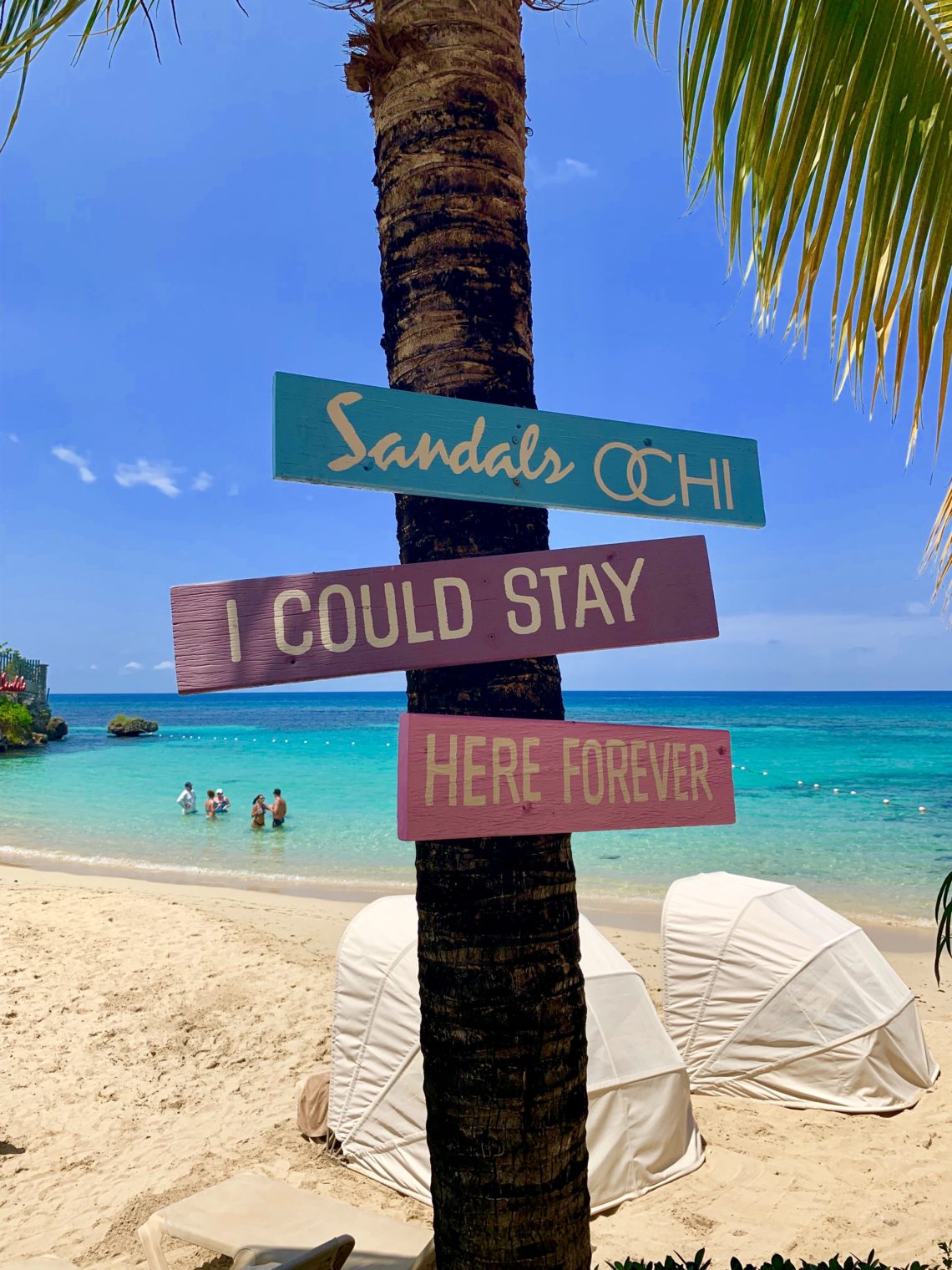 Exploring Jamaica & The Sandals Ochi Experience
For those that have read our blog post on Barbados, you know how fond we are of the Caribbean and Sandals Resorts. We were lucky enough to experience another great Sandals vacation in the Caribbean last year! This trip was not only full of relaxation but also a Sandals Wedding!
(Disclosure: The below links in this article are affiliate links with Sandals, in which we make a small commission if you make a purchase through the link. There is no extra cost added to you for the commission. All Opinions are our own and we only endorse/link to products or services that we truly believe in. )
Since we live in Southwest Florida, we are able to get flights to Jamaica quite easily. Although our airport, Southwest Florida International, does not have many flights to the Caribbean, Fort Lauderdale and Miami airports have countless. Both airports are about two hours from us, making it easy to find a flight almost every hour to where we would like to go. Per our normal, we choose to fly out of Miami.
To say our flight to Jamaica was seamless would be an understatement! The flight was just over an hour! We were also able to fly through customs, no pun intended, and get to our luggage quickly! We were then able to spend a couple minutes in the Sandals lounge while we waited for a car to take us to our resort!
Pro-tip:
Be sure to always have a pen and all your travel information readily available on the plane. (hotel address, hotel phone number, etc.) On our flight to Jamaica and Barbados each family was asked to fill out cards for customs requiring this information and the flight attendants, normally, do not have enough pens for everyone!
Since Jamaica is such a large island and a majority of flights come into Montego Bay, many of the resort companies have lounges for guests upon arrival. This way you have somewhere to relax and get a drink before proceeding to the resort. The Sandals lounge was quite busy as they have 8 total resorts between Beaches (all-inclusive family resorts) and Sandals on the island. They had light snacks as well as water, soda, and beer to enjoy but we were only there for a few moments before heading away to Ochi Rios!
Our travels to the Sandals Ochi resort was great! We were in our own car with a very nice gentleman! Our Driver told us all about Jamaica on the way as well as pointed out various national landmarks. He talked to us about the Blue Mountains and the native people that still live in this area. Our driver also shared various facts about each parish and the towns we would pass. A Parish is similar to states in the US. He told us about which local restaurants were famous for what meals as well. It made for a great way to learn about Jamaica while also making the drive to the resort seem much faster than the hour and half it took!
Pro Tip:
If you want to ensure private travel to and from a Sandals resort, you can find more information on this on the Sandals website. Kyle and I did not book for private travel, we just got lucky.
Travel Tip:
There are persons at the airport that will insist on taking your bags to the car or taxi you are taking to the hotel. They expect a tip and will ask bluntly for it. As always, it is your personal choice to tip these persons but if you do not tip, expect them to show their annoyance (my co-worker from Jamaica told me about this prior to our travels). We personally tipped about $5 USD. US currency is taken in Jamaica as it was in Barbados.
CHECKING IN
The Sandals Ochi resort is beyond beautiful! It is a very large resort that is split between two areas, the beach-side and hill-side. Upon arrival, our car took us up to the hill-side to check-in. The lobby area here is breath taking! There is a large plantation style house over looking the hill-side below with the resort pool, lawns, and then the ocean. It is truly breathtaking and picturesque.
As with the check-in lobby in Barbados, the space is also open and airy with large comfortable couches and chairs to sit in. There were many guests sitting and relaxing in these chairs as we came in. As we were with a group event, although we were checking in by ourselves, we were brought into a separate, private check-in space. We were given a freshly made mixed juice of orange, pineapple and we believe guava. It was perfectly refreshing and a great Jamaican introduction to our trip!
After check-in, we were taken down to the beach-side lobby of the resort. We were then personally escorted, per Sandals way, to our room by one of the beach-side staff members. The beach-side is just as gorgeous as the hill-side! There are varying styles of buildings on the beach-side from one to two-story bungalows to larger hotel style buildings. Our understanding was that the hill-side was only butler suites with the remainder of rooms on the beach-side. The buildings on the beach-side also have winding paths between them with vast arrays of foliage, making you feel like you are in the jungle!
Upon arrival to our room, we were shown the ins-and-outs of our room and the amenities included in our room by our Sandals staff member. As per our last trip, we stayed in the most basic Sandals room. We had a beautiful view over looking the gardens! They were working on remodeling many of the rooms while we were there and we got a room with a newly redone bathroom. It was the perfect room for the four and a half days were there!
Pro Tip:
This Sandals resort has several hills and stair cases. If you want to minimize use of stairs or have difficulty with stairs, there are elevators and be sure to plan ahead for the day to avoid going up and down from your room to the beach and back. I had very sore hamstrings throughout the trip and a few days after our return home because of all the walking we did throughout the resort.
GETTING SETTLED
After settling into our room, we set out to explore the resort. One of the first things we made sure to do was stopping by the reservations desk to make reservations for dinner at Kimono's and Kelly's Dockside. They also have a few other restaurants that require reservations but we did not make more due to our limited time on this trip. Sandals Ochi includes a total of 16 restaurants, so you will be able to find plenty of places to dine with excellent variety as well!
The reservations desk was found coupled with the excursions desk in the main building of the beach-side property. Due to our shortened trip, and the busy hustle and bustle we were in for last year, Kyle and I decided to forego any excursions. We decided to take advantage of as many on property, included, resort amenities as possible. And we had great plans to lay on the beach!
Once we were settled in with our reservations for the trip, we wandered through the 'jungle' to find our friends sitting out at one of the two pools on the beach-side. We were able to catch up while also drinking some delicious drinks at the swim-up bar prior to our dinner. We were even lucky enough to have another one of the couples join us for dinner that night!
Pro Tip:
Not all Sandals resorts have drink menus available at the pool bars. If you are planning ahead and want to know what drinks they serve or what "specialty" drinks they have, you can find the list on the Sandals website.
EATING AT SANDALS OCHI
As far as food at Sandals goes, we have loved it all! There has not been a restaurant at Sandals Barbados or Sandals Ochi that we have not liked! On this trip we also found out how much Sandals truly cares about the dining experience for each guest!
As with many places in the world now, once we were seated and greeted at any Sandal's restaurant, the first question they asked was about food allergies. As Kyle and I do not have any allergies, this is typically a question we just brush over. Well this trip was different because one of our friends has a true food allergy.
It was amazing to watch them go over every item on the menu that she could eat and ensured they answered every question she had. If they did not have something specific on the menu that was able to accommodate her allergy, they also had alternatives ready to present. Our friend even commented on how cared for she felt on the trip! She said she had more options at Sandals than at any other resort she had ever been to! She also remarked that her food was presented and done in the same fashion as everyone else's which is commonly not the case at other places!
Each restaurant we ate at during our trip was superb! With both Sandals resorts we have stayed at, as well as the ones we have looked at online, each Sandals has a similar collection of restaurants but no resort is identical to another in terms of restaurants. If having variety in restaurants is something that is important to you, be sure to look at the various options for each resort on the Sandals website! You can also see if your resort is 'attached' to another resort that you can dine and play there as well! During this trip we still worked hard to eat at every restaurant we could as we always do!
Pro Tip:
Some of the smaller resorts have an option where you may take a van to another nearby Sandals resort during the day/night to enjoy some of their amenities and dining options. These resorts can be about 20 minutes away from each other so if you are looking to do this, you may need to plan ahead.
DINNER AT SANDALS
One of our favorites is Kimono's, their hibachi restaurant. The atmosphere of this restaurant is one of our favorites! As with any hibachi restaurant, you are seated with other diners. This makes for a fun night out where you can meet other resort guests and spend time talking about your plans and experiences so far!
On this trip, we were able to sit with some of our friends, making for a fun first night out! The other reason we love Kimono's is because they have an all-inclusive style menu. Everyone gets one appetizer, desert and the entire Emperor's Feast . This includes fried rice, vegetables, chicken, steak, and shrimp. It is delicious and so filling! If you are going to go to Kimono's be sure to go hungry!
Pro Tip:
At both of the Kimono's we have been to, the Soy restaurant has also been in the same building. Soy has various sushi roll options and upon request they can bring rolls from Soy to you at Kimono. If you cannot do this, but love sushi, plan to stop in Soy before dinner or later in the evening after you have made some room following your Feast! I loved their fresh fruit sushi bowl from Soy in Barbados!
Outside of Kimono's we also went to The Manor, The Southern Table, and Kelly's Dockside for dinner.
The Manor was fantastic! We ate there for dinner the night of the wedding and had an amazing time! This restaurant is situated on the hill-side of the resort with a great view of the ocean in the distance! We enjoyed steaks and seafood made with a Caribbean flair! As this was the wedding night, many people also ordered bottles of wine or champagne to enjoy! I would highly recommend eating at this restaurant as it is somewhat secluded with great views making for a quiet night out!
Pro-tip:
Sandals restaurants do offer bottles of wine and champagne for an additional charge. You can still get these items by the glass, which are included in your resort fees but often specific wines will only be available in this fashion. Do not fret though, the choices are still great!
The Southern Table offered exactly what you hope for with all your favorite southern style dishes! Kyle, myself and his fraternity brother certainly had difficulty choosing what to order for dinner this night! The great thing about Sandals is that you can always order more than just one item off the menu! Since my favorite part of southern style cooking is the sides, I decided to order one of the meat entrees with the regular sides as well as some additional sides. Both of the boys chose to do the opposite of me and ordered two meats with one set of sides. It made for a large meal with lots of sharing which was very fun! We had a great time enjoying this meal "family style"! We also LOVED the desert options at this restaurant so do not miss those either!
Kelly's Dockside was probably our least favorite restaurant but still a great option! Unfortunately, we had to take our dinner back to our room, similar to our candlelight dinner in Barbados. Clearly eating in the dark over/by the water is not agreeable to me because I began to get dizzy while we waited for our main course. We were able to enjoy our entrees in our room but did not get to try desert since we did not select anything prior to taking dinner back to the room. It certainly was a bummer but we have definitely learned that I cannot eat in the dark seaside!
BREAKFAST AT SANDALS OCHI
Outside of the great dinner options, we ate breakfast at The Southern Table, Le Gourmand, and the Sky Terrace. Both The Southern Table and Sky Terrace offer buffet breakfast in two different styles: southern style and the Sandals classic breakfast buffet. I am happy to report that both were excellent! Both buffets also offered excellent views, one of the hill-side and one of the ocean. If you are looking for the more southern flair, you need to go to The Southern Table! This restaurant also gives you a great view of the main pool so you can scope out your lounging spot for the day! Sky Terrace literally puts you in the sky with breathtaking office views and a great all around breakfast with all the variety you can hope for!
Le Gourmand was our last dining experience before leaving Sandals Ochi. And of course we loved it! I would highly recommend breakfast here! It is a sit-down breakfast with French inspiration! It was our last breakfast at Sandals Ochi! We had a great fruit plate starter which I followed with a waffle infused with ham and cheese! It was perfect! After eating breakfast here, I was sad we were not able to experience dinner at this restaurant while on our trip!
LUNCH AT SANDALS OCHI
As always, Sandals has great lunchtime options that allow you to eat on the go or relax and eat at your leisure. We were able to grab bites to eat at Tapas, The Mariner, Dinos, and Jerk Shack. Mariner, Dinos, and Jerk Shack are classic lunch time restaurants seen at several of the Sandals resorts. At Ochi, they had a few of the lunch time restaurants set up in one area by the hill-side and along the beach-side. The hill-side made it easy for you to get pizza, burgers, or jerk chicken all in one area. You could even start at one spot and move to the other if you wanted which was great!
The Jerk Shack and Taps were new to us and we loved them both! We were able to try various levels of spice in the jerk chicken and we able to share multiple plates at Tapas! Tapas also had self-serve ice cream which Kyle and his friends could not stay away from!
Pro Tip:
Be sure to plan your days accordingly. If you plan to be up in the hillside at the main pool but want to eat lunch at Tapas down by the water, you will have to take the van (running every ten minutes) to get down to lunch and then back up to the pool.
THE SANDALS WEDDING EXPERIENCE
Being a guest at a Sandals Wedding was a great experience we never thought we would get to write about! For those interested in learning more or booking a wedding at Sandals, check out their webpage here.
As a part of the package that our bride and groom chose, we got to have a special event on Thursday night (they also had one on Wednesday night that we missed.)! We were able to participate in our own rum tasting and game night hosted by some of the Sandals entertainment staff! It was a great way to spend Thursday night before the wedding, getting to know the other friends and family members who had made the trip for the wedding.
It was also raining that night in Jamaica, giving us a great way to spend time together in a country where nearly all activities take place outside. We had a great time playing games with each other as well as learning about various rums from the Caribbean.
WEDDING DAY!
On Friday we were able to experience the magic of a Sandals wedding! They really took care of everything and made sure guests were comfortable as we waited for the ceremony to start! As it was a very warm afternoon for Jamaica in March, we were given bottled water and cold towels to keep us cool while waiting for the ceremony. We were able to attend a beautiful beach wedding followed by a great luncheon with heavy Hor'derves, cake and drinks! We also got to watch the bride and groom share a first dance and see the maid of honor, best man, and family give speeches! It made for a great afternoon together celebrating!
For those again looking to book a Sandals wedding, we do not have all the information you will likely need to make your depiction but we can include the information we did learn. There are countless options for your wedding day, especially at Ochi. Ochi seems to be the most popular location for weddings as they do have the "over the ocean wedding chapel" as well as other locations on property for the ceremony. You can also do as simple of a wedding as you would like all the way up to a full wedding with a full ceremony and reception. I would say the wedding we attended was a great middle ground and was, again, beautiful!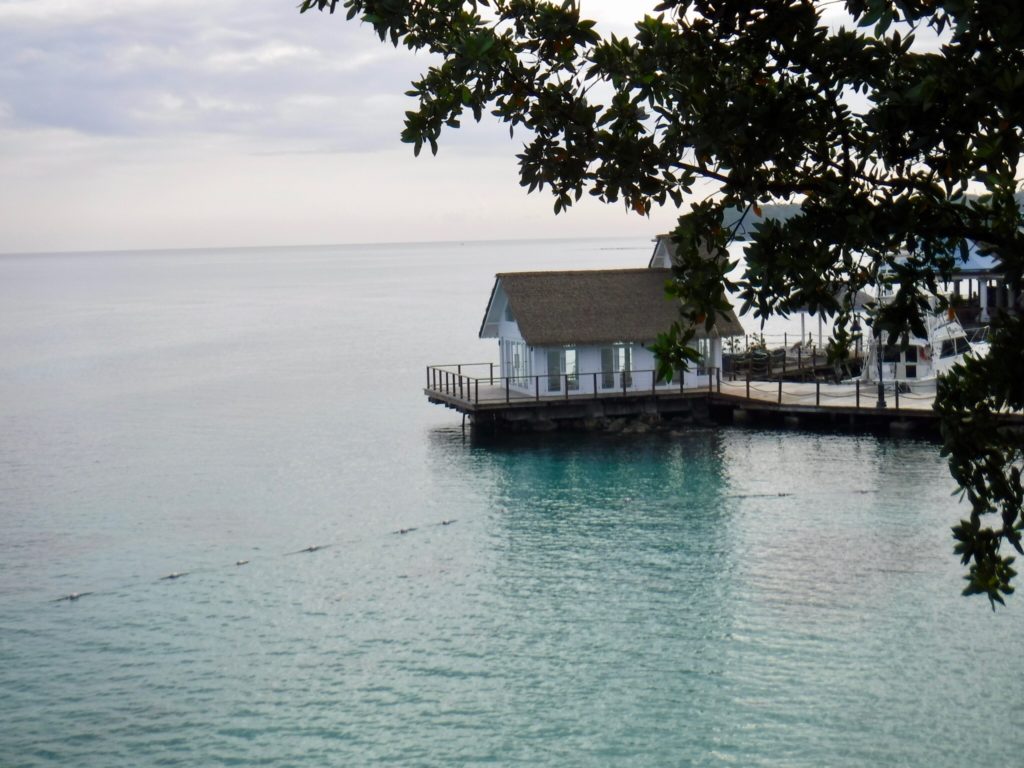 Once again for more information on weddings at Sandals check out their webpage here
INCLUDED ON PROPERTY OFFERINGS
ENTERTAINMENT
Sandals always does a great job with their entertainment! With all the festivities and spending time with friends, we only made it to one nighttime show on this trip. It was a great show! We were able to watch all the performers dance through the years of Jamaica! They also had a great little story line through the show making it both fun and educational on Jamaican history at the same time!
As we saw in Barbados, the staff members at Sandals are truly one big family! Besides the guests, other staff members came to watch their friends perform! It always makes me feel good to see that the staff members love spending time together and supporting one another and not just because they have to!
At Ochi, there is also a Speakeasy and may be the only one in all Sandals properties! Each afternoon/night the entertainment staff comes up with a new password to the Speakeasy. Sometimes you are able to get it out of the staff members by asking, other times you have to do something like a little dance in order to get the password (nothing crazy and it is meant to be fun!). You can also gain access to the password by attending the nighttime shows.
The password is typically pretty simple and does not require a lot of work to remember it! If I recall correctly, ours was 'rabbit' and you do have to use it to get inside! We were sure to arrive early as the bar is not large and does fill up quickly! We were treated to jazz/big band music and 1920s era cocktails! I certainly would recommend everyone goes for at least one night! It is a great way to kick off you night or enjoy a relaxing night out after an adventure filled day!
Outside of the night time entertainment and the Speakeasy, there are several other ways to enjoy your evening! The beachside bar has a DJ until 2:00AM playing top hits as well as Caribbean music and more! Kyle and his fraternity brothers went down to the bar a few nights and loved listing to the music while also playing billiards. On some nights they also arrange for quieter, yet fun activities. At Ochi there is no shortage of entertainment if you are looking to fill your days with games and fun at the resort instead of leaving property on excursions!
ACTIVITIES
For those looking for a bit of a quieter night, there are a few bonfires along the water where you can sit, relax, and spend time with friends or other guests. We spent one night relaxing around the fire for about two hours! On some nights they have events at the bonfires as well so keep your eye out for that if this is one of your go to activities!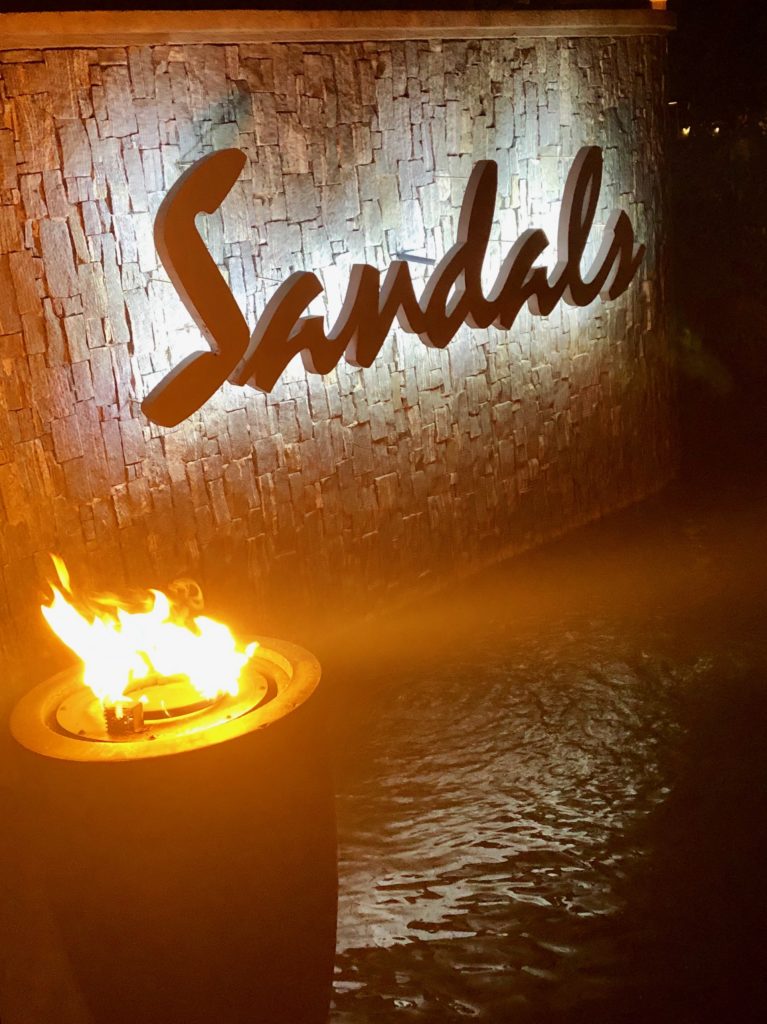 Other quieter activities include some of the regular activities that are set up throughout the day. One night we spent some time with the giant chess board; beating Kyle's fraternity brother! Other than the giant chess boards, they also have basketball courts, beach and water volleyball, giant Connect Four, rock climbing, ping pong, billiards, and much more! Due to safety concerns, some of the activities are only available during the day while other can be used at any time!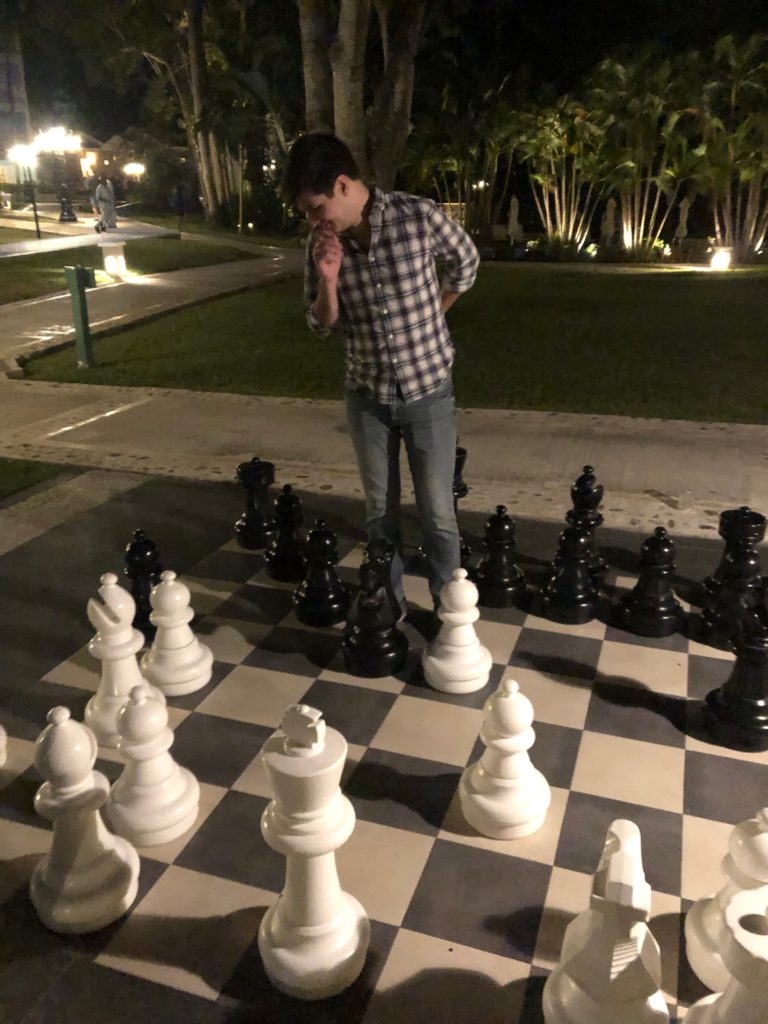 We also spent a few mornings in the workout facility like we did on our previous trip. As this is one of the older Sandals resorts, they are currently working on updating some of the facilities. The gym on the hill-side had already been remodeled and they had plans to start work on the beach-side facility. We were still able to use various treadmills, bikes, ellipticals and weight machines as well as free weights. Since we were only in Jamaica for a short time, we did not spend much time at the gym. I also had very sore hamstrings from all the stairs along the beach that were keeping me in shape!
Pro Tip:
Do not forget about all of the water sports that are also available at each resort! We did not take advantage of these on this shortened trip but loved them when we were in Barbados!
THE BEACH
There is a very large expanse of beach at Sandals Ochi. It stretches from one edge to the other of the beach-side of Ochi. The beach is split up in three different sections, two for lounging, and one more set up for water sports. The water sport area had lounge chairs available for guests but we chose not to sit there since we were not participating in any water sports. We decided to use both the 'main beach' and the 'enclosed beach'.
The main beach is a great area to enjoy the waves of the ocean with other guests! This area is the widest expanse of true beach with several rows of chairs and cabanas for the Butler suite guests. The water is rougher in this area so if you are looking for calmer waters, head to the 'enclosed beach'.
The enclosed beach has a U-shaped promenade stretching around it. This makes for some beautiful photo shots and views of the ocean from the promenade. It is also home to Kelly's Dockside and of course helps break up the waters of the Carribean. It makes for calmer waters for the not strong swimmers and nice relaxation by the water! This part of the beach also has floating rafts that you can swim out to and sit in! I loved sitting in the raft! We were able to stay cool while also working on a nice suntan!
NON-INCLUDED ON PROPERTY OFFERINGS
THE SPA
I couldn't resist a trip to the Red Lane Spa after our last experience! Kyle, of course, decided that I couldn't go by myself and just had to tag along! Again, like the workout facility, there is a beach-side and hill-side spa. So ensure your reservation is on the correct side. The set up of the facility itself was different compared to Barbados but still tranquil! Here, the whole spa is in one building unlike the separate huts in Barbados.
We were given robes and sandals to change into, as like our previous experience. We were then taken for our massage together. One this trip we opted for a 1 hour massage versus the 90 minutes we did in Barbados. The 60 minute session was still five-star! We felt completely pampered by the end! I do recommend both options but if you have the time and the budget, I would go for the 90 minute session. Plus, how often do you get to go to the spa in Jamaica?!?
There was one difference between our Barbados and Jamaica spa experience. We were shown various spa products after our massage in Jamaica that we weren't in Barbados. Typically, we do not purchase items like this but we really enjoy the Red Lane Spa products used throughout the resort. We decided to give the Red Lane bath salts a try and both of us have used them and loved them! They are great after long runs and found them to help rejuvenate our tired muscles! They also left me feeling relaxed, pampered, and with very soft skin!
To book your Red Lane Spa treatment follow this link to their webpage.
SHOPPING
On this trip we relied on Sandals to bring Jamaica to us! Although there were not as many vendors coming to the resort as there was in Barbados through various 'markets' and permanent booths, we still enjoyed the ones that came! There were several different artists ranging from woven reed baskets and flowers to painters to coconut carvers. As per our tradition, we purchased two paintings! Although smaller and the set up of artisans was different than Barbados, we still really enjoyed the artwork and items we got to see!
We also made sure to stop by both boutiques on property. Both boutiques had more permanent collections of items from local artists to look through. We were able to pick up a few items her as well to take home with us. Ochi, unlike Barbados, was also outfitted with several more travel necessities you may have forgotten or may not have known you would want!
Recently Sandals had made the switch to more paper based products to help decrease the amount of plastic in the ocean! Due to this, they have also begun selling reusable items such as straws that you can use throughout your stay! Do not forget that the boutiques also do promotions throughout the week so be on the look out for those!
Pro-tip:
The boutique promotions are often dropped off at your door in the morning with your Sandals newspaper! This way you can see all the happenings on property that day!
PHOTOS
As we mentioned in our Barbados post, Sandals does have photographers on staff to capture your moments while on vacation! At Ochi, they were stationed throughout the resort, especially at dinner time. This way they could capture you all dressed up for your night out! They also still have roaming photographers during the day to capture shots on the beach and during Sandals activities!
Sandals still offers the half hour photo sessions as well! We decided to do the photo session again this trip because we enjoyed it last time! We had a great time with our photographer and he took phenomenal photos of us along the beach-side property! The photographers and entertainment staff members are some of our favorites on property! They are always so friendly and personable! We unfortunately did not purchase any photos during this trip though.
Since our last trip, Sandals had changed photo companies. This meant a much larger price increase from our previous visit. They did not offer the same package we received on our last trip making the cost hard to justify, even with the beautiful pictures. If you are celebrating something special on your trip or want to do something to remember your trip, I still strongly recommend this service! Unfortunately, it was just out of our price range on this trip.
CONCLUSION OF SANDALS OCHI
Although our time in Jamaica was short, we loved every second of it! We loved relaxing at the pool on the hill-side, as well as spending time at the beach! We also loved being apart of a Sandals wedding and vacationing with our friends! This was the first time we vacationed with friends at an all-inclusive resort and it was a great experience! I would definitely recommend it if you are looking to go on a trip with other couples! Besides this being our first trip with friends to an all-inclusive, we decided to make the trip even more special for us by becoming Sandals Select members! For those interested in Sandals Select, we have information below! We cannot wait for our next Sandals vacation coming in 2021! Tune in to see where our next Sandals vacation will be!
Interested in staying at Sandals Ochi or other Sandals properties? Book Here!
BECOMING A SANDALS SELECT MEMBER
Kyle and I became Sandals Select members on this trip after thinking over how we like to spend our vacations! We made the choice to do so for many reasons. The first is it is free! Signing up and being members costs nothing and the perks are significant! We also really enjoy staying at Sandals! We love the ease of everything Sandals and have always felt so well taken care of! Getting to the Caribbean for vacation is quite easy for us, which is another reason we decided to join.Sandals gives us a great home away from home feeling and we just love going back!
Once we decided to sign up, we became even more excited! Once you sign up, Sandals works to ensure that all your nights from your current, past, and future stays are all tallied. This matters not only for moving up the 'ranks' but also to help you earn a free week! When you hit 70 nights, you receive a free 7 night stay! Outside of this, there are countless other perks to being a Sandals Select member! We have listed the first two tiers below for you to see all the benefits! You can always find more information online or at the resort! For online information click here.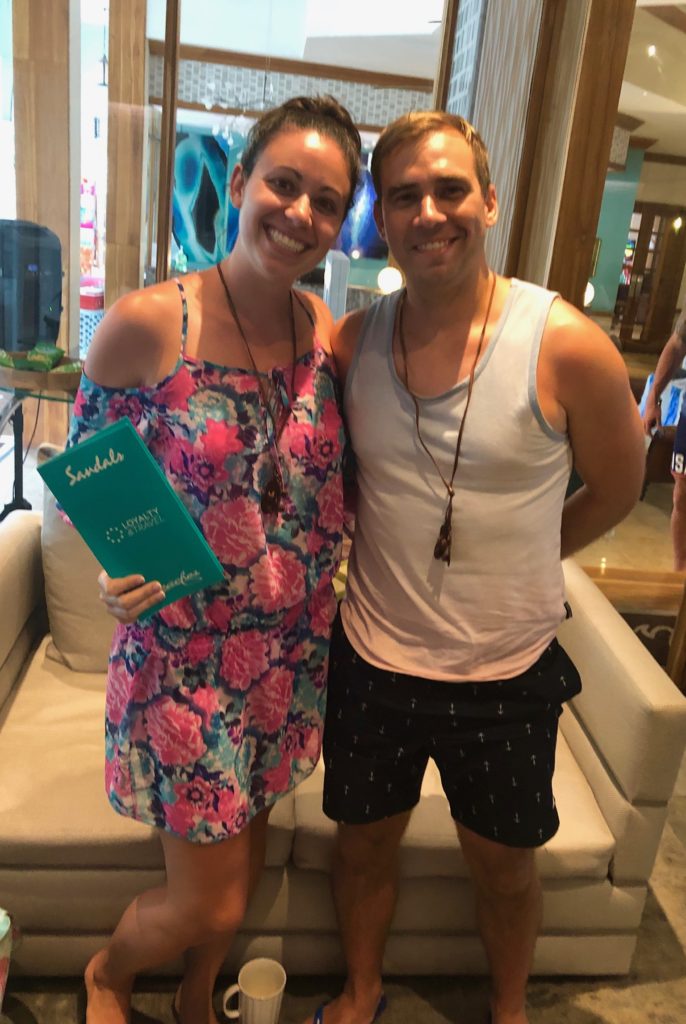 For Sandals Select members on their first stay, they will receive:
1 point per dollar spent
5,000 Bonus points upon enrollment in the program
No blackout dates for redeeming their points
As Coral status, on your second stay, you get the same perks as the first stay with the addition of:
In room welcome package
Invitations to the exclusive sandal select members events
An extra 250 points for each return visit
A surprise and delight voucher
A Sandals Select Members t-shirt
A bottle of Appleton rum for each return visit
As you continue to rise through the ranks so to speak, the amount of gifts and points as well as points per dollar continues to increase. We cannot wait for our next trip to enjoy all the perks of Coral status and continue to come closer to our free stay! For more information, you can visit the Sandals Select Rewards webpage here.