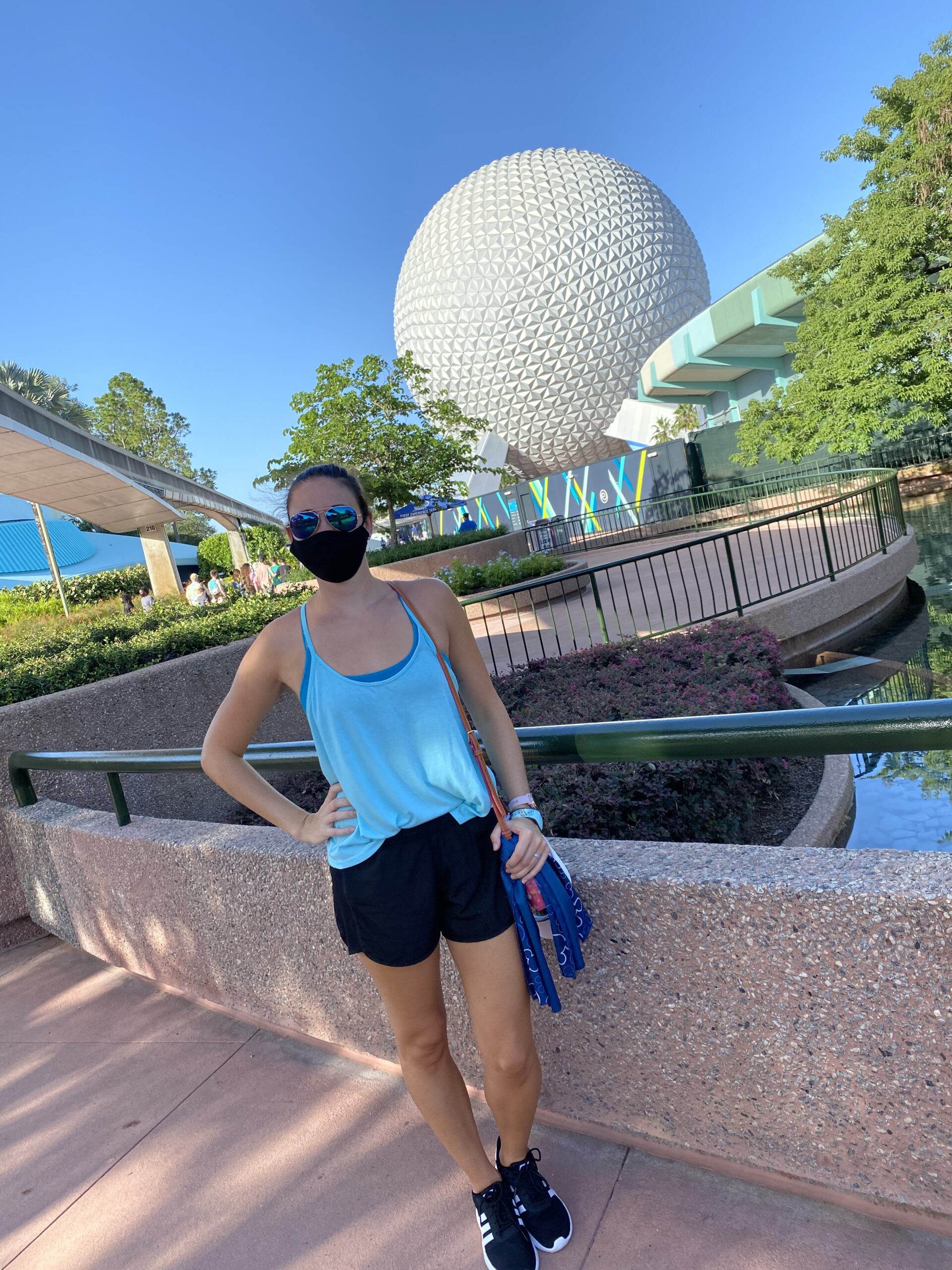 Returning to Disney: The EPCOT Experience
SURPRISE SURPRISE, I decided to do a day trip to Walt Disney World's EPCOT! I had such a great trip to Magic Kingdom; I decided to try out masks at other locations! Since I made this reservation last minute, the only park I could get was EPCOT. This didn't upset me since I knew I could check out the mini Food and Wine Festival. EPCOT does not usually have a festival in the summer. I am assuming they did one this year due to Coronavirus.
Let the Journey Begin!
As with Magic Kingdom, I drove to the park from SWFL. When I got to the parking booths, there was no one else around. I actually got nervous that they would not let me in since I was not there at park open. Obviously not the case since I am writing this article.
At EPCOT, I got to see how Disney continues to adapt their Coronavirus policies to every situation. At magic, they had us park in ever other row for social distancing. They did the same at EPCOT in the morning. By the afternoon, they started to fill in these spaces with other cars. I thought this to be a very creative solution and a great way to social distance while also making sure no one had to park in the furthest spot from the park.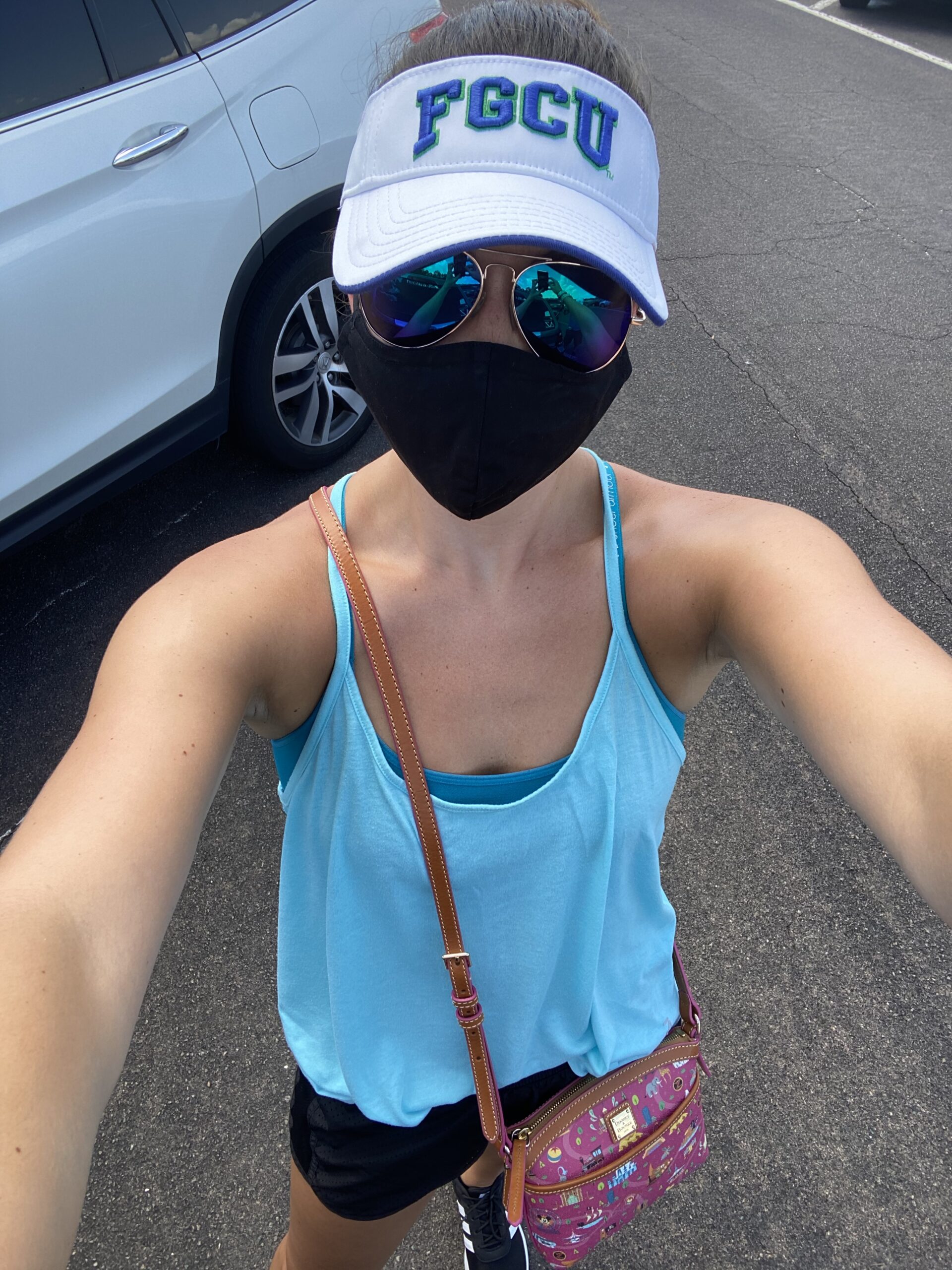 Temperature checks at EPCOT did not go as smoothly as at Magic Kingdom. Going into the park, I was scanned twice. My temperature was elevated at the first checkpoint. I sat in the "cooling tent", drank water, and waited to be tested again. This happened to several people entering at the same time as me. My guess? The thermometers had likely been outside all day by the time I got there and had over heated slightly. In the cooling tent, the thermometers sit in front of the big fans that keep the tents cooler. Moral of the story? If you go to the park in the afternoon, be prepared to be checked twice.
The New EPCOT is coming!
I was shocked by the new appearance of EPCOT. It feels like you are stepping into a live construction zone with all the walls and winding walkways. It was a little sad to see all of this but I know something great is coming.
Pro Tip: Be sure to follow the direction arrows for the places you want to go. It is not longer easy to wonder and end up where you want.
Due to the construction, I decided to head straight to the Food and Wine Festival. One of my friends is calling it Flower and Wine, which is certainly more accurate. First, they are currently selling Flower and Garden merchandise. Second, there are far fewer booths than the regular Food and Wine Festival. If you have been to a Disney World Festival, you know how grand they can be. Do not go in expecting this; you will be disappointed. Also plan for there to be many festival favorites, and not countless new items as often seen each year.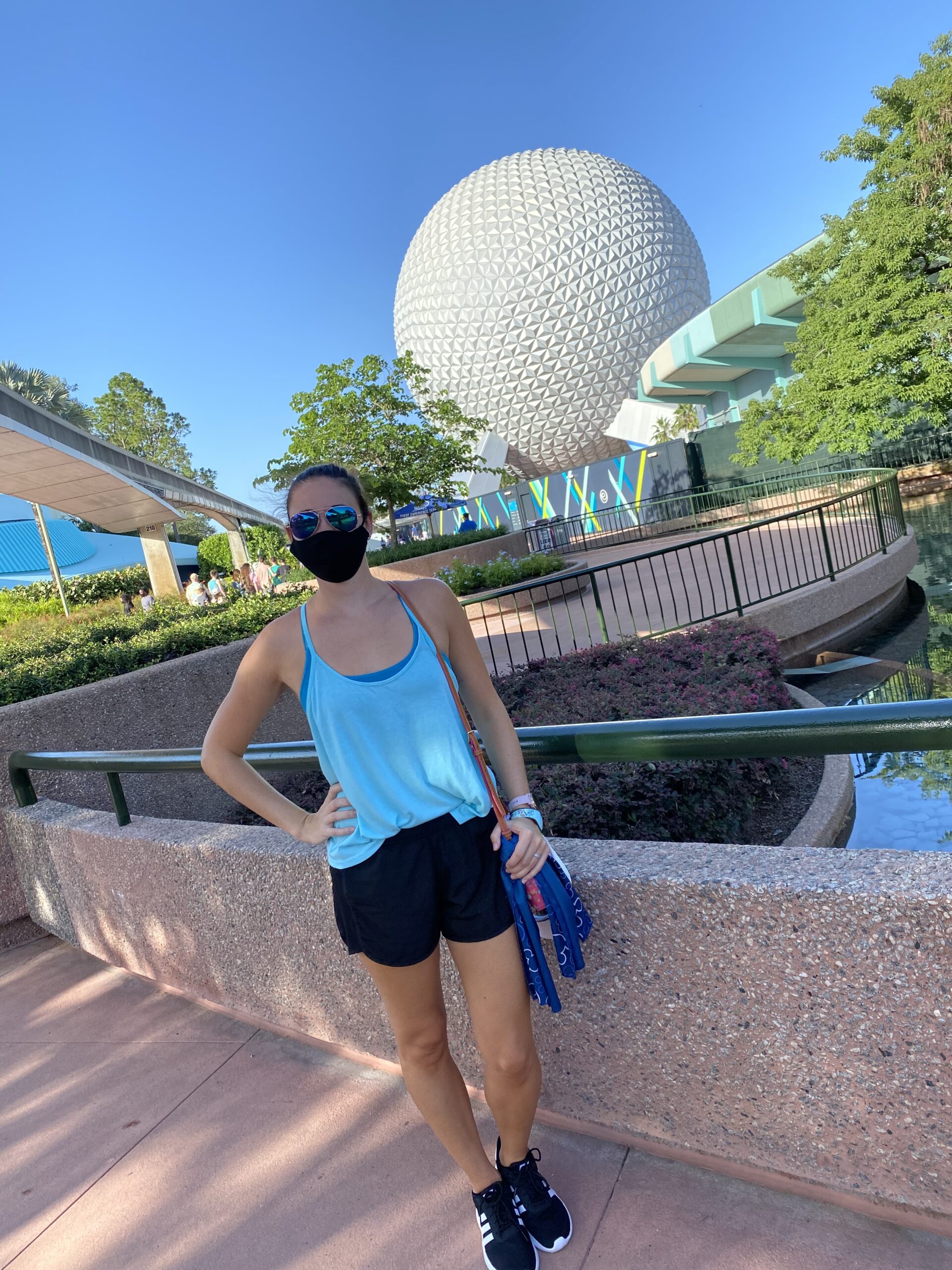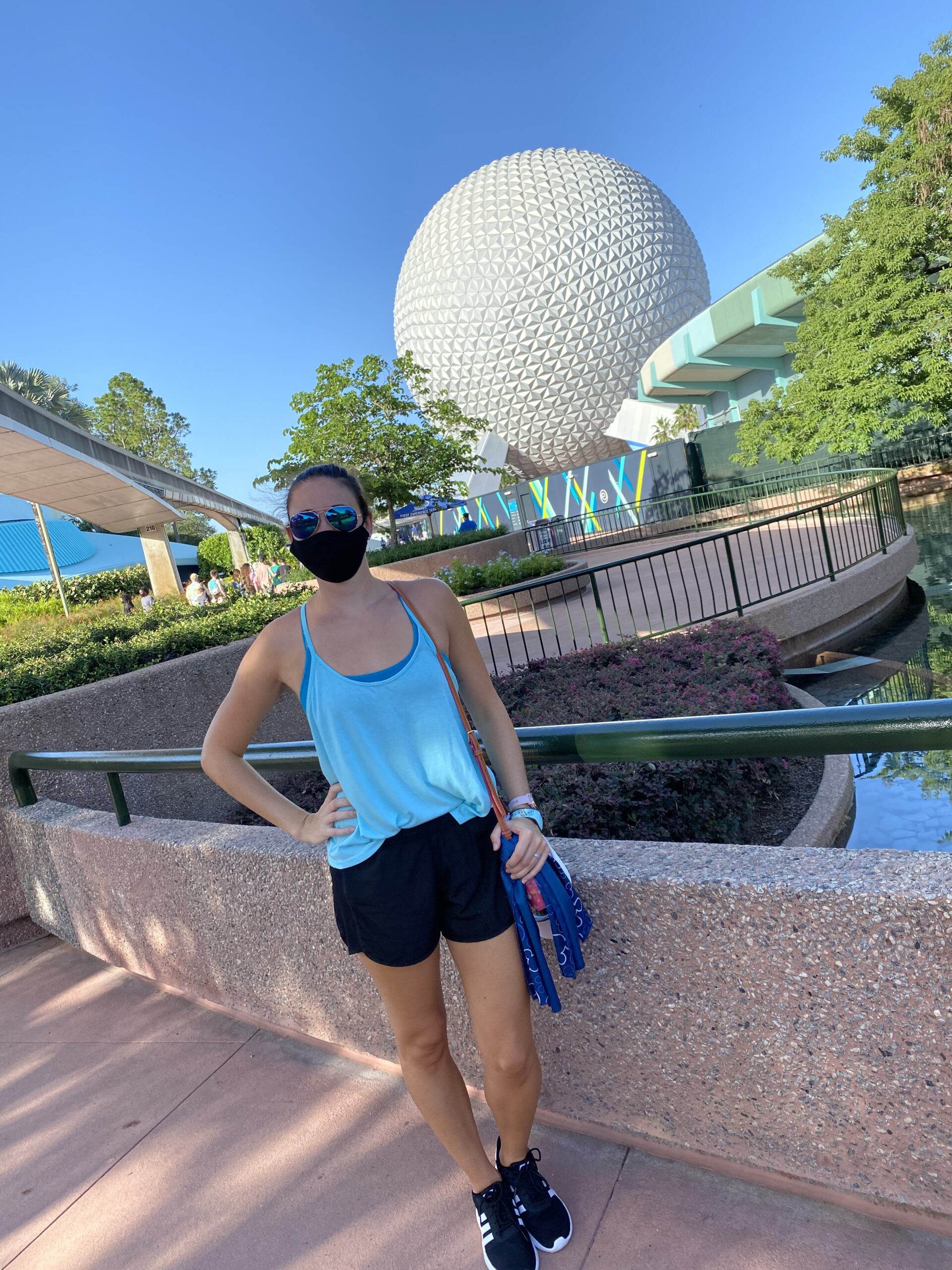 Let's Eat!
My first stop for food was in Hawaii. I went all in with the SPAM teriyaki, pork slider, and a glass of wine. All of it was DELICIOUS! I always have thought of SPAM as a brick of rubber but it tasted much better than that! The teriyaki sauce was superb and the pairing with the wine was excellent. I love the sliders each time I get them! You do have to be careful as the juice from the pork does cause the bottom bun to get soggy quickly.
I always go to the right when going "Around the World" (for Disney fanatics, this is always a discussion), I decided to skip the next few booths. Many of them had food items that were just to hot to eat outside in the summer heat. Some of them also had items that I was not absolutely wanting. For those that have been to EPCOT before, you may have noticed the convention center between Canada and the UK. The convention center is very rarely open but Disney has opened it for this festival! This air-conditioned area was just what I needed!
New Look to EPCOT Festivals?
The convention center is set up with countless tables for sitting or standing, restrooms, and FOUR food booths. All four booths inside the convention center are worth the stop! I got at least one item from each booth. The kielbasa and potato pierogi from Festival Favorites was excellent. I highly recommend it to everyone. Last year, Kyle and I really enjoyed the Apple Orchard booth and I was happy to see it return this year! This year I only went for the charcuterie plate but I have heard great things about the popcorn. I was not very excited about the frozen pie (on the menu again this year) last year but I think I was thinking it would be more frozen desert than frozen drink.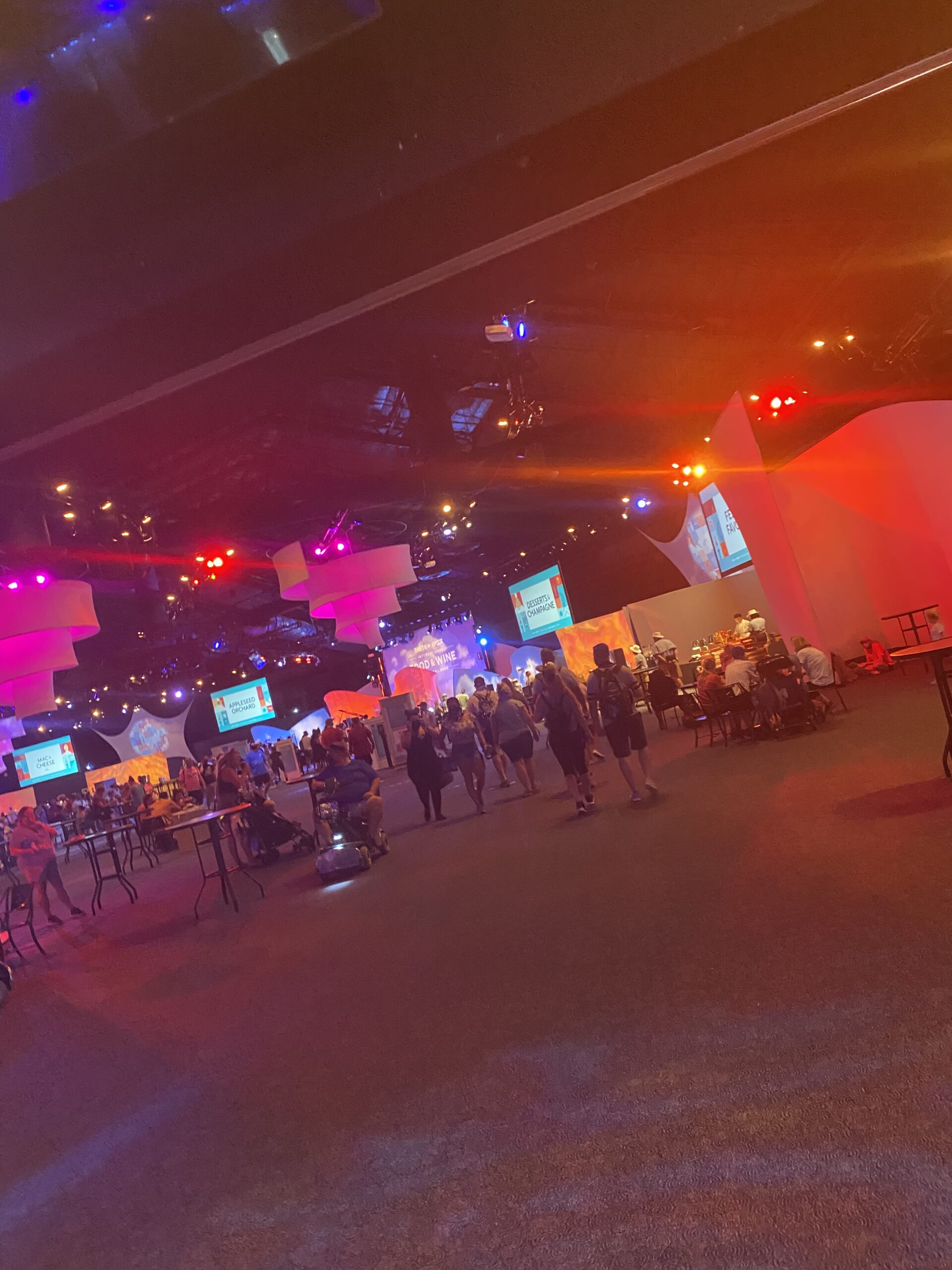 The two other food booths in the convention center were by far my favorites! I NEVER turn down macaroni and cheese so having an entire booth dedicated to it is a dream! I decided to do the plain mac this time but will likely go for the gourmet next time! Of all things at the festival, YOU MUST get a nitro cake pop! I got both the M&M and Twix. They both paired extremely well with the Veuve Clicquot Brut Rose! Hopefully when I go back I will also be trying the Frozen S'mores drink!
After five booths, I was stuffed. The heat of the day also made it hard for me to eat anymore. I love trying all the food but it can be difficult. Many countries, such as Canada and Ireland, have hearty cold weather food. Eating that in the 90+ degree heat of Florida just does not sound good to me. I'll have to try these closer to November when the weather cools a bit.
Pro-tip: Plan out your festival eats. I look at the menus ahead of time so I pick my must have dishes.
Wandering World Showcase
My walk around the remainder of World Showcase was different from previous walks. Majority of the shops and restaurants are closed. Most of these places are managed by third party vendors. With Coronavirus, these locations are not able to be open. Many of these places are also staffed by the Disney International program and they have all been sent home. If you are looking for something specific around the world, outside of the festival, I would check on the app to see if they are open. Of all the countries I walked through, France had the most storefronts open including the crepe stand, ice cream shop and pastry shop.
Outside of the closed shops, walking around the World Showcase was still fun! With so few people, you can get really great photographs of each country! Disney puts a lot of work into everything they do and it really shows. It is worth taking the time to look through each country and really take notice of the design work. Be on the look out for PhotoPass photographers to get your photos without crowds in the background!
Just like Magic Kingdom, Disney also brought the character parades to EPCOT! I was able to watch Belle, Snow White, Sleeping Beauty, and Jasmine ride by in a horse drawn carriage in Japan! While in Italy, Minnie and Mickey drove by with Goofy and Pluto! I know these parades will not last as the number of guests increases but I hope they keep them going in other parks! I think people are really enjoying them! It lets you see the characters without waiting in line for a signature!
Time for a quick Soar in EPCOT!
After completing my loop around the showcase, I went to ride Soarin' before calling it a day. The line for Soarin' was less than 30 minutes! I cannot remember a time I waited less than that without coming at park open! They did a great job of social distancing on the ride! They put up clear plastic dividers between various party sizes of seats. The plexiglass also sat in a modified baby seat which put a seat between you and the next family as well. They also had several hand sanitizing stations available throughout the line.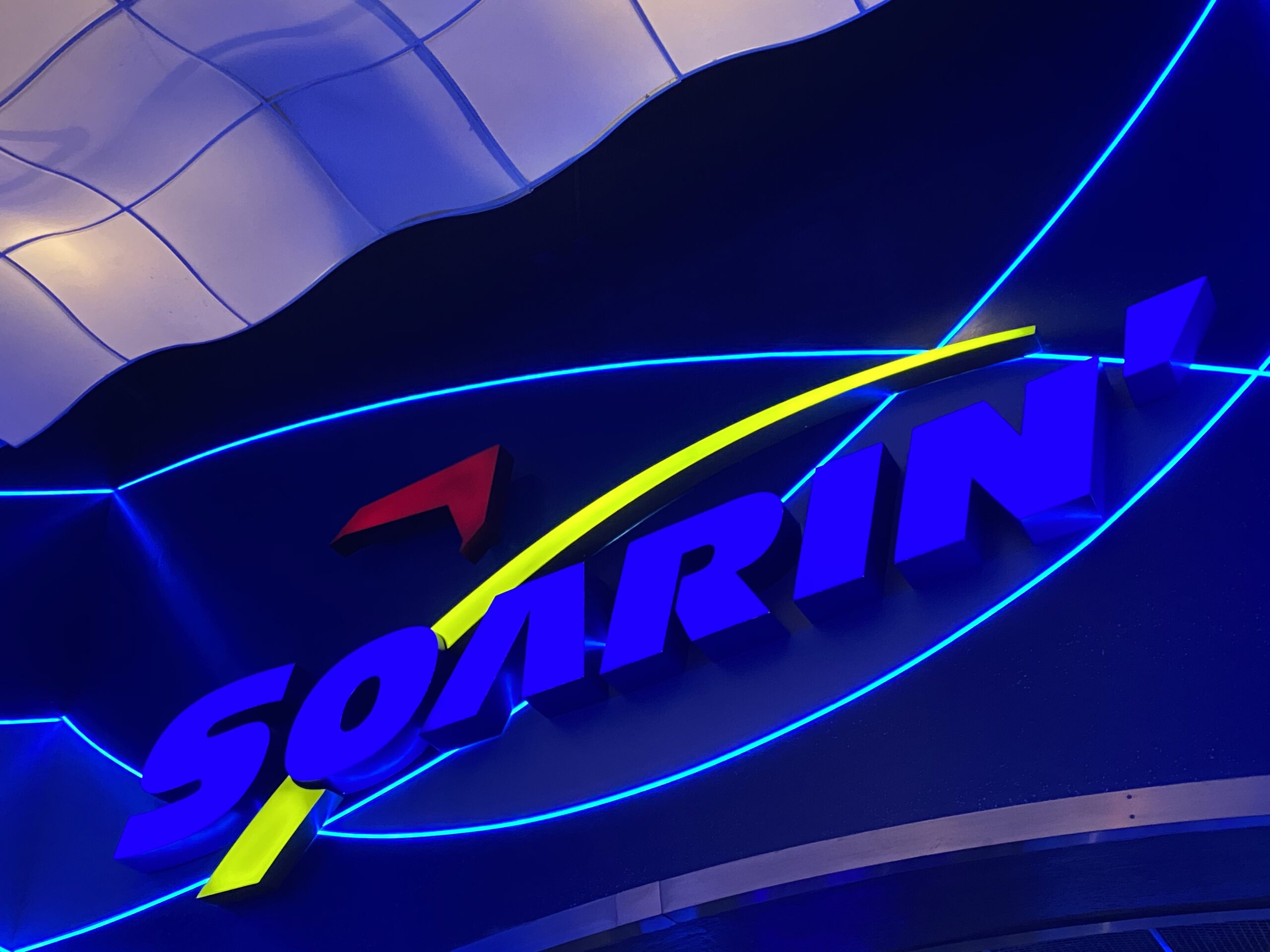 Overheating
Due to the heat, I decided to leave after just a few hours. Unfortunately this time the heat was just too much. I cannot pinpoint it down to if it was just the heat or because of removing my mask all day with all of the eating/drinking. It was definitely hotter than when I was at Magic Kingdom. There was no wind or cloud cover like the week prior. It was also just hotter in general and in my personal opinion EPCOT is always warmer than Magic Kingdom.
I also think part of the problem had to do with the mask. At Magic Kingdom, you put on your mask and leave it on unless you stop for food and drinks. With Food and Wine Fest, you are stopping almost constantly to eat and drink. I think this makes it hard to get comfortable wearing a mask.
To EPCOT or not…
So the question of the article: Was EPCOT worth it?
I would say yes and no. If you are going to be up at Walt Disney World for a long weekend or week vacation, I recommend going. I would recommend sleeping in, hanging out at the resort/going to Disney Springs, and going to the park in the evening. This way you can eat a late lunch/dinner via the Food and Wine booths and still have time to ride rides. If you are only at Disney for the weekend, I would honestly skip it and go to a different park where you can really spend the whole day.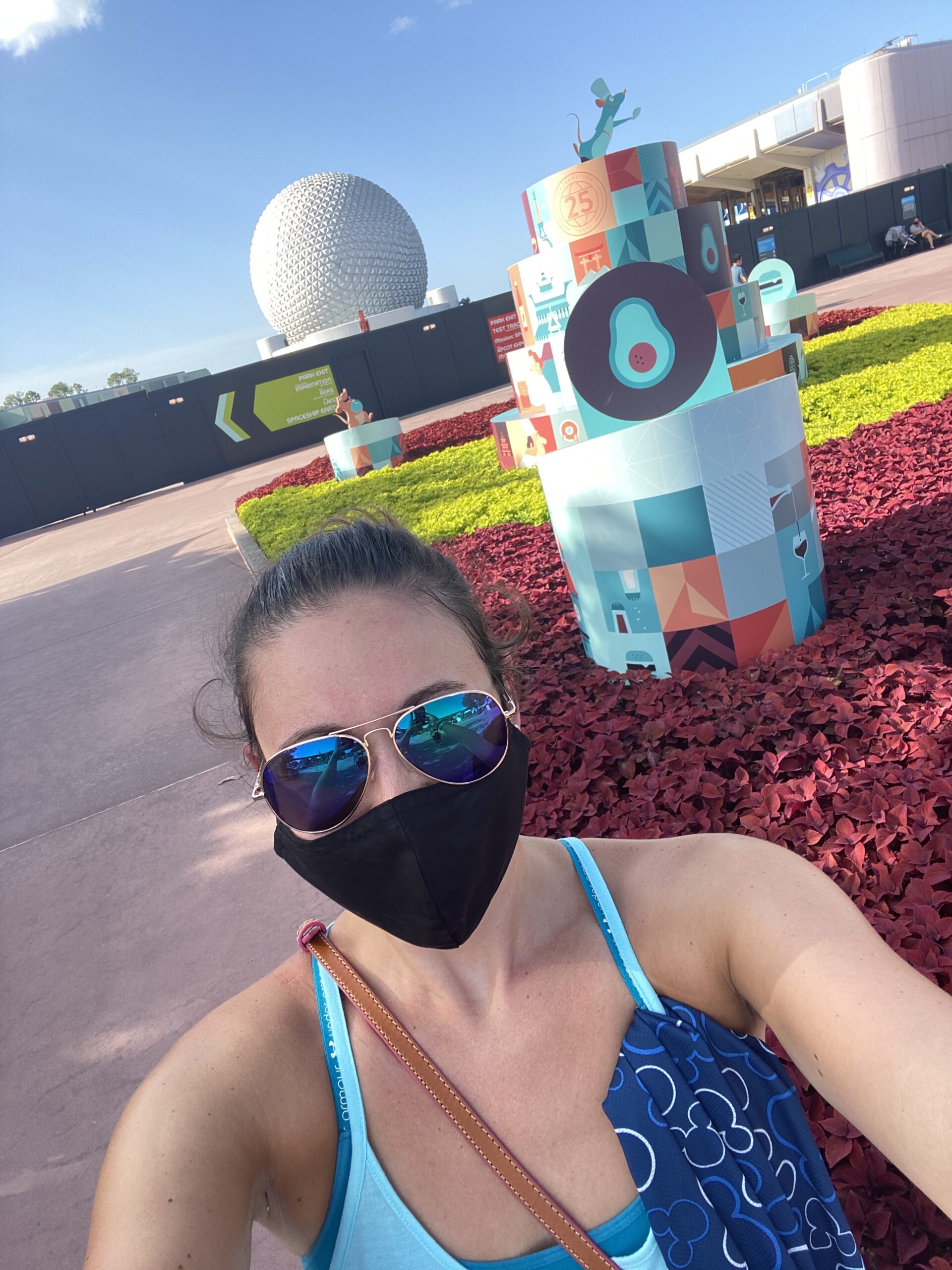 With all this being said, I am excited to return this fall and try some more items from the festival! I have high hopes they will be adding more booths this fall as well, if numbers do not spike due to the parks being open!