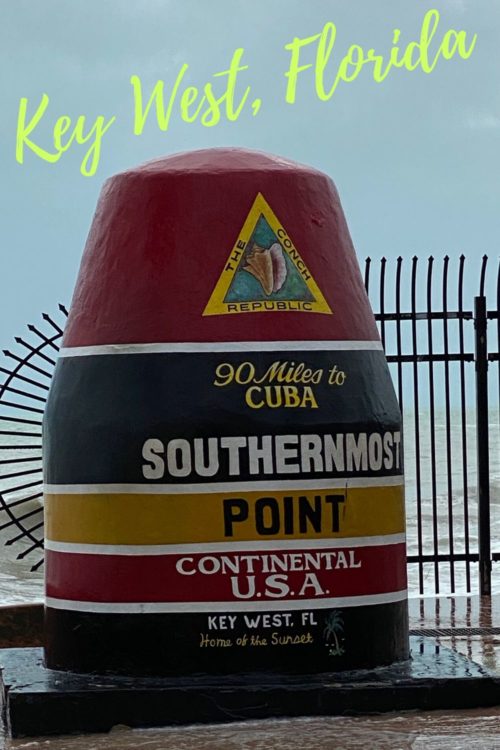 The Florida Keys: Key Largo & Key West
The Florida Keys is one of the many places you can go time and time again in Florida. I have been there four times, one as a teen and three times since 2018, and every trip is different! Many people may think that being on a series of islands cannot be a new experience every time but they are wrong. So far Kyle and I have been to The Keys on three different types of trips!
First stop, Key Largo!
Kyle and I's first trip to The Keys was with my parents. As with our other two trips, we only stayed for one night. On this trip we left Naples and headed straight to Key Largo. This is only about a 2.5 hour drive, making it doable even for a day trip! Once we arrived to Key Largo, we sat down for some breakfast at a local spot before heading to our snorkeling excursion.
My family has always been big into snorkeling and with the help of a friend, we found the Reef Roamer. This catamaran takes you out snorkeling for half day or full day trips! The staff on board are extremely friendly! They do have beverages for purchase on the board if you get thirsty. We recommend bringing your own water bottles. They also have all the gear you will need so you do not have to bring your own. We loved the spot they picked for us on our half day trip! We were able to see thousands of fish including barracudas! I highly recommend using this company for all your snorkeling needs and any sunset cruise you may want to do!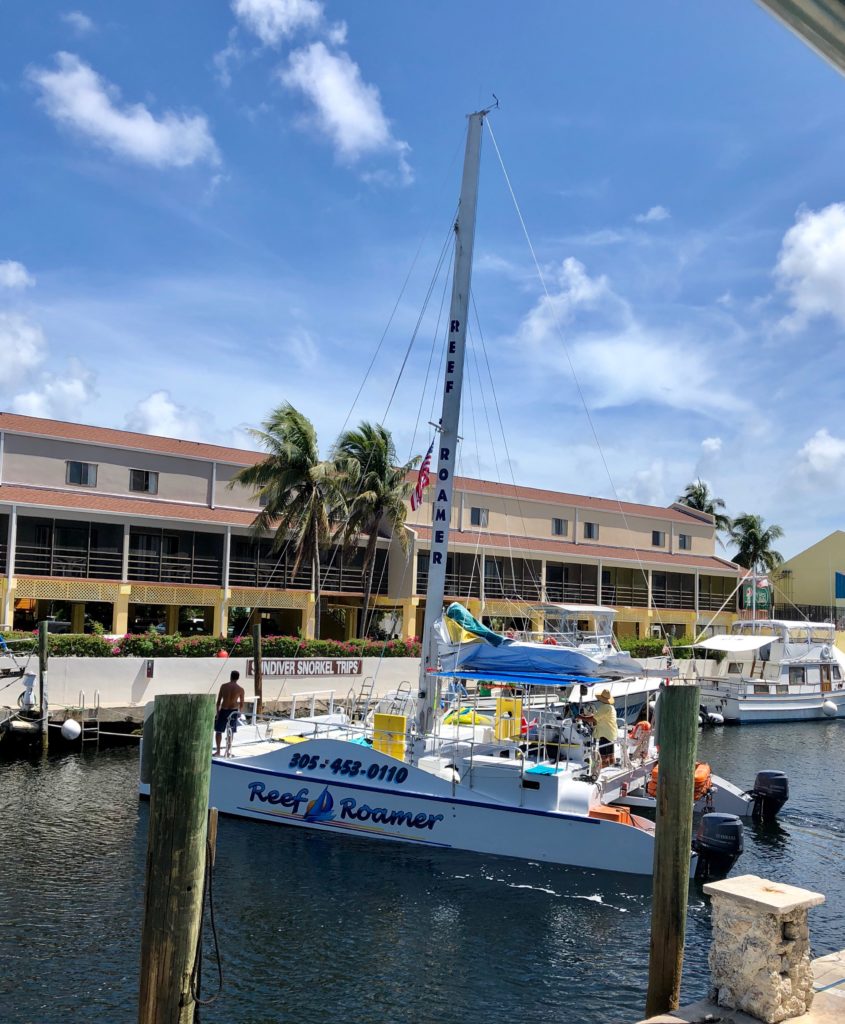 Snorkeling is truly better on a catamaran!
Pro-Tip:
If you are nervous about sea sickness, a catamaran is a great way to get on the water with the potential of minimal affects. As it is an open boat, it allows you to look out and "stabilize" yourself. As a person who suffers from motion sickness, I love catamarans and have no problems on them!
Following our snorkel trip, we stopped at a restaurant on the inlet near where the Reef Roamer docks. This gem of an eatery is called Sharkey's. This is truly a great hole in the wall pub/restaurant/dive shop! We have eaten at Sharkeys on every single trip to The Keys now! One of our favorite things about it is being able to sit outside on the water and watch the boats come and go on the inlet! We have even seen a few manatees here as well! Kyle's personal favorite are the Swordfish tacos! Unfortunately, they are a speciality item and not always available but he does love the regular fish tacos as well! My family and I personally love their burgers and chicken strips! I would say this place is a MUST DO and a perfect stopping point for lunch/dinner, whether you are driving in or out of the Keys.
Pro-Tip:
Many restaurants in the Keys are small and local owned. Some do not take credit card so be sure to have cash on hand.
On to Key West!!!
After stuffing our faces, it was time to drive to Key West. Although the drive is long, it is one of the most beautiful drives in all of Florida and maybe even the Untied States. The water is the perfect shade of blue no matter what time of day you look out along the drive! If you have time, we recommend stopping along the drive to explore the various keys (islands). We have not been fortunate to have the time to do this yet but we are always keeping our eyes peeled for places to stop when we can!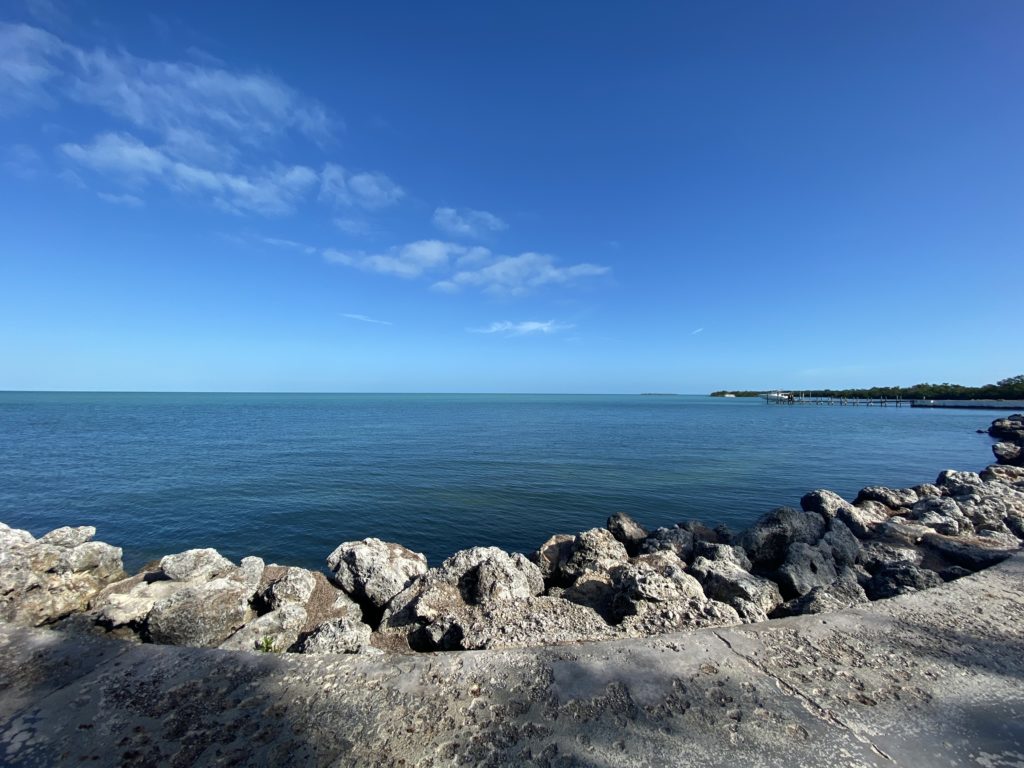 Key West is truly one of the most unique places I have ever been. The island is a mixture of relaxed island living, bustling city streets, "small town" vibes, and plenty of bars to keep your thirst quenched. On our first trip, we did not spend a lot of time exploring downtown. We did, however, find an awesome restaurant along the bay in downtown Key West!
The Waterfront Brewery is the perfect spot for just about any night! There were people enjoying a beer after a day on the water next to those on a casual night out and even families playing in the arcade in the back! That's right, I did say arcade. And by arcade, I mean a "grown-up" arcade with all your old time favorites such as Skee-ball to shooting hoops! There are also big projector screens so you can spend a couple hours watching a sports game, drinking a beer, and playing some games with friends. We enjoyed the whole atmosphere of the brewery while watching more boats come and go.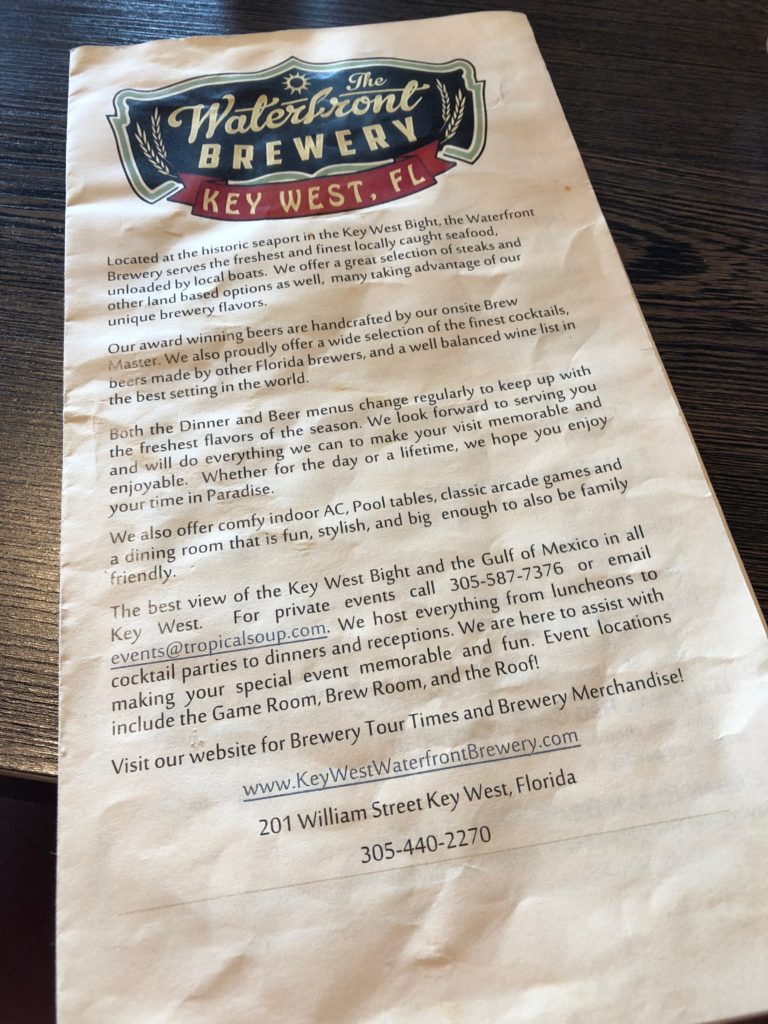 After eating, we spent some time walking along the marina. We were able to watch some of the fishing charters feed the fish as they filleted their deep sea catches. A really neat thing about Key West is listening to all of the music wafting from the open air bars. We could've spent hours walking along the marina, stopping in and out of various bars but were too exhausted from our day on the water. The next day was a big day so we wanted to be well rested!
We again awoke bright and early to take on another day in the Florida Keys. While we were downtown the day before, my dad found a company for us to do a jet ski tour with that morning! Our tour left out of the Waldorf Astoria beach through the Barefoot Billy's company. This jet ski tour was out of this world! As a kid, my family did a jet ski tour in the Keys on the Atlantic side and while it was fun, it was a little too wavy for me.
This trip allowed us to go all the way around the entire island of Key West and was much calmer water wise. We were able to see the entire island from the water. We were also taught a little bit about the history of the island! On this trip we were also given some play time on the jet skis in the 'park' where the Atlantic meets the Gulf. It was the first tour I have ever been apart of where you got your own free time to roam around on the company's equipment! We also really enjoyed taking the time to swim in the water, as the Keys are not particularly known for their breathtaking beaches, while also playing on the jet skis. 
After our morning on the water, we did have to make our trek back to home but we knew it wouldn't be our last trip! Of course, we had to stop at Sharkey's on the way back home!
Key West – Part 2!
Kyle and I returned to Key West less than a year later in March 2019. This time we brought Kyle's brother, Kameron, along as well. Since we decided to go last minute and with it being spring break, we ended up camping on this trip. You can read the full break down and the details of the camping portion of this trip in Kyle's article, 'Camping the Southernmost Point of the USA'.
Although camping is certainly not my favorite activity in the world, it really was not a terrible way to spend the weekend in Key West. We did have a fun time setting up the tent, grilling up burgers, eating s'mores, and hanging on our water front spot. I personally would not camp for more than a night or two but I would expect that to be pretty standard for me anywhere.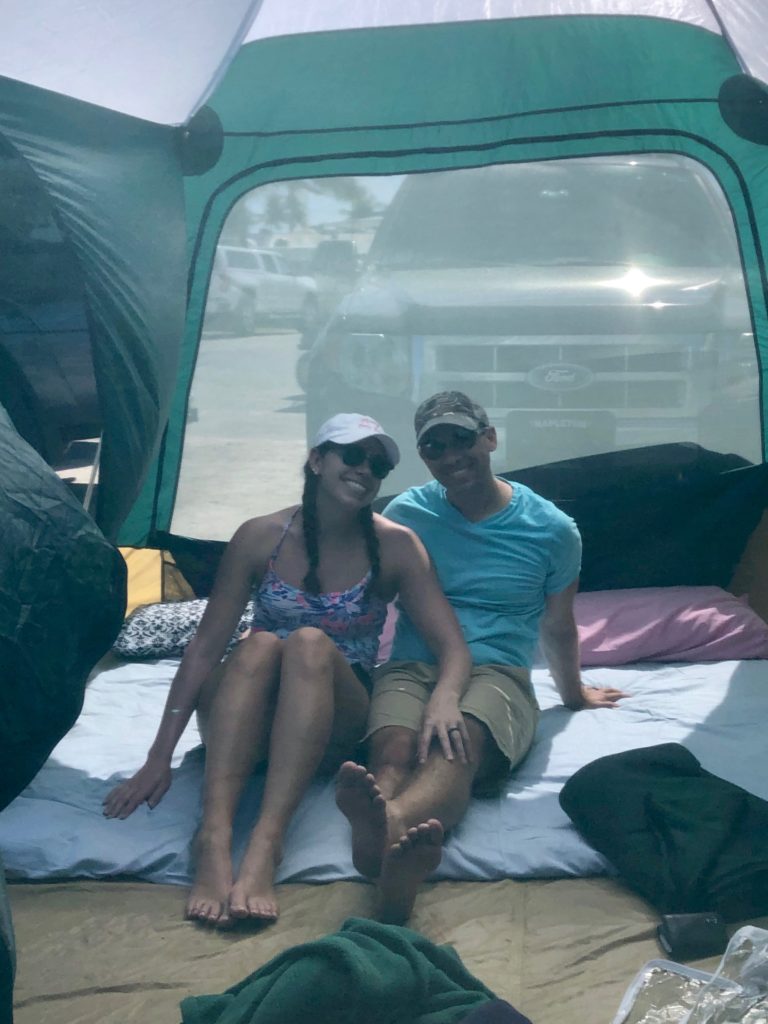 Besides our camping adventures, we did spend more time exploring downtown Key West on this trip. We spent a lot of time walking up and down the waterfront half of Duval Street. We started our Saturday with an AMAZING brunch on Duval Street at Bagatelle. This place is the perfect spot for American-French cuisine. It reminded me a lot of our favorite restaurants in New Orleans with its cozy and relaxed atmosphere, surrounded by trees, in a quaint house. I highly highly HIGHLY recommend eating here! I have to imagine their dinner is amazing as well after how much we enjoyed their brunch!
After brunch, we practically rolled ourselves down to the end of the street and out to explore the waterfront. One of the hotels on the water, has a little wrap around boardwalk with a bar which is a perfect spot to relax and just watch the waves. We were able to walk along the water and check out the cruise ship port from here as well! It also led us to one of the other parts of Downtown Key West and the Margaritaville resort!
In downtown Key West you can find just about anything! We walked through tourist shops, local boutiques, mainstream retail stores, bars, and restaurants. I couldn't think of a single thing you could not get in Key West! Right by the Cruise ships terminal, you can find the Margaritaville hotel and Mallory Square. The Margaritaville hotel has a great marina to walk around with little shops and ice cream shops! I believe you can also rent bikes along the marina to ride around town if you do not want to walk!
You will also find Mallory Square, Sculpture Garden (for some island history), and more tourist like shops in this area! If you are looking to take a hop-on/hop-off tour of the island, you can pick a variety of different ones in the spot. You can also find the aquarium here (we have never been to the aquarium but have heard good thing)! There are several sit-down restaurants as well, if you are on a cruise and do not want to wonder far from the ship.
Pro-Tip:
If you are looking for a place to look for all your guided tours, the shops by Mallory Square is where to go! You will find plenty of options for your adventuring needs! You can also pick up many of the hop-on hop-off tours here!
If you are looking for a little more history on your trip to the Key West, the Truman White House is within walking distance of Mallory Square! We have not paid to go inside but have walked through the area. It is a nice area to walk through with shade and benches! There are also various plaques outside that you can read if you do not want to pay to go in or do a tour and still learn.
As you start to head up Duval Street and away from the water, you will notice the scene change quickly. The "tourist" vibe goes from family oriented to more adult oriented. There are still several little shops to check out and great restaurants to eat at, but you will start to run into many more bars and clubs. As someone who has been to Key West as a pre-teen and an adult, I would not say you need to be overly worried about exposing your children to anything worrisome but there is a good portion to the street where beer and drinks will be easily seen as well as some of the behaviors that come with it.
As you get past the many bars, you begin to get into more of the shopping quarters of Duval Street. The streets are quieter here and there are restaurants and more Bed and Breakfast accommodations. I really like this area because it is what I picture of a small southern town. It seems more relaxed and calming. Here is where you will find some more of the mainstream shopping. There are several outlet stores or factory stores along this part of the street including Gap, Banana Republic, and others. I still recommend keeping your eye out for some of the boutiques. They have a lot of great local items and non-tourist items in some of these stores.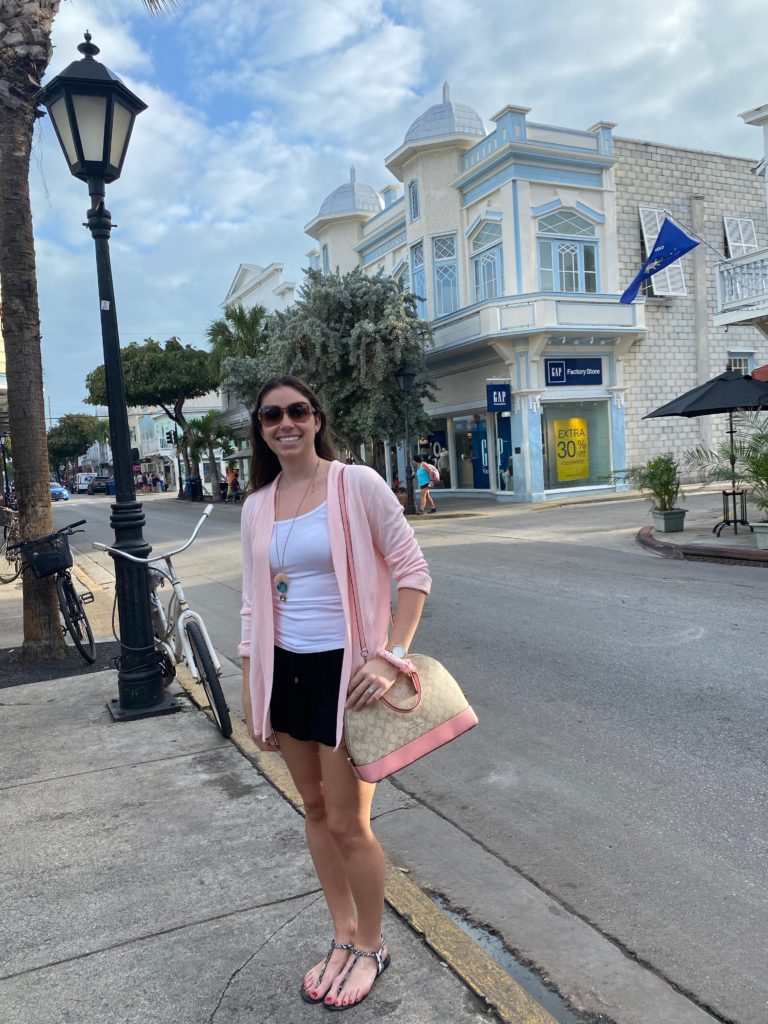 Outside of spending time on the "main drag" in Key West and at the campground, we managed to have some fun at the beach. But before we went to the beach we grabbed breakfast near the Southernmost point of the US the following day.
If you go to Key West, you have to go see the Southernmost Point Buoy and get your picture taken. It would be like going to Paris and not seeing the Eiffel Tower. I recommend going to see the buoy early in the day! The later you go, the more people that will be at the landmark. You will not only have people that are staying on the island, but also cruise ships coming in. People do try to be nice and form a line on either side so everyone can get a nice picture. But that does take awhile if you want more than a selfie at lunchtime.
Down by the buoy, there is a great restaurant tucked up on a small section of beach. The Southernmost Beach Cafe is apart of the Southernmost Beach Resort but it's open to the public. It is a great restaurant with lots of beach front charm and great food! There is a full bar for those that like mimosas with their breakfast or brunch, like myself, when on vacation. I highly recommend this cafe but caution you on timing! They do not take reservations so if you are visiting on a busy weekend, be prepared to wait or to go early in the morning!
Although not know for the beach, Key West does have little beaches around the island. I would still recommend spending time at the beach if you want to feel the sand between your toes while in Florida, but I would not go to Key West if your goal is to layout in the sand. We took Kyle's brother to the beach for a few hours on our camping trip. It was a nice small area but the sand is not butter soft with lots of roaming/walking space like you pick when you think of Florida beaches. There was also a large amount of kelp floating in.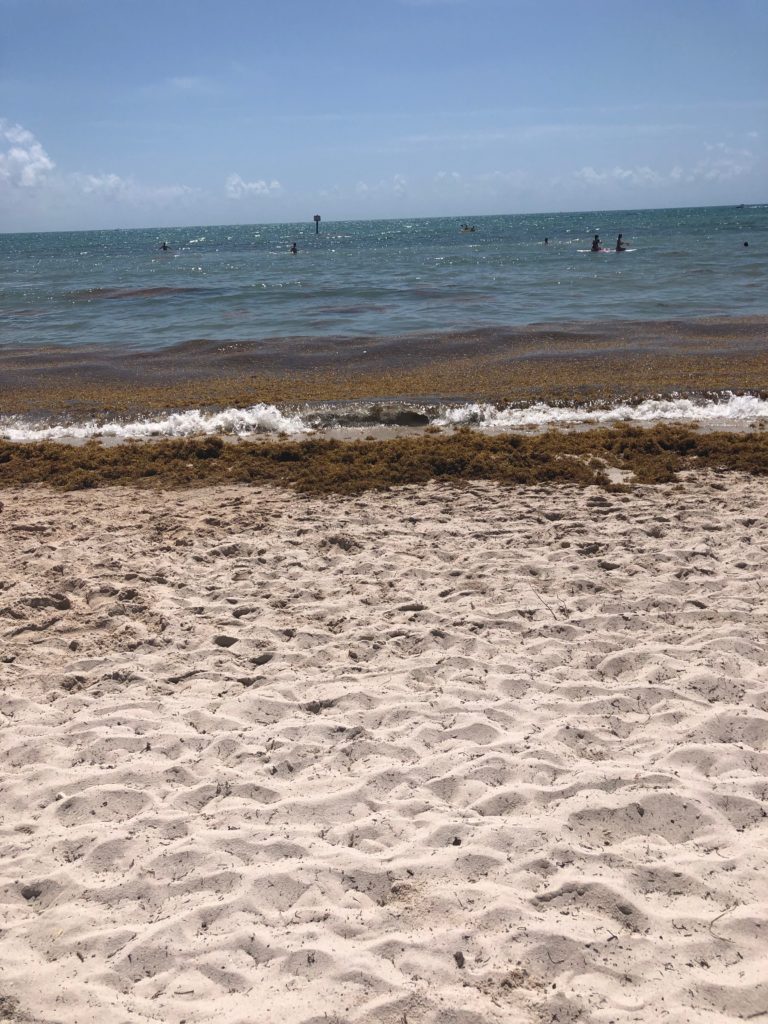 Pro-tip:
Key West has a lot of great water excursions. I recommend those over a day at the beach or renting a boat to go out on the water!
As with our other trip to Key West that was only two days, we started our drive home after our time at the beach. And also stopped at Sharkey's in Key Largo on the way home!
3rd Time's a charm!
Our latest trip to Key West was in January of this year prior to Coronavirus. We were able to take Kyle's father down to Key West on this trip!
Like our previous trips, we left town early to hit the road and get to Key West by about mid-morning. Once we found parking, we bee-lined straight to Bagatelle. We were able to sit on the upstairs balcony for brunch on this trip and loved it! It was so beautiful to look out on the street and also be up in the trees! I think it will be difficult to get us to go somewhere else for breakfast/brunch. 
After brunch, we decided to show Kyle's dad around the main area of town. We did this in a similar fashion to our last trip. We wondered into more stores on this trip and I again recommend this! Some of the stores in Key West just have some really neat stuff! We really liked one of the stores in Mallory Square with all their Florida themed Christmas items! Kyle's father also loves Florida themed shirts so we stopped in the Margaritaville Store to get him swag!
We also made sure to drive Kyle's father around the island and stop at the Southernmost Point Buoy. Since we went later in the day, it was crowded. The other problem was the rain. There had been rain and rough storms in the ocean leading to some flooding by the buoy. The sea wall also has holes in it that allow water to go and over onto the street intentionally. This is something to be cautious of if you are trying to go get your picture there and the water has not been the greatest.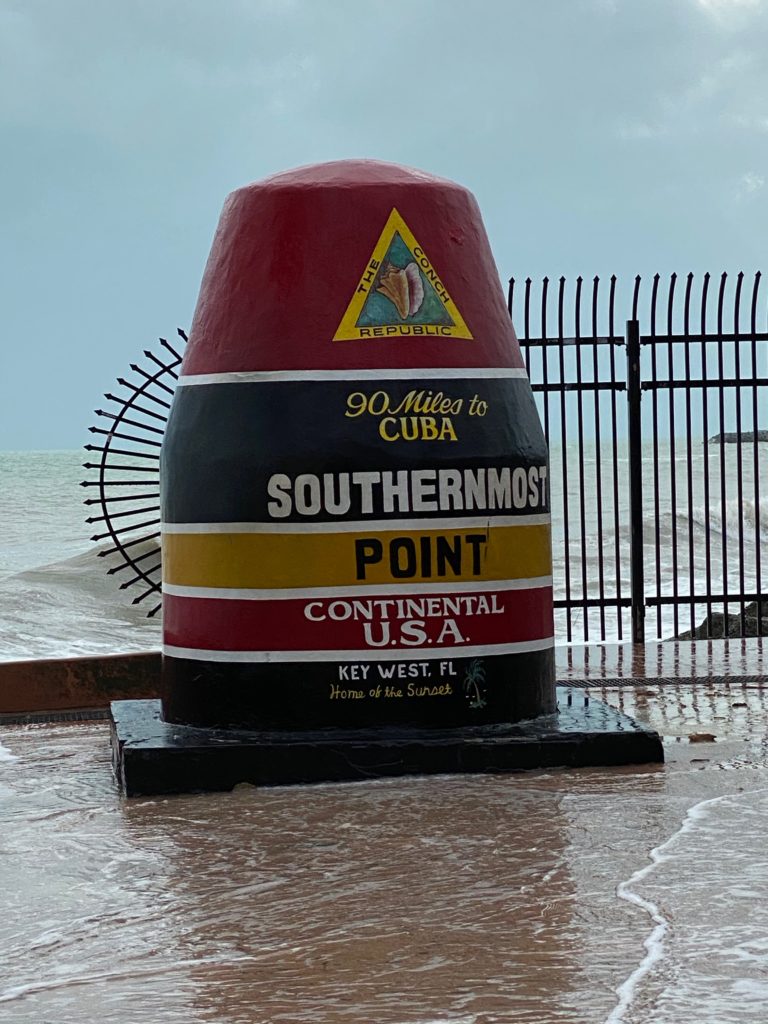 Finally, we returned back to the marina to try a new restaurant, Conch Republic Seafood Company. This was a great spot! The have an open air bar and dining room perfect for big or small groups! There also was a singer there providing entertainment. We loved the atmosphere of being "inside" a seafood company warehouse and the food was delicious. They have a large variety of items making it great if you have a lot of different eaters!
With all the walking we had done all day around town, we decide not to stay out too late. We had to drive about an hour north to our hotel because we could not find anywhere to stay on Key West. This was a last minute planned trip.
Although this last trip was similar to our previous trip, we still found new places to wonder, stores to go through, and restaurants/bars to try! I would highly recommend everyone take a trip to the Keys to experience all we have and more! And trust me, there is more that we plan to do. I think if you truly wanted to cover all the activities you could do, both land and sea, you would need about a week or more dependent on how many other Keys you choose to stop at! Either way, I recommend a trip to Sharkey's in Key Largo as we stopped there on the way home again on our last trip. I think it is becoming a tradition…