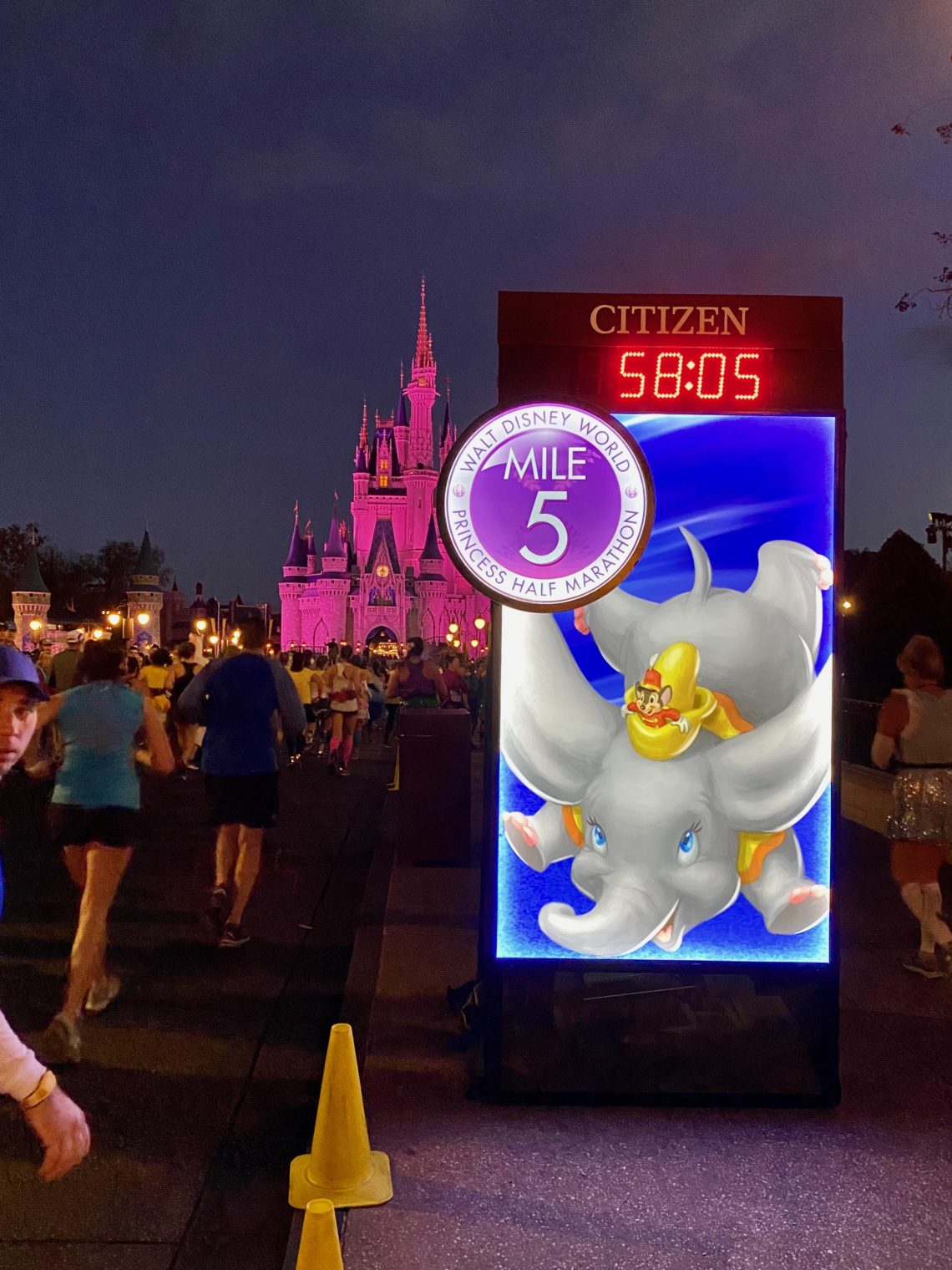 Running Disney Style: RunDisney's Princess Half Marathon Weekend
Each year in February, RunDisney holds their Princess Half Marathon Weekend. This weekend is nothing short of phenomenal! It originally started as a weekend to celebrate all the women and women empowerment in the world through running. Kyle and I have only ran this weekend once but I plan on making this race weekend a more regular event in our lives.
When we signed up for this race weekend, we decided to run the Fairytale Challenge. This entails running the 10K on Saturday and the half marathon on Sunday. There is also a 5K on Friday if you want to attempt the "perfect weekend". We decided not to run the 5K for two reasons: first, we did not have enough vacation time; second, we did not believe we would enjoy it. Kyle and I previously ran the Wine and Dine Two Course Challenge and were not huge fans of the 10K due to the corral placement we had. We thought the same thing may happen to us if we tried the 5K.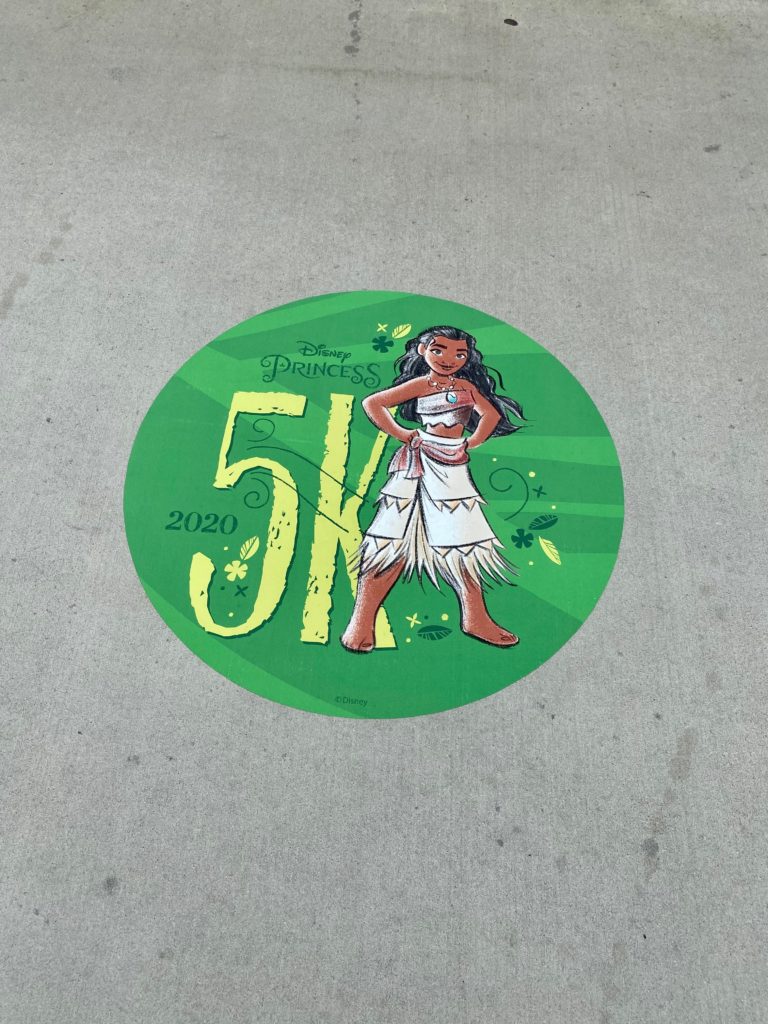 For those with kids, there are also the kids races during the weekend! Kids are able to participate in shorter courses at the ESPN Wide World of Sports complex on Saturday. Like adults, kids get their own bib, shirt, and medal (made of silicone). We did not watch any of the kids' race this weekend but have in the past. They are certainly worth it for kids that love Disney and are a great special experience. The Diaper Dash is one of our favorites to watch.
THE MERCHANDISE
For those that take vacation for the entire weekend, the weekend officially starts on Thursday with the opening of the Health Fair and Expo. Typically the expo opens at 10:00AM. It is recommended for those looking to get specific merchandise, to go Thursday morning as items do sell out. That being said, the Expo is extremely crowded at 10:00AM. Often times you will have to wait in line in order to get into the merchandise area. Be sure to plan ahead and know exactly what you want before looking through the other items.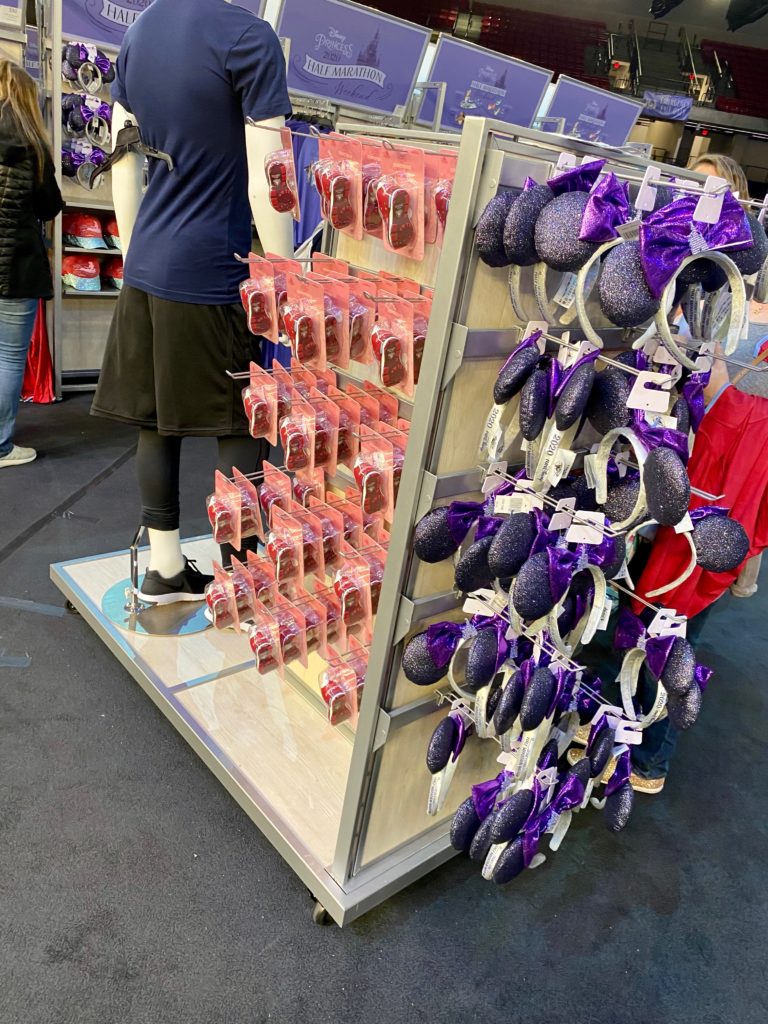 If you are not looking for specific items but would like to go on opening day, we would recommend going early afternoon. By this time those that want specific items have come and gone and lines are much shorter. We went to the Expo on Friday morning this year and were not disappointed by the size of selection or variety of items still left.
Pro Tip:
If there are specific race weekend items you want from the Expo, you need to go the first morning to ensure sizes and items are available. Items DO sell out quickly. There will be considerably less items and sizes left the longer the weekend goes.
THE HEALTH AND FITNESS EXPO
Other than the Disney specific merchandise, there is a full health and fitness expo that is certainly worth your time! The expo has information and products for everything you could possibly need during race weekend. Disney Vacation Club, Disney Springs, RunDisney, and Olympian Jeff Galloway always have booths for any of your Disney/RunDisney needs. There are also mini events, including yoga, during the weekend so be sure to check the expo schedule for these as well!
Pro Tip:
Be sure to check out the discounts/offers for race weekend at the Disney Springs booth. Often times you can get special items or discounts at various stores throughout Disney Springs including Vera Bradley and other specialty stores.
Outside of the Disney specific booths, you can find any last minute running gear at the expo. Fit to Run, a popular Florida running store, sets up various booths around the expo with shoes, running snacks and other essentials. For this race weekend in particular, the expo also brought in several outside vendors with running skirts, tutus, Disney running shirts, headbands, glitter shoes, etc to go with the princess theme. If you forgot your costume at home or want to purchase a running costume for your next RunDisney race, you can do so here! At this point, we have not bought anything from this part of the expo but there are several great products! I personally liked the Raw Threads apparel and will likely be purchasing from them in the near future.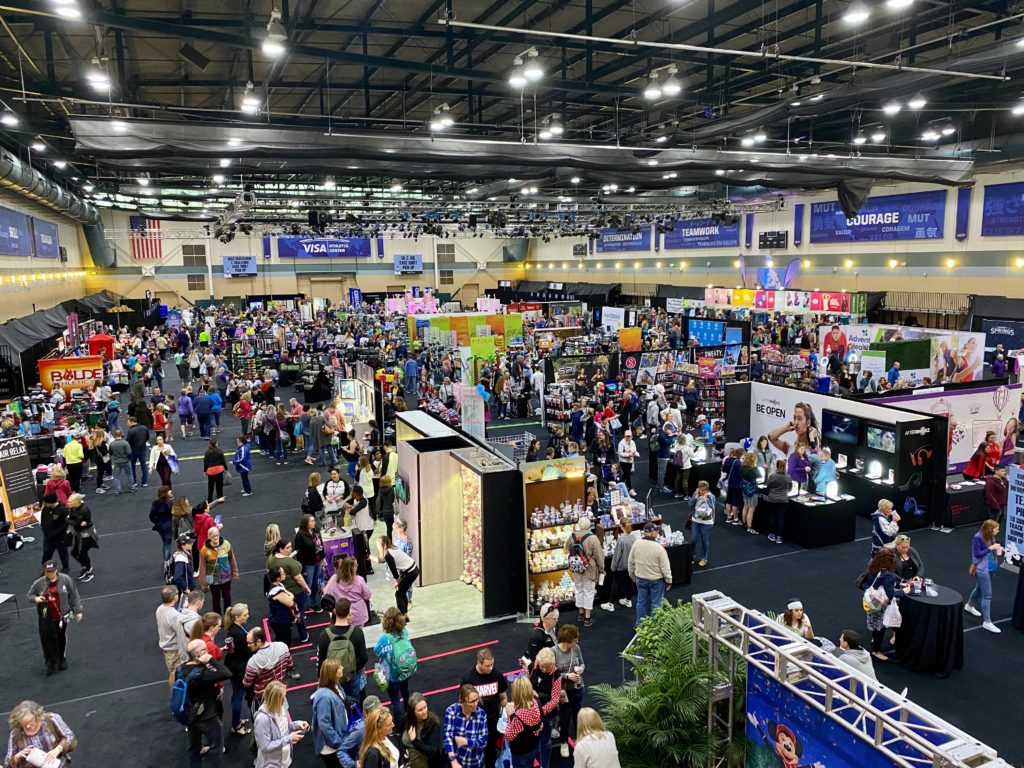 If you are not looking to spend money but want to try out new rest/recovery products or you use KT tape, you can also find it here! There are countless companies giving free demos of all types of recovery products from the muscle stimulators, massage machines, and even air/compression sleeves for your legs. KT tape also offers taping for all injuries. If you are looking to have taping done, I recommend trying to get in line early as there can be a very long line. Taping also may not be a free service so keep that in mind before you wait in line!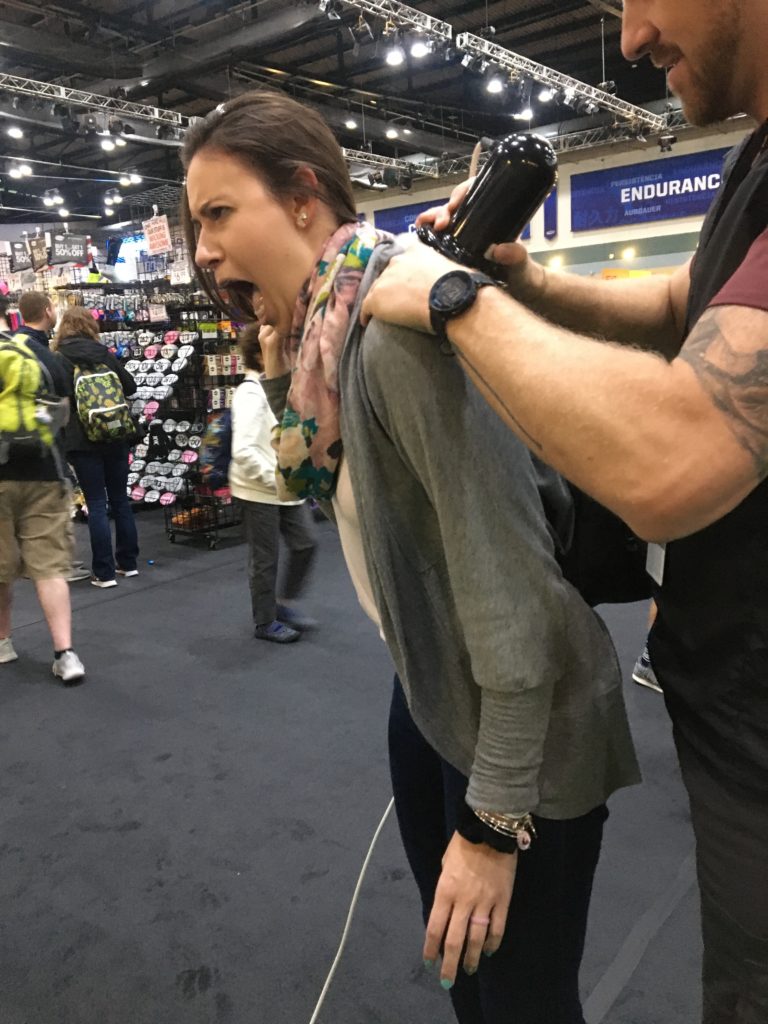 Finally, Disney does bring in other vendors related to race sponsorships or other Disney partnerships. These can include OtterBox, Go Squeeze applesauce, AT&T, Gieco, Pandora, AfterShokz Headphones, and more. Some of these will have free samples you can pick up while others have products for purchase, special giveaways, or demonstrations.
Pro Tip:
If you are looking for any specific items such as a new Garmin watch or other running products, companies often run promotions during the expo.
FOOD AT THE EXPO
With all the shopping going on at the expo, Disney has recently started to include some local food vendors in the event to refuel you! Outside of the ESPN Visa Arena, we were able to find two food trucks this year! There was also a local barbecue restaurant with a booth in the expo where you could pick up food while walking around and talking to vendors. If you want to be able to sit and eat, the ESPN Wide World of Sports Grill is open for food and drinks. You are able to use your Disney Dining Plan here as well! There are also two pretzel stands located in the facility with other walk-up carts for quick snacks.
OTHER IMPORTANT EXPO ITEMS
Onto the most important part of the expo, making sure you pick up your race bib! Each year that we have ran a Disney race, they have had the bib pick up location at different spots within ESPN. Either way, you will find your bib and t-shirts at the expo. This time we picked up our bib in a separate arena from the health expo, where the t-shirt pick-up was located.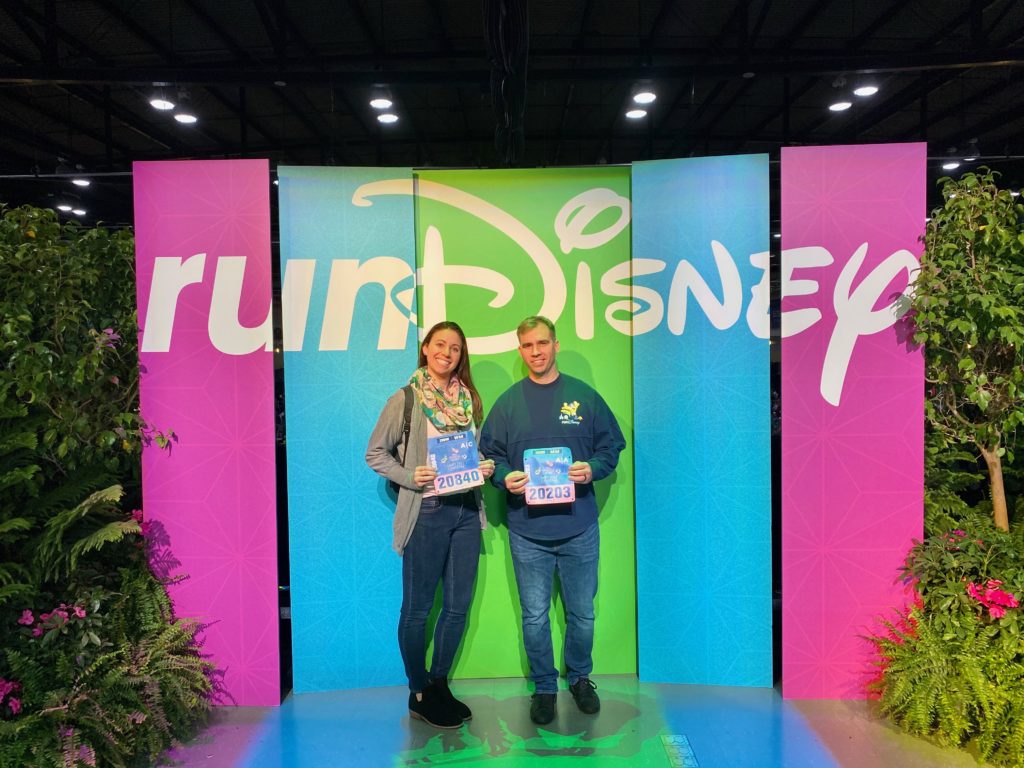 Throughout the entire ESPN complex, be prepared for pictures to commemorate your weekend! There are banners, signs, and backdrops located everywhere! These backdrops and signs are different for every race weekend so do not miss out! Finally, be sure to plan enough time to stop and take pictures with some special characters! For this weekend, they had a rotation of Disney princesses as well as Cinderella's footmen! Often times these lines are shorter than those at the park so take advantage! People also do not typically bring items to be signed so the line moves faster!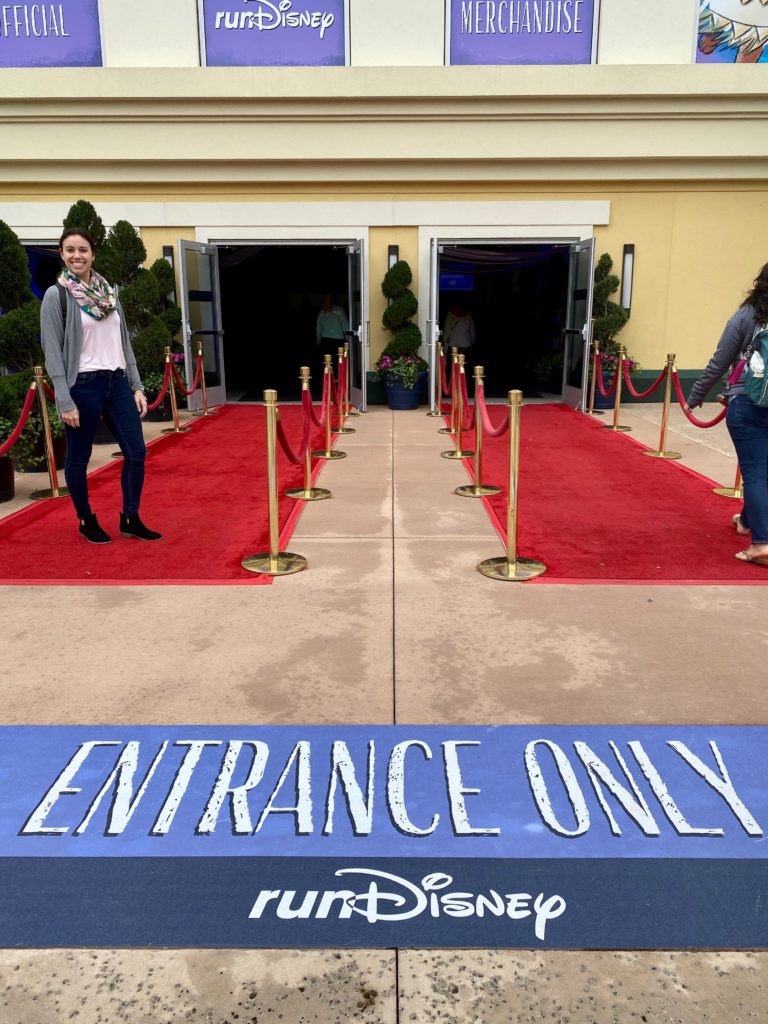 Pro Tip:
Plan to spend 2-3 hours at the expo if you really want to enjoy your time and not be rushed! Although not a Disney park, it is part of the whole race weekend experience and you will be sad if you miss out!
DOING THE DISNEY PARKS ON RACE WEEKEND
There are always questions about how to do the parks during race weekends. I have done each race weekend differently and my recommendation, spend some time at the parks. Typically all race specific events are over by 10:30AM in the morning on half marathon weekends. This means that you can usually make it to the parks by about lunch time if not sooner dependent on your corral. I recommend planning your fast passes between 1:00-5:00PM. This way you can still enjoy your time at Disney without exhausting yourself before getting up at 3:00AM to run a race. It also helps to keep you moving to decrease stiffness following your race!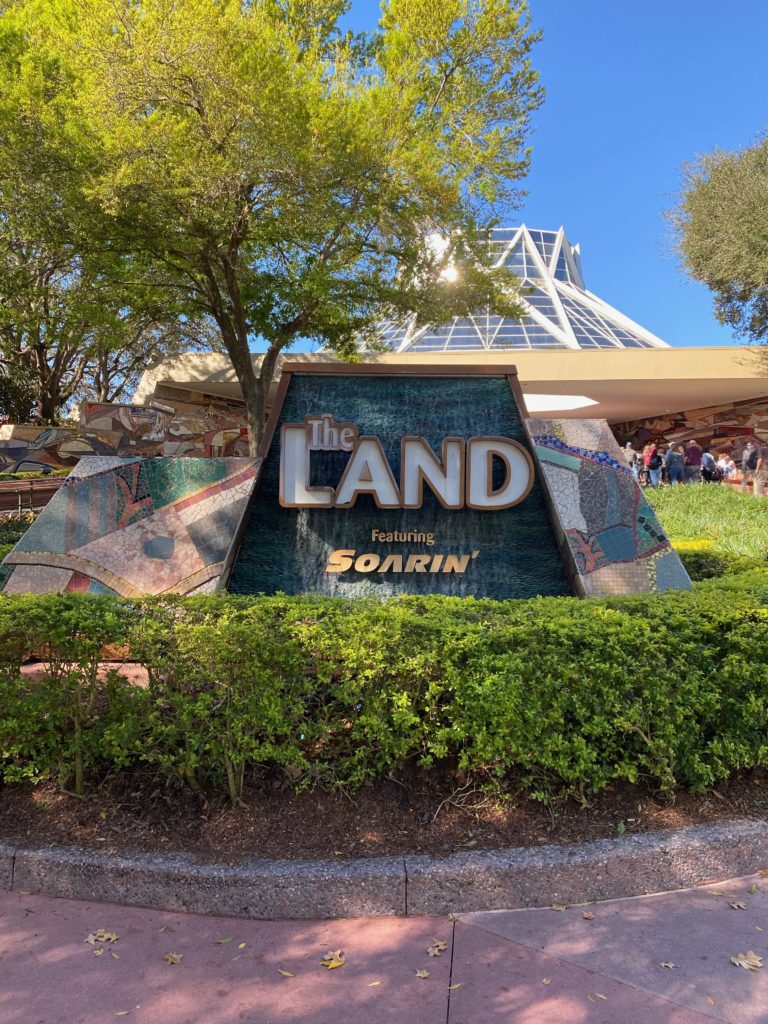 Pro Tip:
If you are running one race or multiple races, walking after the race is critical. You need to give you muscles the time to work out all the stress you have just put them under!
We also recommend planning meals. Planning meals helps to ensure you eat better and helps add structure your schedule. Dinner dining typically starts at 4:30PM at Disney World properties. Getting in early will give you the time to eat without feeling rushed, time to get back to your resort early, and the time you need to digest your food before running again. We have several favorite restaurants throughout property that we love to eat at so keep your eyes out for our dining recommendation list coming soon! We will be breaking it down from character dining, buffets, breakfast, etc.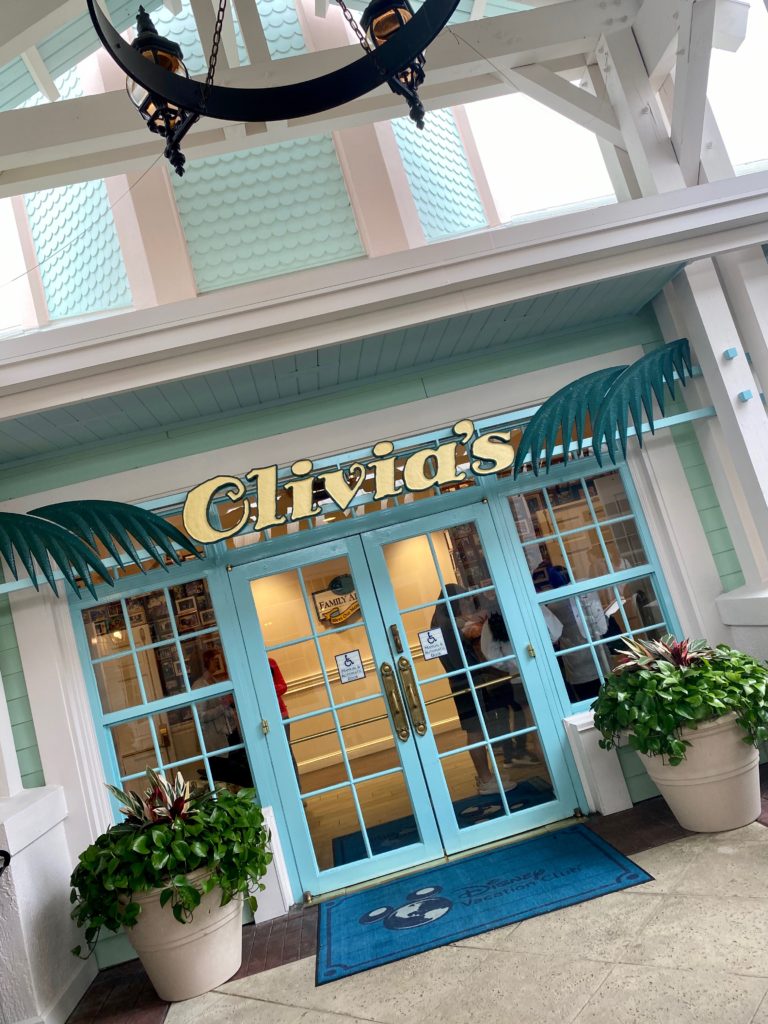 Pro tip:
You can begin booking dining reservations 180 days in advance. If there is somewhere specific you want to eat, make sure you book then! This also ensures you get the times you want to the best of your ability.
RUNNING A 10K AT DISNEY
Be prepared to be up earlier than you probably have ever gotten up to run a race before! Each Disney race starts before the sun comes up! This way they can get as many runners through the parks and the parks back to "normal" before they open. This also allows for the runners to still enjoy their days at Disney instead of spending all afternoon running.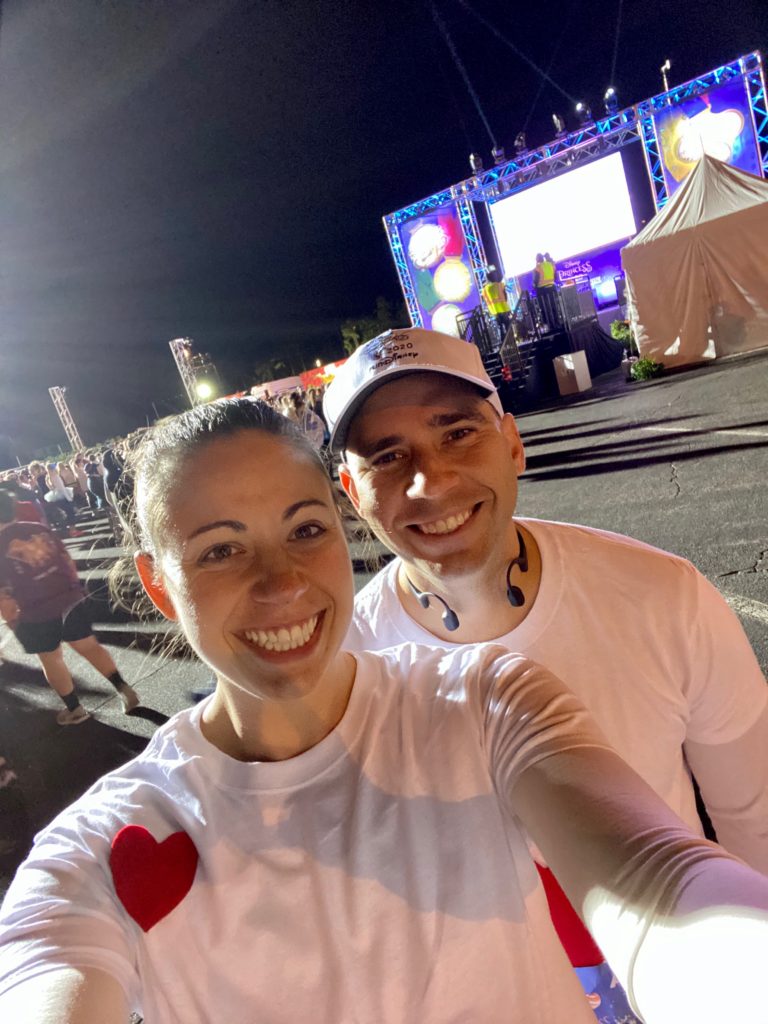 Our first 10K at Disney World was not our favorite (look for our RunDisney's Wine and Dine Half Marathon Weekend post coming soon for more details!). When we initially signed up for this two course challenge, we were not overly excited for the 10K because of how crowded our last one was. We figured we would just grin and bear our way through the race. Well, after running the 10K this weekend, I have officially changed my stance.
Pro Tip:
We recommend submitting a time for RunDisney races to get a better starting corral which helps give runners more room to maneuver!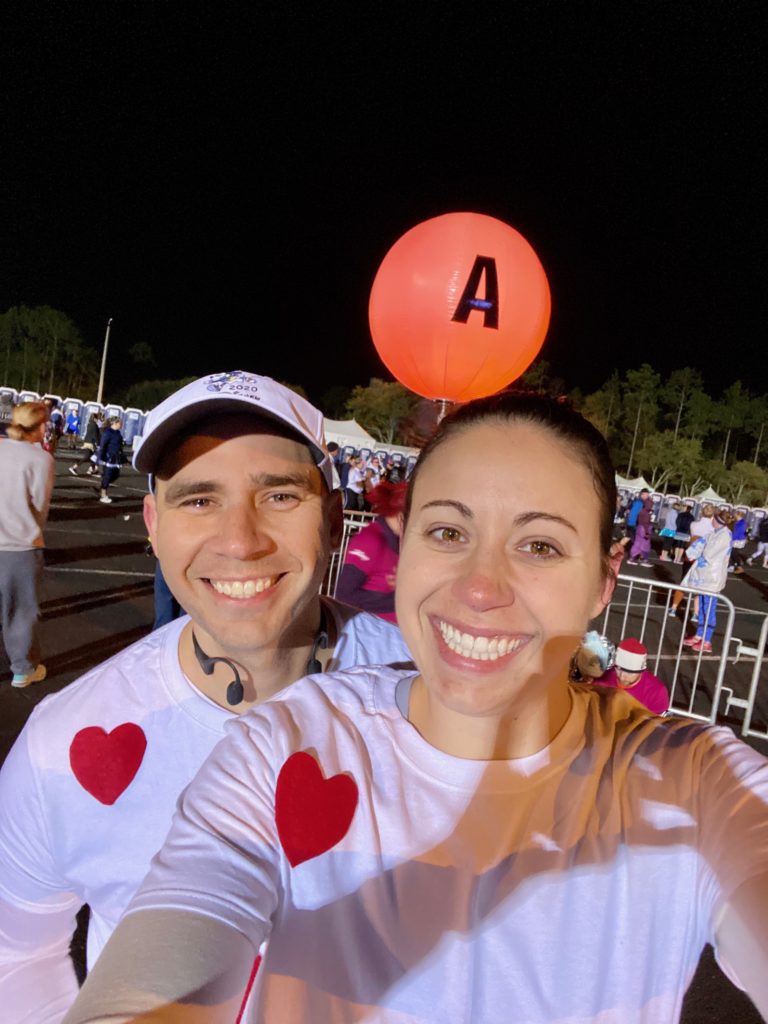 By the time we ran the Princess weekend, Kyle and I had already completed three other Disney races. As I said before, we did not enjoy the 10K we did in November 2018 because the course was extremely crowded. We decided this year that we wanted to submit an "official time" in order to get into an earlier starting corral. By getting into an earlier corral you give yourself a lot of advantages, especially during the 10K. This time we were in corral A for the 10K and corral C for the half marathon!
The biggest difference we saw with being in the proper corral is safety. We were able to run with other runners at our normal pace. We also had more space than you get in the last two corrals. There are typically less people in the timed corrals and even less in the faster times. This space allowed us to run without having to worry about bumping into other runners or someone stopping abruptly in front of us. You also have more space to cut over if you want to see characters or take pictures.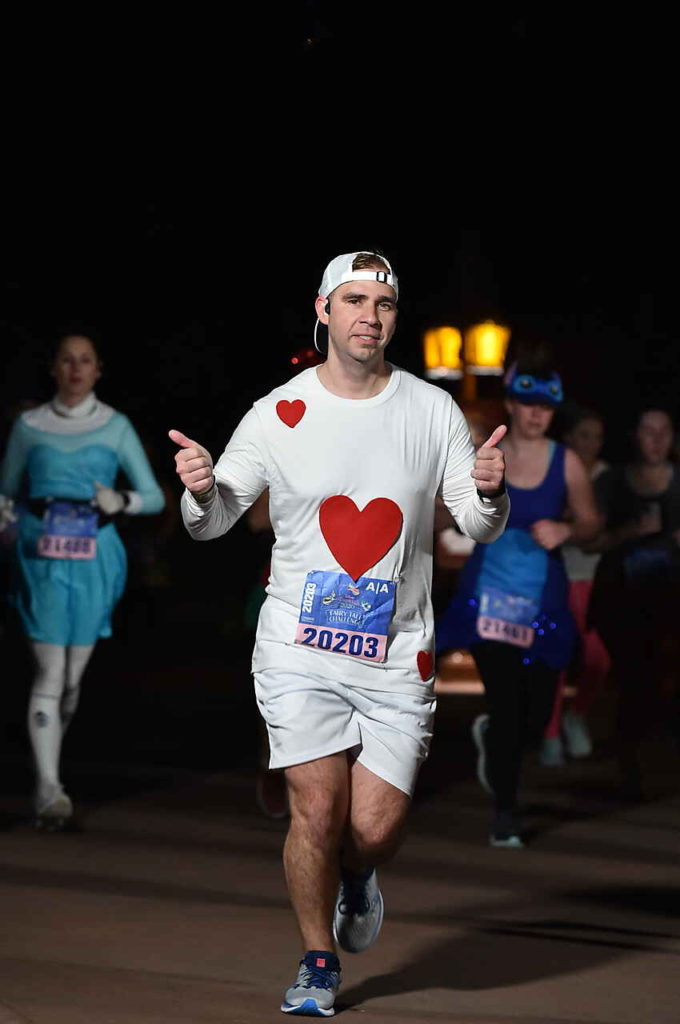 The faster corrals also give you more time between yourself and the Balloon Ladies. The Balloon Ladies are the last women to start the course and they walk at a 16:00 minute pace. You are not to fall behind these women or you can be picked up off the course and taken back to the race start/finish area. The closer you are to the front of the race, the more time you get.
Starting at the front corrals also means less people in front of you for characters. The Character lines are very efficient and move quick. We have not had to wait for more than 5 minutes. This amount of time can add up quickly though if you are waiting for every character on the course. Another benefit of starting in an earlier corral involves the oh so famous photo pass pictures. The earlier your corral start, the less amount of people in your photo pass pictures that are taken throughout the course. It gives your pictures a more personal touch when you look back on them.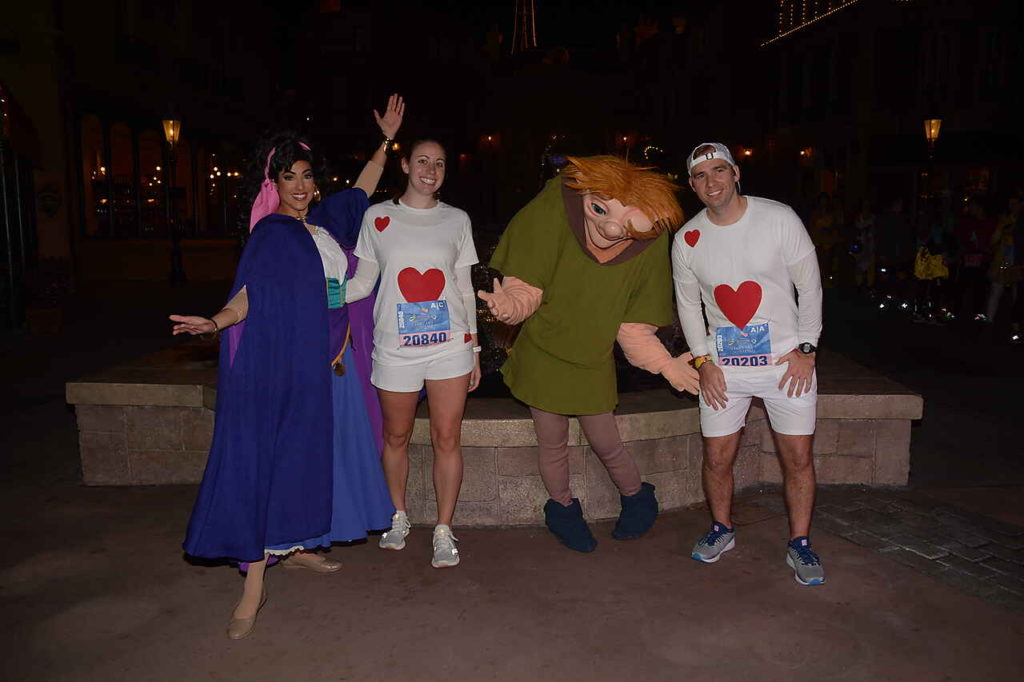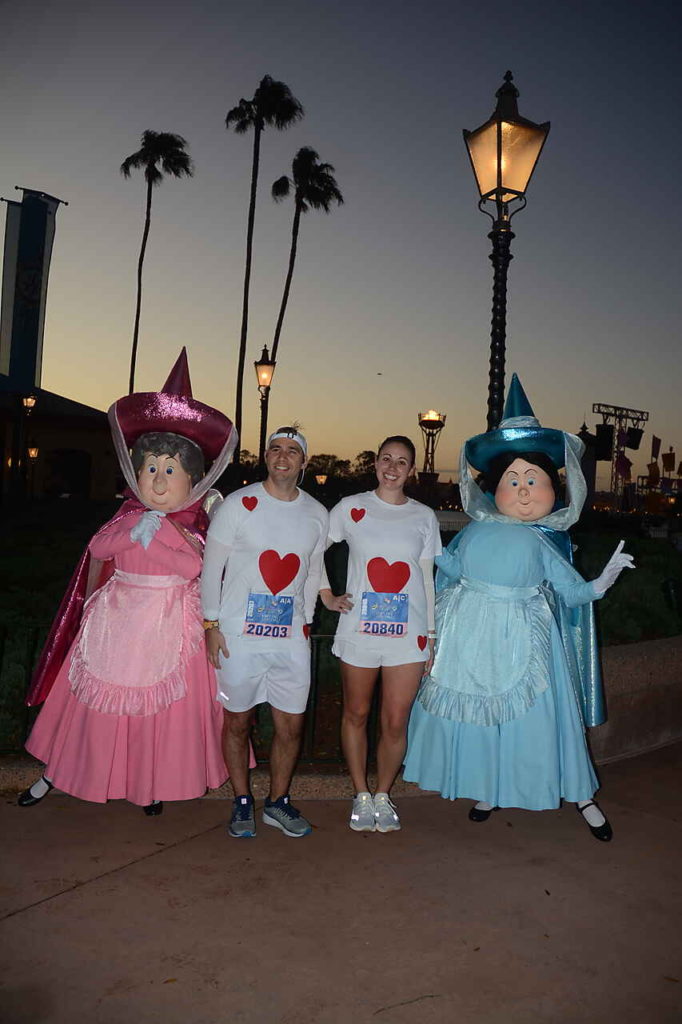 Finishing the race in a higher coral also makes a major difference! We were able to get pictures at the finish line, get our medals, water, snack boxes, and finisher pictures with our medals in about 10 minutes. At previous races this had taken us at least 20-25 minutes. The whole finisher area is also less crowded making use of bathrooms and moving around easier. Finding family members that may be waiting for you is also less of a challenge.
RUNNING A HALF MARATHON AT DISNEY
Half marathons at Disney World are very similar to the 10Ks, in terms of the set up and what to expect. Obviously the distance is further, but the half marathon is packed with lots of magic!
First, you must show up early, just like the 10K. Especially, if you want to have plenty of time to do your pre-race rituals. In most cases the transportation buses start earlier than they did for the 10K. For those that like to have extra clothing or shoes for post-race, you have to go through bag check prior to entering the race day area. (typically more common on half marathons and full marathons)
Disney does provide clear bags at t-shirt pick up that are very easy to use for this. They identify you by your bib number, making it easy to get your belongs back.
Pro-tip:
There are more runners in the half marathon than the shorter races. Get there early if you have a bag or there are specific things you want to do before going to your corral.
As with all the other races at Disney, there are food and drink tents where you can purchase food prior to racing. Recently they have been adding free water stations in the corrals as well. We typically bring our own Chewy bars and fruit with us but they do have muffins, sandwiches, water, Gatorade, coffee, etc. On occasion they also have a few food trucks for food as well. Keep in mind, these lines will be long.
Disney does a great job of keeping the energy high with DJs in the morning. On the main stage by the characters, you can catch a DJ, as well as the race MCs. They will be walking around talking to people and making sure everyone is entertained and excited for the race.
I also did mention characters! Disney has four character stations set up at the pre-race AND post-race. They often have characters rotating time slots so if there is only one person you want to see, you may not get them even if you are in their line. This year they had the following pairs: Anna/Elsa, Minnie Mouse, Jasmine/Aurora, Pocahontas/Merida. These lines can be very long at the pre-race! I would say on average the lines are about half the time, in length, following the race. If you finish in a higher corral, they can be even shorter!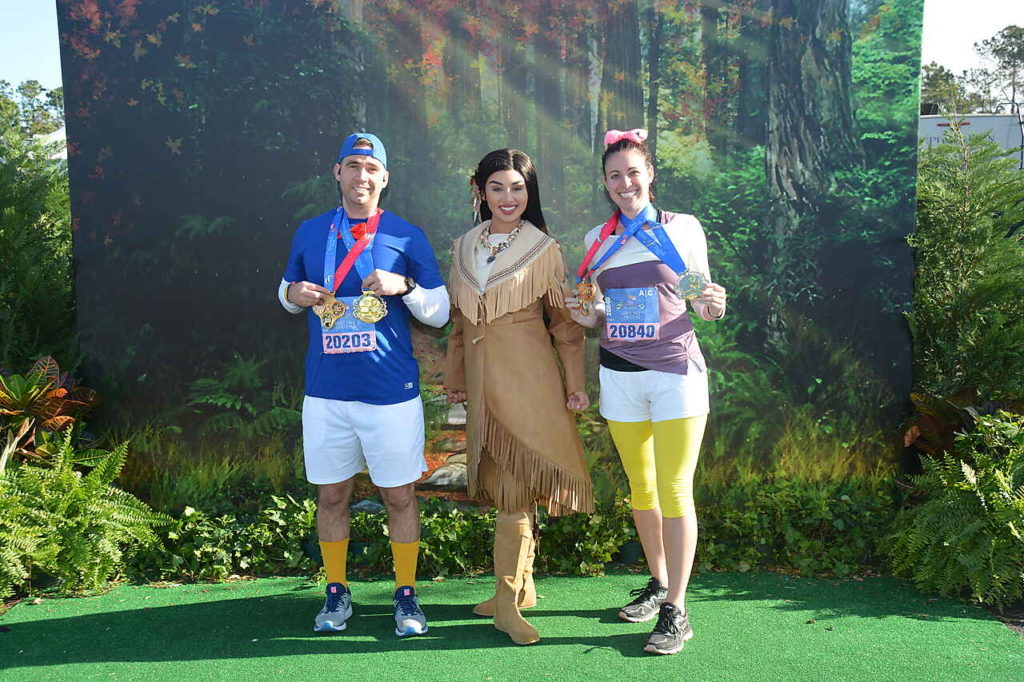 Pro Tip:
Wait to see characters at the race area until after the race for shorter lines. These characters typically are wearing costumes not seen in the park so take advantage! There can also be very rare characters!
Outside of the events going on before and after the race, the half marathon is very similar to the 10K. There are multiple water and Powerade stops along the course. Powerade will be at the front of the station with water at the end. You can grab one of each so do not feel bad. The volunteers are also very helpful at the stations! There is a sport bean station at about mile 8 to give you a little energy burst during the race. Do not skip the sport beans, you need the energy to finish the race strong! Sport Beans are very similar to jelly beans.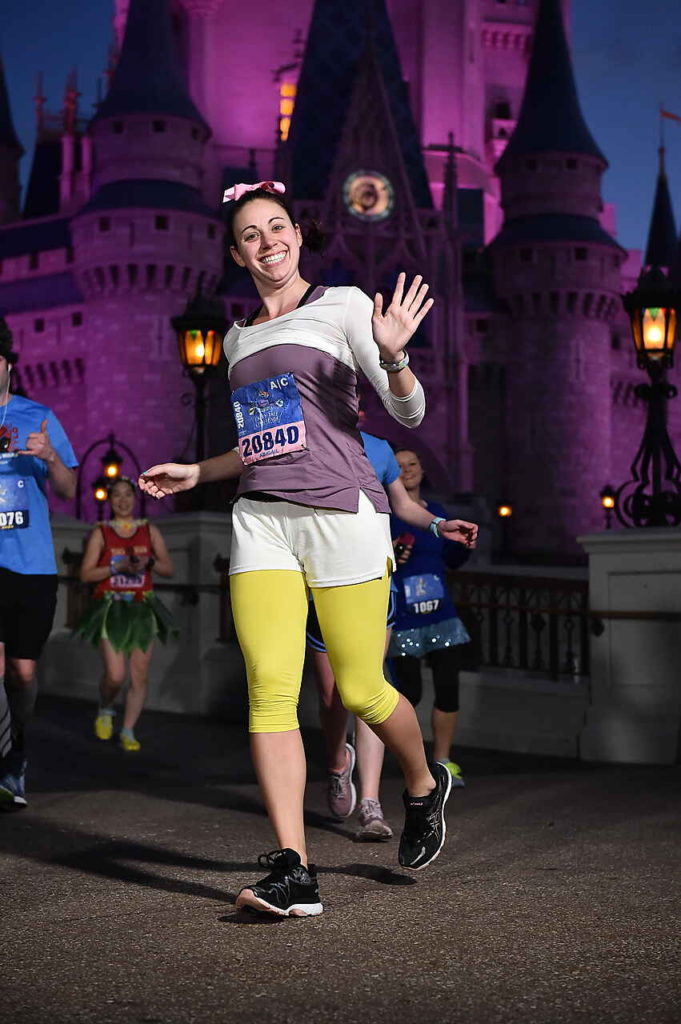 Pro Tip:
For those training to run a half marathon or full marathon, you need to replace calories more frequently. Be sure to workout your caloric needs during training so you may get used to carrying energy boosting items with you on the course and during long training runs. We are very bad at this and plan to get better!
We personally really enjoy the half marathon. There is a lot more Disney magic to experience with this distance than the 10K! You get to run through two or more park areas giving you more personal access to the parks. There is also way more music along the course! We had several high school bands performing, along with DJs, and a speciality drumming group. We are not sure what the group was called but they had what we would consider a more tropical/island feel. It was very cool and would love to see them perform again!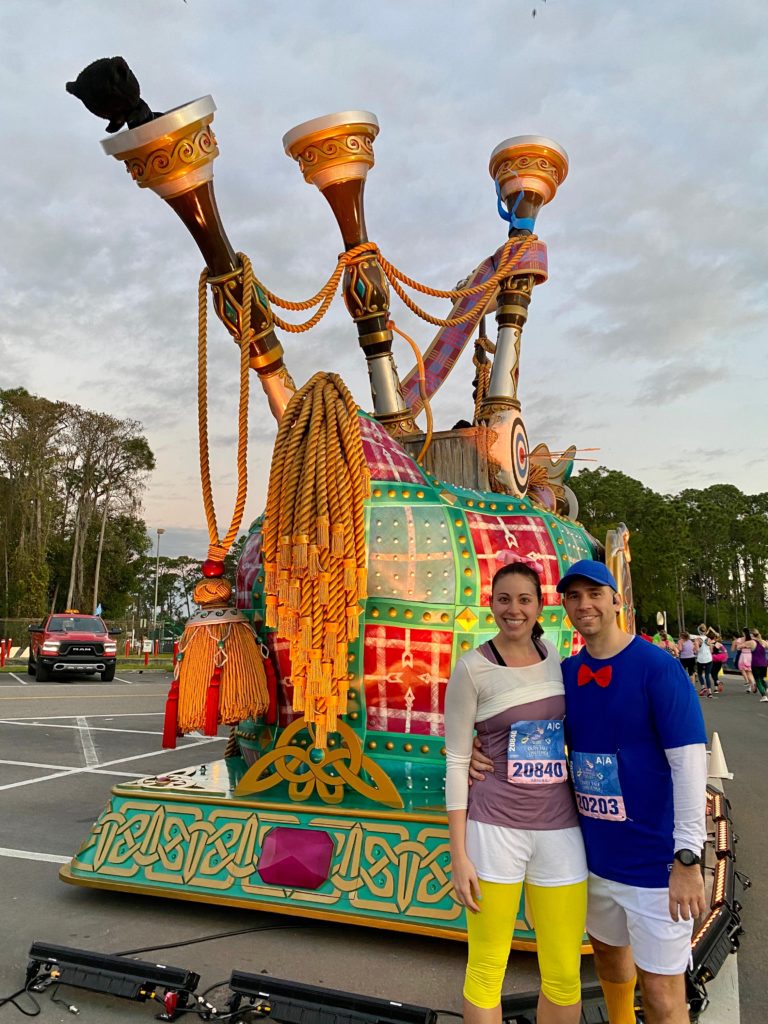 And of course, there are more Disney characters along the half marathon route! I find it extremely motivating to have all the music and characters on the course as it helps get you from one place to another. We typically do not stop for characters we can see during regular park hours unless they are wearing a rare or race specific costume. You will typically see more characters during the race inside the parks, as opposed to the highway. The back half of the race tends to have smaller lines for characters since runners are usually more spread out. Less people also tend to stop on the back half of the course because they are tired and typically just want to finish which can also make character lines less busy.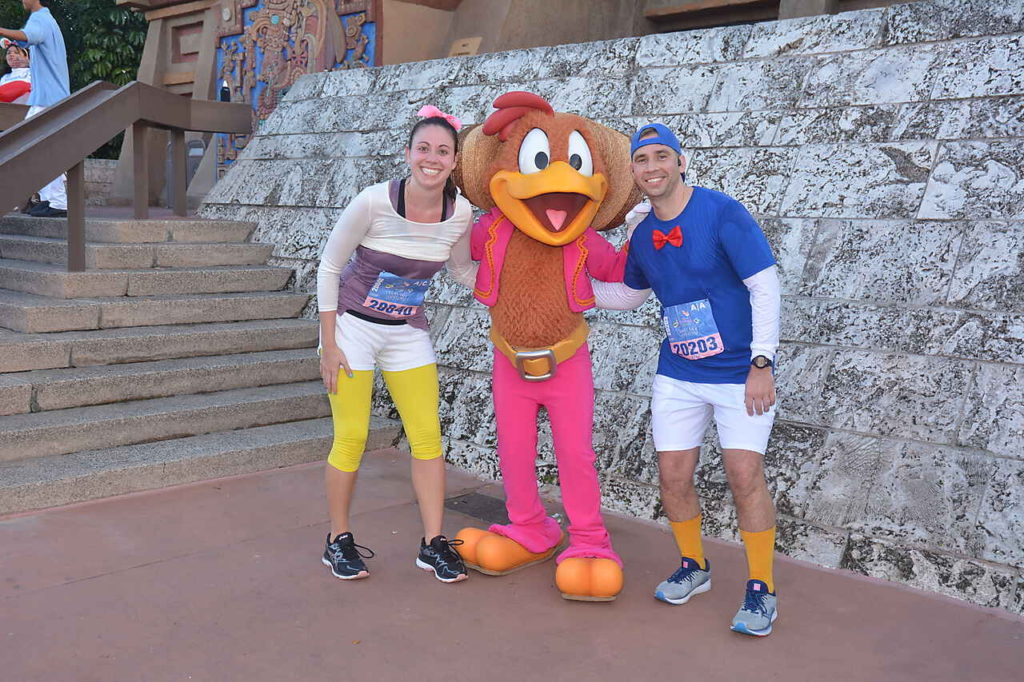 Crossing the finish line at the end of the half marathon always gives me a great sense of accomplishment! There are countless people there cheering! The volunteers working the events are also very congratulatory! It definitely gives you that "runner's high!" Everyone you walk past while getting medals and food are so happy for you! It definitely is worth all the pain! The best part about finishing the half though? You finally get to eat all the Disney Food!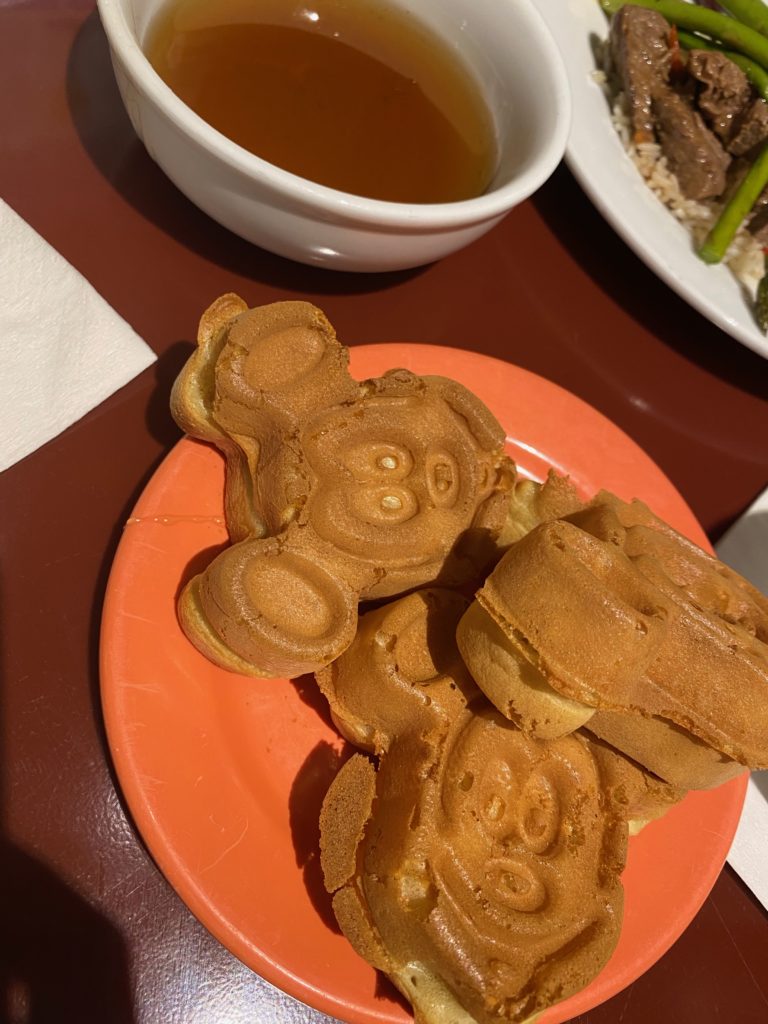 On a regular day, I do not believe calories count at Disney, dangerous I know. After my final race day, I believe in this theory even more! I try to plan a big brunch or dinner to celebrate! I would recommend a buffet, typically with characters. These meals are always a great way to not only enjoy eating at your leisure but you also get to show off your medals! Many of the characters will react to your medals making the meal and character pictures even more memorable. The buffet also allows for a variety of food items which is nice when all you want to do is eat!
Pro Tip:
Wear your medal at the parks! I recommend it! It's fun and you worked hard! Most people will wear them the entire weekend!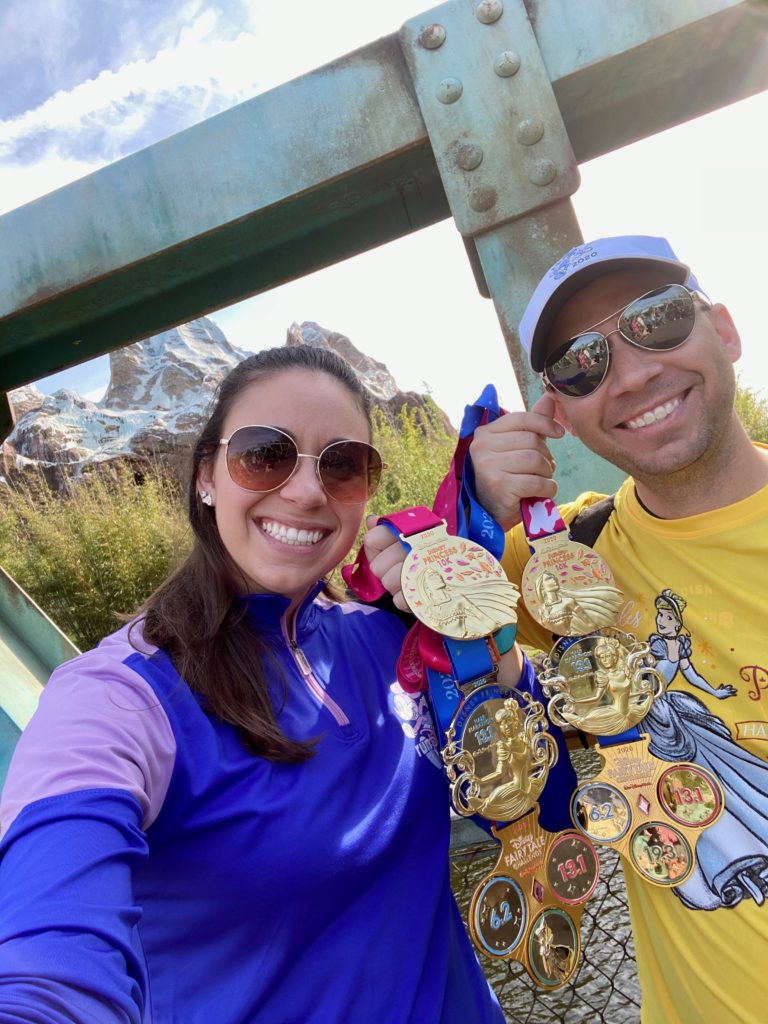 Pro-Pro Tip:
If you have multiple medals, you will want to tie them so they do not scratch against each other. They do make clips to help you hang them in a layered style but these cost money and you have to remember to buy them.
Also be warned-they are heavy! If you want a picture with all your medals, bring them in a bag to carry them until you are ready for pictures. Most people that run a challenge wear the challenge medal only to prevent the clanking noise, scratching, and weight of wearing multiple medals
Running a Disney race is truly magical, and as the slogan goes, "Every mile is magic!". If you are a Disney fan, walker or runner, a Disney race is a must-do! We truly love them! We love every part of the race weekend so much that we find it difficult to be there on race weekends when you are not running! With that being said, it can become addicting so be careful!
To register for you Disney race check out the RunDisney page.